Article
Lessons of The Heart
When his wife had a stroke, Sarasota's Chip Willis entered a challenging world of hospitals, insurance and around-the-clock stress. Here's what he learned.
When a stroke felled the woman he loves, Sarasota's Chip Willis entered a challenging world of hospitals, insurance and around-the-clock stress. Here are some lessons he's learned along the way.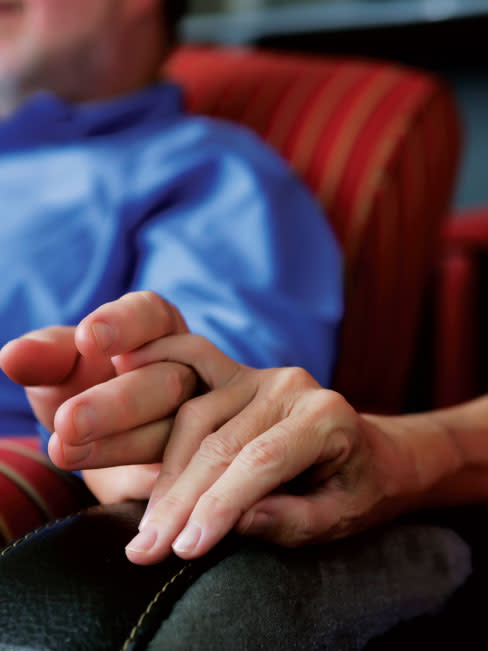 When you hear the old cliché, "Your life can change in an instant"….believe it. On Sept. 17, 2010, life as I knew it was blown apart when the love of my life, Tricia, had a massive stroke.
Tricia (the old Tricia) was a vibrant, funny woman who never met a stranger. Smart and irreverent, Tricia had that uncanny ability to connect with you instantly, make you laugh and even trust her with a secret or two. She worked in the world of marketing and communication, was an engaging speaker and an insatiable reader.
Just a few months before the stroke, Tricia's two sons had moved out of the house and started lives of their own. Having survived all the testosterone-related bad decisions of teen-age boys over the past several years, Tricia and I were beginning to enjoy our lives as empty-nesters. Then it happened. At work around noon, she had the stroke, and rather than get to a hospital (she hated hospitals), she went home to rest. It was 5:30 p.m. before she got to the emergency room, with the damage to her brain acute and her bodily functions shutting down.
On a normal day, the physician who did Tricia's emergency brain surgery would have been on his way home. But neurosurgeon Dr. Robert Knego had just finished a tough day. He decided to linger at the top of the Sarasota Memorial Hospital parking garage and let the stress fall away as he watched the setting sun. When the call came to return to the emergency room to attend a newly arrived female patient on the verge of brain death, he was only steps away.
Tricia pulled through and spent the next five months in healthcare facilities, starting at Sarasota Memorial Hospital and ending at a nursing facility, before being released to my care. Over these first five months, I became intimately acquainted with a variety of insurance procedures, medical procedures and facility protocols and experienced the best and worst of them all. Here are a few things I learned along the way.
Become an Educated Advocate
While we are blessed with a number of very fine healthcare facilities in our area, they are all bound by budgets, and staffing can be an issue, especially in nursing facilities. During the first two months of her recovery, Tricia was usually the most seriously injured patient on the floor. When she needed nursing assistance, she needed it stat. Regardless of how quickly the medical team responded to the push of the call button, it always seemed to take a lifetime to me. So many times I found myself standing outside her door, feeling helpless and looking for a nurse. Too many times I would head to the nurses' station seeking help. I tried not to be a pain, but I wanted them to know that I was there and I was expecting their help.
Later on in her recovery, Tricia was placed in a skilled nursing facility. I noticed that pain and anti-anxiety medicine seemed to be freely administered to most patients every evening, but not during the day. Was it to help her relax and sleep? Was it because she was in pain and restless? Or was it to simply make the night shift easier for the nurses? After I met with the head of nursing a few times, Tricia's nightly doses were reduced.
You want to believe that your loved one is the total focus of the entire medical team, but the reality is that he or she is one of many patients being cared for by an ever-revolving group of people. They are sincere in their efforts, but do they really give each patient the appropriate amount of time? Do we know how well the doctors are communicating with the on-site caregivers? Are the nurses who fill in once a week truly briefed on your loved one's condition? It's frightening if you allow yourself to obsess about these things, and it's up to you to ask questions and get clear answers. It's OK to be a squeaky wheel. Set up regular meetings with the doctors and get a clear explanation of their plan for the patient's care. Try to get to know each of the nurses assigned to your patient. Take a little candy out to the nurses' station from time to time. Unfortunately, many of those patients in a nursing facility do not have involved family members, and your efforts will result in more attentiveness.
Celebrate Small Victories
In early December 2010, Tricia was on the very fine neuro-rehab floor at Sarasota Memorial Hospital and had just recovered from a bout of pneumonia (it seems like everyone who has an extended stay in the hospital gets pneumonia). Obviously feeling better, Tricia suddenly said she "wanted to do something for me." Jokingly, I suggested we go out the next night for dinner, which she thought was a fine idea. Understand that this response was from a woman who could not walk, could barely speak and had significant cognitive issues. The next day, I happened to mention that I couldn't wait until she came home and we got our first chance to snuggle. She replied we should snuggle today.
As the afternoon faded, Tricia became agitated, saying she wanted to get out of her room. When I asked where she wanted to go, she replied, "to dinner" and gave me a look that implied, "What's the matter with you? We talked about this." At first I tried to reason with her, saying that we couldn't leave the property and she was still relearning how to swallow. Then I realized—date night! Why not?
We headed downstairs to the hospital café and sat there for about 45 minutes. After "dinner," it was time for the Florida State ACC Championship game—we're both football fans—so we headed back upstairs to watch. I helped get Tricia back into her hospital bed and pulled a chair alongside her. She began to get agitated again and insisted that I get into the bed and snuggle with her. I somewhat sheepishly approached the nurses' station and asked whether such an activity could be sanctioned.
Tricia is a tall woman, and let's just say I like to describe my body type as "prosperous." It took some gyrations to shoehorn me in beside her on that little cot-sized hospital bed. But we made it. It was touching to watch Tricia as she pulled the blanket over to my side, asking if I were cold, and tried to wiggle over so that I could have more room.
What a perfect date night, and what a great step forward in her recovery.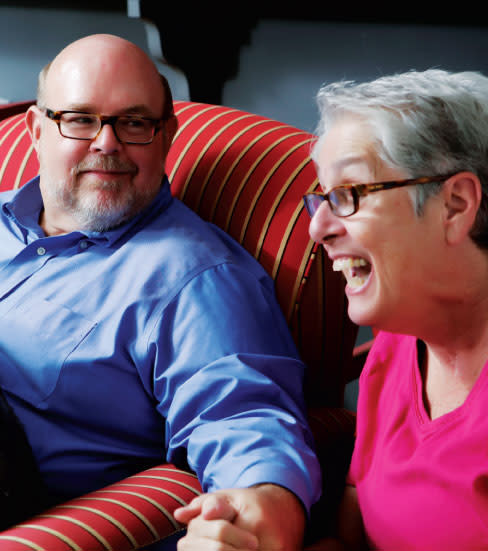 Understand Your Insurance
Having enjoyed good health all my life, I was naive about what I soon came to call "Big Insurance." I quickly realized I needed to immerse myself in the intricacies of Tricia's insurance policy. Be sure you know what is and what is not covered, or you will find yourself on the receiving end of a large invoice. Had she not had medical insurance, Tricia's medical cost would have exceeded $1.5 million, and the meter is still running as she continues to need care related to the stroke.
Prioritize—and Be Kind to Yourself
As Tricia's condition slowly improved, her insurance company refused to continue to pay for her care in the nursing facility. Tricia was still unable to safely swallow, so she was receiving her medications and nutrition by way of a feeding tube. She was unable to walk and had to have help with all of her personal activities, toileting, washing, etc. Was she ready to go home? No. Was I prepared for total responsibility? No, but that was what we had to do.
At first, it felt overwhelming, even paralyzing. One of the things that I had started doing when Tricia first went into the hospital was an almost daily email update to about 90 friends and family members. This was cathartic, a daily brain dump that kept all the recipients in the loop on Tricia's progress and me from exploding from all the stress.
However, once Tricia was home and her care took so much time, I reduced the number of updates, which made me feel guilty and added to the pressure I was already feeling. I finally had to realize I could only do what I could do. There are not enough hours in the day to do everything you think you should be doing as a caregiver. Forgive yourself if you do not get it all done and instead reflect on your accomplishments.
The Road Ahead
Tricia has come so far, yet there is so much farther we need to go. Her improvements have been dramatic, yet achieving those milestones is like watching grass grow. Today, she still needs help with all of her daily living activities. She is able to use a walker around the house as long as I am there to help her balance. Her speech has improved greatly, but is still compromised and difficult to understand at times. Her memory and cognitive skills are also impaired but ever so slowly improving. It's an agonizingly slow process, but every evening when I put Tricia into bed, she never forgets to give me a hug and thank me for taking good care of her. That tender expression is what keeps me going. Every day I remember I am there for her, because I know she is there for me.
Caregiver Resources
Mental Health Community Centers
240 B S. Tuttle Ave., Sarasota,
(941) 953-3477, mhcci.com
(Additional locations in Venice, North Port and Arcadia)
Serenity Place at Doctor's Hospital
5731 Bee Ridge Road, Sarasota,
(941) 342-1100, doctorsofsarasota.com
Sarasota Memorial Memory Disorder Clinic
1515 S Osprey Ave., Suite A-1, Sarasota, (941) 917-7197, smh.com
Senior Friendship Center
1888 Brother Geenen Way, Sarasota,
(941) 955-2122, friendshipcenters.org
(Additional locations in Venice and Manatee County)
JFCS Senior Services and Sarasota CARES caregiver services
2688 Fruitville Road, Sarasota,
(941) 366-2224, jfcs-cares.org
Stroke Association of Florida
(941) 346-1122, strokefl.org
Alzheimer's Association—Florida Gulf Coast, Sarasota office
3277A Fruitville Road, Suite 1, Sarasota, (941) 365-8883, alz.org/flgulfcoast
U.S. Veterans Affairs Department
4801 Swift Road Suite A, Sarasota,
(941) 927-8285
SCAT Plus (special transportation services)
(941) 861-5000, scgov.net/SCAT