Article
Their Sarasota Wedding: Tiffany and Michael Dax at Powel Crosley Estate
Tiffany and Michael Dax threw a Great Gatsby-inspired bash at Sarasota's Powel Crosley Estate.
U.S. Air Force Captain Michael and entrepreneur Tiffany defied the odds, turning a long-distance relationship into a marriage, despite being apart much of the time due to Michael's deployments.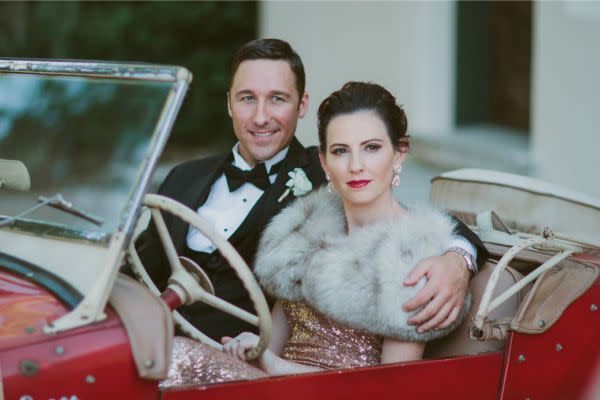 Tell us about your first date.
[After we met], we chatted on the phone daily for almost a month. We decided that it would be a great idea for me to visit Wisconsin, where Michael lived. Our first date was breakfast, a motorcycle ride on the beautiful Midwest summer day, dinner downtown, a booze cruise on Lake Michigan and a night cap at a karaoke bar. We then spent two days in Chicago with one of Michael's best friends, and came back to finish the trip with a day at the zoo. While at the zoo, Michael received word from his recruiter and he had a date to report for duty ---in Tampa! We were so happy, it made saying goodbye not as difficult.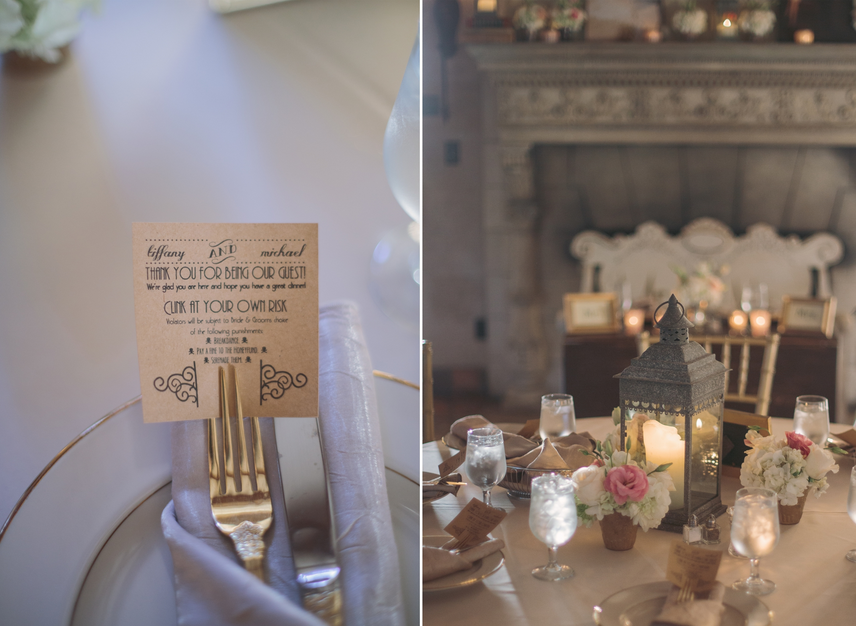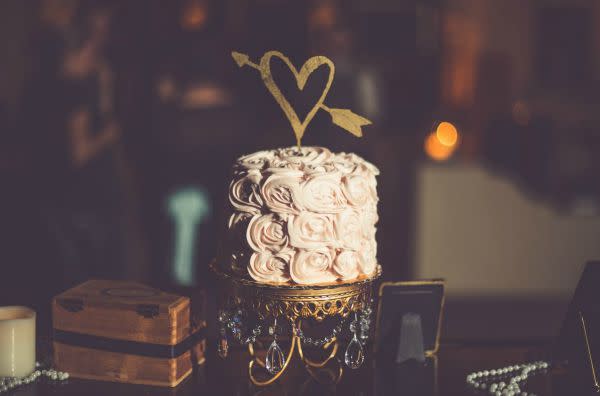 How do you deal with being apart when he is away?
Distance, at times, was one of the best things that could have happened to us. Having to communicate only by phone for months really helped us get to know so much about one another. I felt like I knew Michael better than people I had known for years, and I feel that he is really worth all the sacrifices we have made and will face in the future.
How did Michael propose?
We had been together just over a year. I had mentioned how much I loved the fountain show in Vegas at some point, and Michael asked me to marry him on the balcony of the Bellagio [on my birthday]. He had rented out the entire space, arranged for a huge bouquet of about a hundred white roses and champagne. He even got to pick a song for the fountain show to play along to--Elton John's "Your Song," which I incorporated into our wedding by using the Ellie Goulding rendition.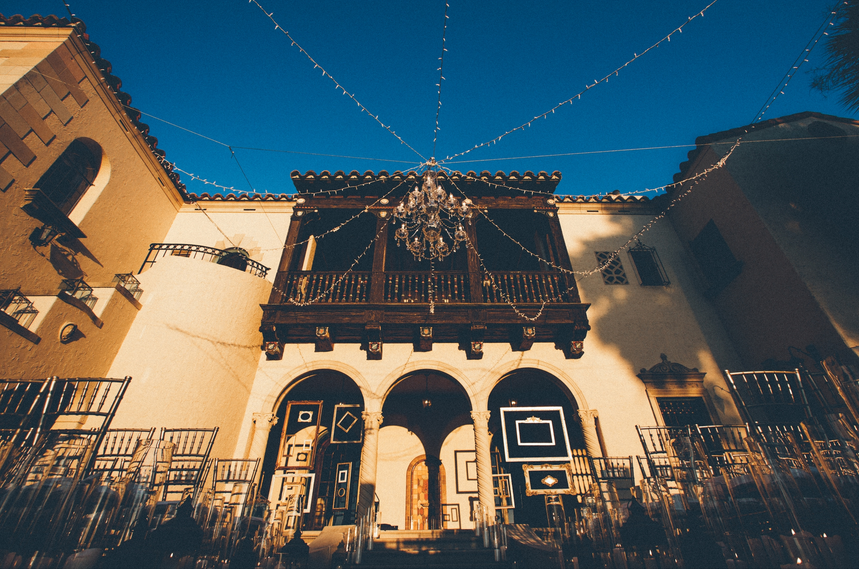 Tell us a little bit about how you chose The Great Gatsby for your theme.
I adore fashion and the 1920s is my favorite fashion era. We also wanted guests to get involved, be excited and feel like they were attending a party where two of their friends just happened to be getting married; we felt like they were just as important as the bride and groom. Choosing a Great Gatsby-themed wedding set all these expectations into motion. Every guest was in '20s attire, which really put the icing on the cake.
Did this involve many DIY projects?
Oh, the hours and all-nighters we pulled to get all of this done! One of my best girlfriends loves to craft and convinced me of all the things we could and should make; we even named our operation "The Wedding Factory," with assembly lines and all.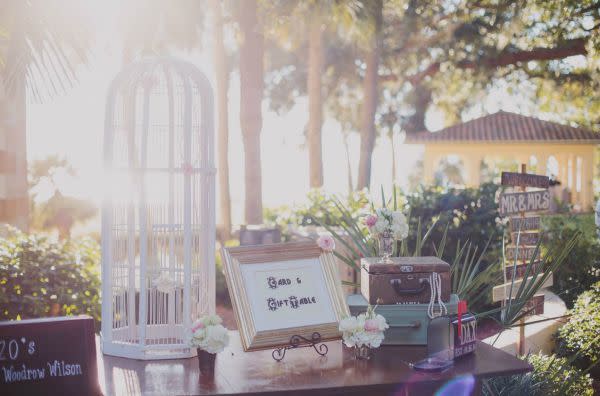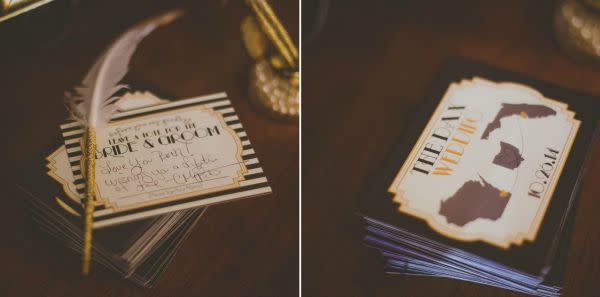 What about your choice to go with a gold dress rather than traditional white?
It was my plan to go non-traditional. No one in my family knew what my dress looked like; very few people had seen the dress before the wedding, not even my "maids." I had clicked on [designer] Debbie Bailie-Collins' site and instantly fell in love with the rose gold backless Bacall gown. I also purchased a lovely vintage stole from her. Debbie's designs couldn't have been more perfect for the Art Deco fashion style I envisioned.
What are your favorite things about your husband?
Michael is a real gentleman--I am convinced there is no other quite like him. He's handsome, kind, generous, loyal, trusting, devoted, patient and supportive. He really is the yin to my yang. We are exact opposite personalities but our morals and partnership goals all line up perfectly. He makes up for everything I am not, and vice versa. There's never been a dull moment since we met--he certainly keeps me on my toes. I don't know what I would do without him in my life or future.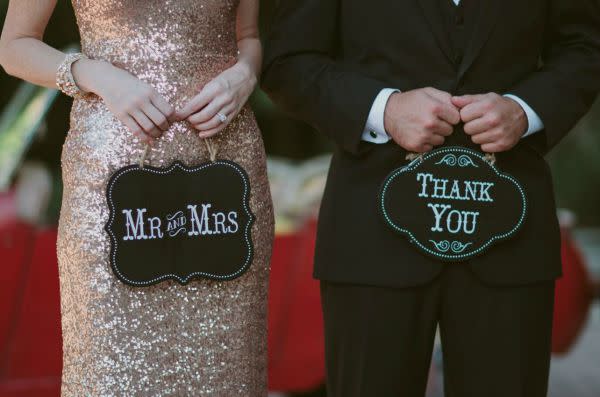 Photography by Tara Tomlinson Photography. | Planner: Unique Weddings & Events | Floral, Lighting and Event Design: FH Weddings & Events | Desserts and Theme Styling: Two Prince Bakery | Band: Bay Kings Band | Videography: Randall Productions  | Gown: Gibson Bespoke | Bride's Jewelry: Etsy, Helena Noelle Couture  | Stationery: Etsy, Feathered Heart Prints, Milano Ink | Hair Accessories: Etsy, Gotham City Style | Shoes: BHLDN | Vintage Bicycles: Siesta Key Sports Rentals | Hair & Makeup: Eyes on You | Venue: Powel Crosley Estate