Article
Local Bartenders Share 8 Cool New Cocktails
Sarasota bartenders share 8 cool new cocktails that are perfect for starting--or ending--an evening.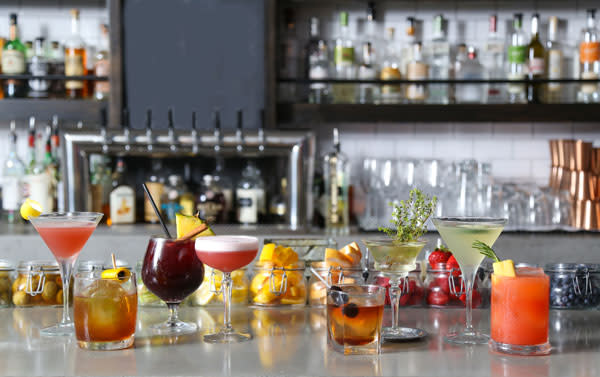 From left to right, start—or end—your evenings out with one of the season's cool new cocktails.
Jack's Rose, Jack Dusty at The Ritz-Carlton, Sarasota
"It's refreshing and easy to make at home," says Jack Dusty bartender Nick Vaccaro of this colorful combo of Laird applejack brandy, St. George's pear brandy, lemon juice and house-made grenadine.
The Epic Old Fashioned, Epicure
Epicure's bar manager, Chris Galdamez, praises the "rich taste" of this "riff on an Old Fashioned," featuring Old Forester whiskey, brown sugar, simple syrup, Rooibos tea, rose hips, raspberries, orange and saffron bitters.
Pisco Chicha Morada, Selva Grill
Made with purple corn, lemon juice, lime juice, pineapple and a cinnamon stick, this exotic Peruvian drink offers "a new and exciting flavor profile," says Selva managing partner Jeremy Osment.
Clover Club, State Street Eating House & Cocktails
"We love that something that's so pretty is also so delicious," says State Street's general manager Chris Voelker of this concoction of Tanqueray gin, lemon juice, house-made clover simple syrup, egg white and blackberries.
Signature Manhattan, Hyde Park
Manager Dave Barone says using "the best of each of four simple ingredients" makes this "a perfect cocktail." And those four swanky ingredients are…Woodford Reserve bourbon, Carpano Antica sweet vermouth, Fee Brothers Old Fashion bitters and imported Amarena cherries.
Ducktail Who-oo! (or Duck a l'Orange in a glass), Pangea Alchemy Lab
Duck-fat-washed gin, Carpano Bianco, Génépy des Alpes, Solerno blood orange cordial and thyme are the wildly adventurous ingredients here. "I didn't think it would be that popular, being so unique, but people really dig it," says Pangea owner Brad Coburn.
RECIPE:
Ingredients
2oz duck-fat-washed gin
1/2oz Carpano Bianco
1/2oz Génépy des Alpes
1/2oz Solerno blood orange cordial
Combine all ingredients into a mixing glass. Stir until properly combined. Pour into a chilled cocktail glass. Garnish with a thyme sprig.
Elder Gin Martini, Social on First
Gin pops up again in this fresh, mint-spiked mix of Hendricks gin, St. Germaine and muddled cucumber. The resulting drink is "not too strong, not too sweet but the perfect gin martini," says Social assistant manager Donnie Gibson.
Burning Blood, LBar at Libby's Café + Bar
"Bourbon is trending, and this drink [made with blood orange, agave nectar, chili pepper and ginger ale] has tremendous color and perfect balance," says LBar manager Adam Stoneking.