Article
Recipe: Fins at Sharky's on the Pier's Cazuela de Mariscos
we'd like to share this recipe for a popular Fins dish. The dish is called Cazuela de Mariscos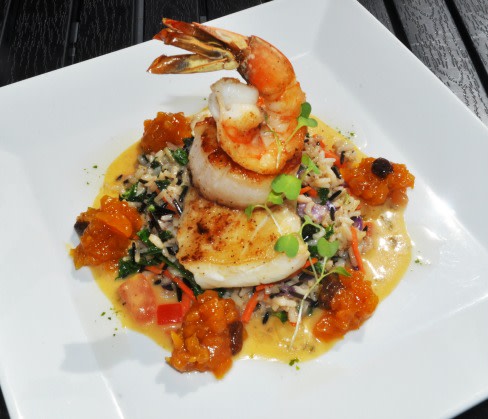 Recently, we dined at Fins at Sharky's on the Pier (check out the review in our October issue), and now we'd like to share this recipe for a popular Fins dish. The dish is called Cazuela de Mariscos, which is a traditional seafood stew. Chef Marc Alton of Fins likes to serve this stew with his apricot chutney, the recipe for which he has also provided below. Whether you're entertaining or in the mood to enjoy a restaurant quality meal at home with your family, this is a delicious and super-easy dish to make.
Cazuela de Mariscos
Serves 4
Recipe courtesy of Chef Marc Alton and Fins at Sharky's
2 lb. fresh grouper or snapper filets
½ lb. jumbo shrimp
½ lb. jumbo scallops
1 Tbsp. butter
1 recipe sauce, recipe follows
2 cups rice or risotto, cooked as per package directions
1 cup apricot chutney, recipe follows
In large skillet or Dutch oven, sauté fish in butter on one side, then turn the fish, add shrimp, scallops and sauce and let simmer 5 minutes. Serve with rice or risotto and apricot chutney.
Sauce
2 Tbsp. butter
½ cup red pepper, finely diced
½ cup carrots, finely diced
1 clove garlic, minced
Pinch crushed red pepper
½ tsp. paprika
2 Tbsp. flour
1 cup seafood stock (add clam base as needed)
½  cup fresh tomatoes, diced
14 oz. coconut milk
1 ½ cups heavy cream
1 Tbsp. chopped parsley
Salt and pepper to taste
Melt butter in saucepan; add onions, peppers, garlic, crushed red pepper and carrots and cook until soft. Add flour and paprika to make a roux. Add stock to vegetable roux and whisk to smooth. Add tomatoes; bring to a boil. Add coconut milk and cream, bring back to a boil and add parsley.
Apricot Chutney
10 oz. apricots dry, chopped (not ground)
¼ cup red onion, chopped
¼ lb. raisins
¼ lb. brown sugar
¼ cup cider vinegar
½ cup water
¼ tsp. turmeric
¼ tsp. salt
1/2 tsp. whole mustard seeds
¼ tsp. crushed red pepper
1/4 tsp. cumin seeds toasted and ground
Combine everything in a pot and bring to a boil. Reduce heat and simmer until the chutney thickens.