Article
Inside the New Mall at University Town Center
To succeed today, a mall needs dazzling experiences and top luxury shops. That's just what's planned for the new Mall at University Town Center.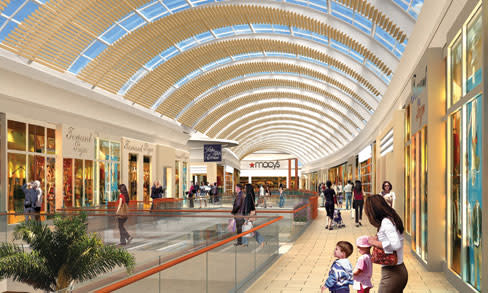 Attention, Sarasota shoppers—it's time to start counting the days until the big new Mall at University Town Center (UTC) opens in mid-October. And though our city boasts luxurious, one-of-a-kind boutiques and pretty shopping districts, when it comes to malls, we've been—well, "underserved," as Octavio Ortiz, general manager of the new mall, diplomatically puts it. UTC's developers, Manatee County-based Benderson Development and Taubman Centers of Bloomfield Hills, Mich., cite extensive market research showing our affluent region is ready and able to support more national chains offering upscale retail and fashion.
The $315-million, 800,000-square-foot University Town Center is one of only two regional malls being built in the United States right now, and the reasons for that lie in that widening income gap that's creating so much political and economic discussion. According to Robin Lewis, CEO of the retail website and newsletter Robin Report and author of The New Rules of Retail, stagnant middle-class incomes and a flat-lined economy have led to a decline in mid-tier shopping malls. "The rich are getting richer, so the 'A' malls that cater to them will likely survive, while many of the 'B' malls, and especially 'C' and 'D' malls catering to the poor, will close," Lewis says. Indeed, Lewis predicts that half of the 1,200 shopping malls in the country today will close in the next 20 years.
"Twenty-five years ago, the consumer went to the mall or a physical store," he explains. "Today they have every mall and every store in the world resting in their pockets in smartphones or just a key-tap away on their home computers.  The only way to tear consumers away from such convenience is to provide entertaining or awesome experiences so compelling they will spend the time and effort to come." And offering experiences like that is something that top-of-the-line malls, as the new UTC will be, can do much better than malls with fewer resources and high-end retailers.
The new mall, which features two-level spaces for its three department store anchors, and a layout of linear shopping streets and circular courts, has a sophisticated European modern design feel, with welcoming lounge areas outfitted with Italian-inspired modular seating, glass elevators, sleek curving escalators and floating staircases. A changing-light LED barrel vault ceiling seems like a 21st-century reimagining of the daylight-filled landmark Galleria Vittorio Emanuele II in Milan, one of the oldest shopping malls in the world. In addition to lounges and interactive kiosks punctuating shopping streets, design amenities include European-style al fresco dining, and a locally themed children's play area.
As for those awesome experiences, shopper can likely expect broader and deeper selections at the new mall's three anchor stores, Macy's, Dillard's and Saks Fifth Avenue. Until now, Macy's and Dillard's in Sarasota have skewed their assortments to mid-level apparel brands and mass-targeted sub-brands of designers such as Ralph Lauren and Donna Karen. You don't see the cutting-edge labels you would at Dillard's in Tampa or in Charlotte, N.C., where the ambiance is upscale and decidedly more fashion-forward.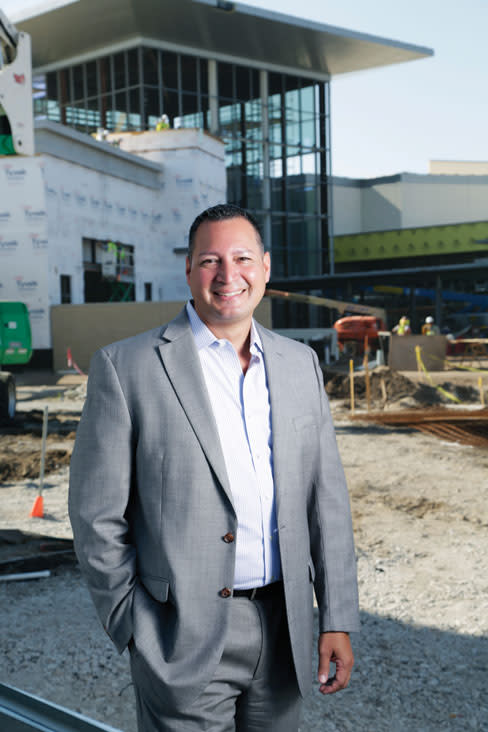 Will the new Macy's and Dillard's bring us the big-city-style events, fashion shows and cooking classes that have been lacking in Sarasota?  Lewis says if the department stores want sophisticated shoppers to keep coming back, they should. He even has a scientific theory about this. "We call these neurologically connecting experiences. To compete with Internet shopping, they have to be strong enough to go beyond connecting emotionally. They have to connect to the mind, to the point of releasing a chemical called dopamine, which can make one addicted.  The perfect example is the Starbucks addict who will travel miles to get a fix when a coffee shop is right across the street," he says.
So just how addictive will the new mall be? So far, Ortiz, and most of the retailers, are staying tightlipped about what extras and amenities we can expect. But not to worry—we've tapped into our retail expertise and done a little extra sleuthing to give you a preview of some of the highlights you'll find on opening day.
Saks Fifth Avenue: Fashion—and Feasting
When it comes to neurologically connecting experiences, Saks Fifth Avenue has captivated the local market for years with charity fashion shows, designer appearances and high-end brands. And at UTC, Saks is doubling its size to become what Saks Fifth Avenue Sarasota general manager Joel Ellzey says will be the premier luxury department store for Sarasota and the Gulf Coast.
Though he's keeping under wraps the bevy of new designers to be unveiled at the new Saks, Ellzey did tell us that 10022-SHOE, the iconic Saks shoe department they like to say is so big it has its own zip code, will be part of the store. "We'll have more shoes and more designers just in time for the social season and holidays, and we're bringing men's back to Sarasota [Saks closed its men department at its Westfield Southgate store several years ago] with European collections, contemporary, denim, shoes and accessories," he reports.
The UTC store will have a brand-new Fifth Avenue Club, Saks' private shopping service, and its own restaurant, Sophie's. "It's named after Sophie Gimbel," he explains.  Gimbel, considered the arbiter of style for Saks for nearly 40 years, was the first American designer featured on the cover of Time magazine.
Following on the footsteps of the first Sophie's restaurant, which opened in Saks in Chicago in January, the Sarasota venue will be "intimate and modern," says Michael Kaufman president of Fifth Dining, which serves as Saks Fifth Avenue's food and beverage partner. The restaurant will include an outdoor terrace, open kitchen and private dining area and will be open for breakfast, lunch, cocktails and dinner.
Kaufman says Sophie's corporate executive chef, Barcelona-born Alexandro Reyes, is focusing the menu on simple ingredients, sourced locally and seasonally, to create contemporary American dishes, including smaller bites and sharable plates, inspired by world flavors.
The Apple Store: Tech Heaven
Consumer electronics couturier Apple is the essential modern marketing case study, because Apple is more than a brand, it's a community of die-hard loyalists, and its stores are attractions in and of themselves. The UTC outpost, one of about 10 new Apple stores slated for the United States this year, will have the region's fans of iPhones, MacBooks and iPads rejoicing.  As any Apple user who's schlepped to Tampa knows, the stores are brimming with customers who drop by to try out new gadgets, repair an ailing PC, or sit in on a tech workshop.  The stores are so consumer friendly, you can even stop in to recharge your iPhone.  With special areas for children to play games and use educational software, and the aptly named Genius Bar, where experts solve your hardware or software woes, Apple takes consumer relationships to the highest level.
Anthropologie: Bohemian Rhapsody
A curated collection of free-spirited women's apparel, accessories and home décor has made Anthropologie a go-to for women who prefer a feminine fashion road less traveled. While a French artistic spirit infuses much of the apparel, there are plenty of options for women who prefer a preppier, more classic look. The boutique, which offers a well-rounded selection of French flea-market-inspired finds, and also one-off antiques, includes everything from blankets and bird cages to bed frames and books.
Designers in the apparel mix might include Michael Stars, Rebecca Beeson, Velvet, Lucy Barnes and Rozae Nichols, with intimate apparel from Cosabella and Only Hearts. Tracey Reese (Plenty) and Nanette Lepore are Anthropologie mainstays as well. Even if you think Anthropologie isn't your style, browsing through the new store might make you decide it is.
H&M: Chic—and Cheap
Admirers of young New York design talent Alexander Wang have cause for celebration with the arrival of Swedish fast-fashion retailer H&M. Not only does H&M offer an immense selection of au courant styles at ultra-affordable prices, a new collection by Wang will bring his cool streetwise style to our sunny resort region. With apparel for women, men and children in the mix, H&M happens to also be one of the most environmentally conscious fashion retailers around, incorporating sustainability and living wage initiatives into its policies. This spring the company launched an eco-friendly initiative called Conscious and Conscious Exclusive that includes organic leathers and silks. In fact, at the Vanity Fair Oscar party, Academy Award-winning actress Penelope Cruz sported a fitted flamenco-inspired gown from the collection.
With 2,300 stores in 43 countries, H&M has identified a strong potential customer base in the Gulf Coast region. There are two stores in Tampa within two miles of each other and the chain opened one more  this year in St. Petersburg.
Urban Outfitters: Hipster Haven
Retailer Urban Outfitters caters to the younger crowd with its trendy cropped sweaters, cut-out tees and high-waisted pants. But older shoppers who want to keep up with urban fashion trends for women or men or to add a splash of the au courant to the wardrobe will also discover much to like—including the price tags—in this lively shop. Shoppers will find BDG, cult favorites such as OBEY and UNIF, heritage classics like Herschel Supply Co., and international labels like MINKPINK and ZANEROBE.
Calypso St. Barth: Island Style
With devotees such as Jennifer Aniston and Kate Beckinsale, Calypso St. Barth is all about effortless sophistication that goes from city streets to beachside without missing a beat. Founded by French-born Christine Celle on the island of St. Barts in 1992, it's grown from luxurious pret-a-porter, beachy women's apparel and accessories to include an exotic home collection.  This brand has a loyal following for its jet-set chic and bohemian spirit; fans stop by to seek out embroidered tunics, silk dresses and skirts, drapey linen pants or a pair of AG jeans. Come with money to spare: this boutique's cache of sumptuous goodies is great for morale but not necessarily the bottom line.
Lululemon: Breathe Easy
Once a small Canadian boutique with a cultlike following among yoga practitioners, lululemon continues to grow as a stylish athletic apparel brand. Dennis "Chip" Wilson set up the design studio 20 years ago after taking his first yoga class and leaving the session in soaking-wet clothing. Today there are lululemon fan sites and blogs, and a host of community-building activities.
"We love everything sweaty," says the company's market community connector, Renee Ascione.  "Our goal is to get people moving and to get America sweating." She explains that the company opened a small showroom in the U.S. Garage office building on Pineapple Avenue four years ago to test the Sarasota market.  "We always open a mini store with a core product offering, to see how the community likes it.  If it goes well, we open a larger store," Ascione says.
At UTC, products featured will include an array of technical fabrics, seasonal styles and a broad selection of patterns and colors. "The team in Sarasota is buzzing with excitement about the new products they'll be showing and about the store design.  Sarasota beaches are stunning, and there will be a beachy vibe, as well as local art and a display of ambassadors' photos incorporated in the interior design," Ascione says.
Crate & Barrel: Clean and Contemporary
A pioneer in merchandising products together in vignettes that trigger emotional attachment with consumers and the brand, Crate & Barrel is loved globally for its fresh transitional style.  Unique housewares, furniture and accessories with a contemporary edge in color, pattern and silhouette are still conceived by a stable of talented (mostly European) designers and artisans, as they were when the chain started in Northbrook, Ill., 50 years ago. Hot recent intros include a line by renowned Italian architect Paola Navone that ranges from tabletop to furniture, with looks that would ordinarily be financially out of reach for most consumers.  The genius of Crate is its ability to offer designer styling at realistic prices.
Boston Proper: Catalog Chic
Loyal fans have faithfully adorned themselves in Boston Proper's chic but affordable clothing and accessories through direct mail catalogs for years.  Imagine the joy in 2013, when parent company Chicos opened its first Boston Proper stores, where fans could actually touch and feel the fabrics and try on the irresistible apparel skewed for an upscale consumer.  A Boston Proper boutique opened on St. Armands Circle in 2014 to rave reviews; the UTC store will add to the fashion options from this popular retailer.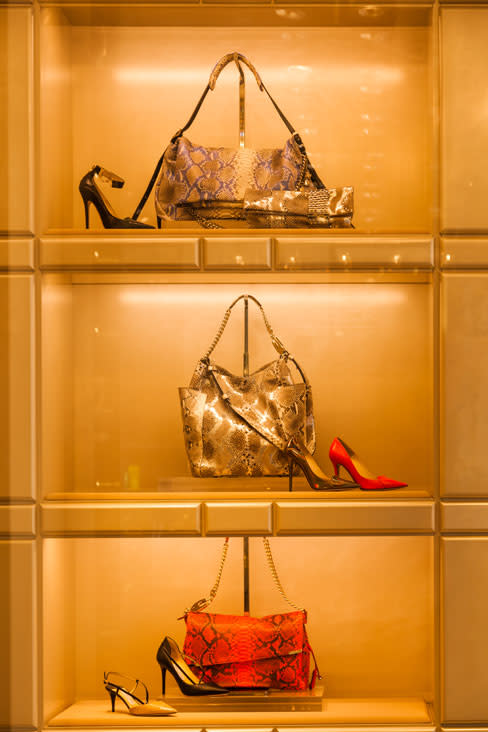 Restaurant Round-Up
A sampling of tastes at the new mall.
Brio Tuscan Grille: A passion for Tuscany pervades the menu at this Italian restaurant chain, part of the Bravo Brio Restaurant Group. It's known for weekend brunch, bar menu, and Italian classics; the nearest location is International Plaza in Tampa.
Capital Grille: Award-winning wines and dry-aged steaks are the signatures of this upscale chain of steakhouses owned by Darden Concepts (Longhorn, Olive Garden, Red Lobster and more) with nine Florida locations, including Tampa and Naples.
Cheesecake Factory: Something to love for every member of the family at this mega-chain that knows shopping makes you hungry. Huge menu and portions plus Skinny-Licious entrees and desserts to counterbalance nearly 40 cheesecake varieties.
Seasons 52: Another Darden Concepts chain, dubbed a fresh grill and wine bar with seasonally inspired menus and top-notch wines in a sophisticated ambiance. Farmer's market freshness plays off a pledge that nothing on the menu is more than 475 calories.
Zinburger Wine & Burger Bar: Burgers go gourmet, plus decadent shakes and a carefully crafted wine and beer selection. Lots of fun promotions including half-priced wine bottles on Wednesday and a VIP club. The namesake burger comes with zinfandel-braised onions.
Kona Grill: An American grill with award-winning sushi bar, Kona Grill is likely to bring its signature 700-gallon aquarium and other water features to the mall.  Now in 17 states, the upscale restaurant features classic grill items plus options including gluten-free, vegetarian, vegan and skinny.
Mandarin Express: One of the largest Chinese quick-serve restaurant chains in the U.S., is known for fast gourmet Chinese food using only fresh ingredients and no MSG. The company focuses on food courts and inline restaurants in the Southeast.
The Shops
*More stores may have announced since press time
American Eagle Outfitters
Anthropologie
Apple
The Art of Shaving
Brighton Collection
Champs Sporting Goods
Dillard's
Edward Beiner
Foot Locker
Gap
Godiva
Gymboree
Everything But Water
Express
J. Jill
LensCrafters
lululemon
Macy's
Omega
Pottery Barn
Saks Fifth Avenue
Sephora
Soma Intimates
Teavana
Victoria's Secret
Things Remembered
The Walking Company
Williams-Sonoma
Zale's Jewlers
For more Sarasota shopping finds, click here to read our Retail Therapy blog. >>
This article appears in the July 2014 issue of Sarasota Magazine. Like what you read? Click here to subscribe. >>