Article
Behind the Bar with Casey Key Fish House's Skeeter Williams
Bartender Skeeter Williams on serving drinks—and touching lives—at the Casey Key Fish House tiki bar.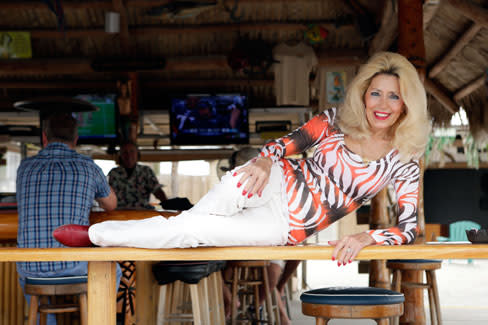 For 14 years, Skeeter Williams has been serving patrons at the outdoor tiki bar at the Casey Key Fish House, and to many, she has become as iconic as the rum runners they raise to toast the sunset. In fact, the tiki bar is now known as Skeeterville, and Skeeter was made honorary mayor complete with plaque in 2009. "It was so emotional I didn't know if I should laugh or cry," she says.
"We are such a close-knit group, it's almost like Cheers. When something happens to someone, we jump in and do something to try to take the sadness away. I do celebrations of life when a customer passes away. I make beautiful little flotation devices with candles, and send them off into the waterway."
"When guests arrive all at once, we sometimes have no clue who was there first, and some people get so irate. I just don't understand it. I wait everywhere I go, but I would never talk to a person the way some people talk to me. People do that to employees in this industry on a regular basis."
"One [customer] was from London—he was a big businessman. He said, 'In London I have to dress to the nines every day and I can't go anywhere without being recognized.' Here he could wear shorts and flip-flops, ride his bike and just be casual. He loved it so much he bought a place on Casey Key."
"I'm well known for my rum runners. I like to make tropical drinks because when people come to Florida, they want something different, whether it's a piña colada or a mango daiquiri. And I'm very careful with my drinks. I want them to be pretty and perfectly made."
"The most important thing is how you interact with the clientele. I try to let them know all the different places to go in Sarasota so they will have a great experience, rather than just going to all the tourist locations. There are so many places people would never find out about if you didn't tell them."
"My mission behind the bar is to touch people's lives, and have mine touched in the process. When you move to Florida, you're basically without a family, and so your customers become your family. I have met the most wonderful people, and I probably have more friends than most people could dream of having in a lifetime." —Taylor Meredith
Signature >>
"From Siesta Key to Key West, they're trying to make rum runners like I do, but I've got them all beat."
Rules >>
"If a person gets obnoxious or drunk, I have no problem whatsoever telling them that's enough, and that could even be a friend of mine."
Passion >>
"I just love the business. It's a profession, not just a place to work and to make tips."
Click here to read past My World interviews. >>
This article appears in the February 2014 issue of Sarasota Magazine. Like what you read? Click here to subscribe. >>