Article
Guide to Florida Stone Crabs
Essential intelligence about the king of Florida seafood.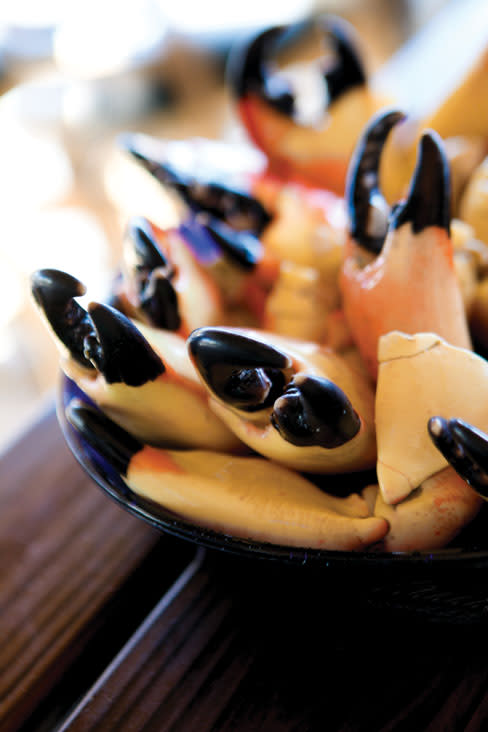 Stone Crab Sampler
Essential intelligence about the king of Florida seafood.
WHITE GOLD A pound of large stone crab claws is about $30 this season—but how much is the actual meat? We dissected a claw in the service of science and discovered you're actually paying $4.50 an ounce—or $72 a pound for the meat. Expensive, yes, but it's still a lot less than you'd pay for some other luxuries, like Beluga caviar ($17 an ounce), gold ($1,230 an ounce) or even Dom Perignon ($5.76 an ounce). So crack open another claw and enjoy.
SUSTAINABLE CATCH Fishermen can only take one claw, leaving the crab to defend itself with the other, and egg-bearing females can't be declawed. Still, about 28 percent of crabs that lose a claw will perish.
SHELF LIFE Claws are cooked immediately after harvesting and should be eaten within three to four days.
Oct. 15-May 15 is Florida stone crab season.
Recipe: Joe's Stone Crab Mustard Sauce
Mustard sauce is hthe classic accompaniment to cold stone crabs. Here's a recipe from Joe's Stone Crab in Miami.
1 cup mayonnaise
2 Tbsp. half-and-half
1 tsp. dry mustard
2 tsp. Worcestershire sauce
1 tsp. A-1 steak sauce
Kosher salt and fresh ground pepper, to taste
Whisk mayonnaise, half-and-half, mustard, Worcestershire sauce and A-1 sauce in a bowl until smooth. Season with salt and pepper and chill.
Click here to return to our ultimate guide to Gulf seafood. >>