Article
How to Prepare the Feast of the Seven Fishes
Chef Judi Gallagher shares her favorite recipes and tips for preparing the classic Feast of the Seven Fishes.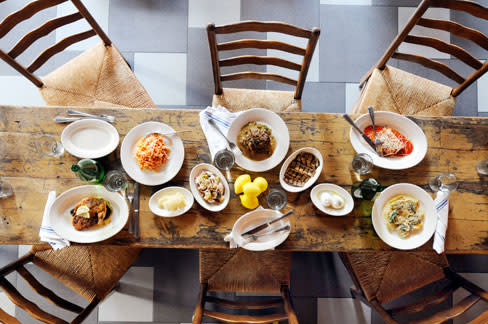 The Feast of the Seven Fishes is Christmas Eve tradition that dates back centuries. Friends and family gather around the holiday table for a truly decadent meal that can include not not just seven, but up to nine (!) types of fish.
Famed Chef Mario Batali has always promoted this feast of the sea, and locally there now seems to be renewed interest in observing it, no matter what religion or ethnic background you are.
Café Bacci and Mattison's are just a few taking reservations for Feast of the Seven Fishes on Christmas Eve.
Feast of the Seven Fishes Crab and Potato Hash
Recipe courtesy of Chef Paul Mattison
Ingredients
4 medium Idaho potatoes
3 Tbsp. olive oil
½ cup sweet onion, diced
2 tsp chopped garlic
1 cup diced sweet red bell peppers
2 Tbsp. diced jalapeno
2 cups jumbo crabmeat, cleaned and picked
2 Tbsp. chopped flat-leaf parsley
2 Tbsp. chopped cilantro
1 Tbsp. kosher salt
Preheat the oven to 350 degrees. Wash and dry the potatoes. Using a fork, pierce the skin several times to prevent them from bursting. Place them directly on the oven rack. Bake for 45 minutes, until they are slightly soft to the touch. Remove from the oven and let cool completely. Refrigerate for 2 hours then peel and dice into a small ½ inch cubes.
In a large, flat griddle pan, warm the olive oil on medium heat. Add the onions and cook until caramelized, approximately 3 to 4 minutes. Add the garlic and the diced potato. Toss together and cook for 1 minute. Add the red peppers, jalapeno, crabmeat, cilantro, and parsley. Sauté together for another minute and season with salt. Serve with desired fish.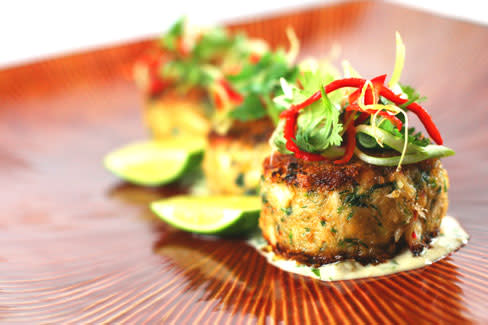 Blue Swimmer Crab Cake with Thai Basil and Fennel Pollen Mayo
Recipe courtesy of Chef Jeremy Hammond Chambers
Serves 8
Fennel pollen mayo
1 cup mayonnaise
Juice of 1 Sicilian or Meyer lemon
1 Tbsp. minced preserved lemon
¼ tsp. fennel pollen
1 Tbsp. chopped pickled chili
1 Tbsp. chopped chive
Fresh ground pepper
Crab cake
2 lbs. fresh blue swimmer crab meat
3 Tbsp. bread crumbs
1/3 cup mayonnaise
1 tsp. grated fresh ginger
1 green chili, minced
2 scallions, minced
¼ cup chopped dill
¼ cup chopped basil
2 Tbsp. Sicilian or Meyer lemon juice
Mix all of the mayo ingredients together and refrigerate until serving.
Gently mix all of the crab cake ingredients. Form into 16 (2-2 ½-oz) cakes (each one two inches thick). Dust each cake with a touch of panko. Sauté on each side over a medium heat for 2-3 minutes until golden. Serve two cakes per person with a wedge of lime or lime and a dollop of fennel pollen mayo.
Salt Cod with Tomatoes and Capers (Baccalà alla Vesuviana)
Recipe courtesy of Chef Mario Batali
In Italy, this recipe is a classic holiday dish. For Christmas Eve, it would generally be served at room temperature, as part of a buffet.
Yield: Makes 6 appetizer or 4 main-course servings
Ingredients
2 pounds center-cut skinless boneless salt cod (baccalà), rinsed well
2 Tbsp. salt-packed capers*
7 Tbsp. extra-virgin olive oil
1 medium onion, finely diced (about 1 1/2 cups)
4 1/2 teaspoons red pepper flakes
1 (28-ounce) can whole San Marzano tomatoes, in juice
1 teaspoon kosher or coarse sea salt
1/4 cup fresh flat-leaf parsley, coarsely chopped
1/4 cup plus 1 tablespoon fresh mint, coarsely chopped
*Available at some specialty foods shops and chefshop.com
In large bowl, combine cod with water to cover by 2 inches. Cover and refrigerate, changing water 3 times a day, 1 to 3 days (see cooks' note, below). Refrigerate until ready to use.
In small bowl, combine capers with water to cover by 1 inch. Cover and refrigerate 1 day, changing water 3 times.
Drain and rinse capers, then squeeze dry. Drain cod and pat dry, then cut into four-by-two-inch pieces.
In heavy 6- to 8-quart pot over moderate heat, heat 3 tablespoons oil until hot but not smoking. Add onion and sauté until softened and golden, 3 to 4 minutes. Add red pepper flakes, capers, tomatoes and juice, and salt. Using wooden spoon, gently crush tomatoes. Bring to simmer, then carefully add cod. Add parsley and 1/4 cup mint and gently spoon some of sauce over cod. Simmer, uncovered, until cod is tender and heated through, about 5 minutes.
Using slotted spatula, transfer cod to serving platter. Remove pot from heat and stir in 3 tablespoons olive oil. Spoon sauce over fish, then sprinkle with remaining 1 tablespoon mint and 1 tablespoon olive oil. Serve warm or at room temperature.
Notes: Salt cod is sold at Piccolo's Italian Market in Gulf Gate, and you can order all your seafood for the Feast from Sarasota Seafood Company and Market on 12th Street—but call soon because orders are booking up.
My best call for lobsters is Lotsa Lobsta on South Tamiami Trail. While some lobster markets might be slightly cheaper, Lotsa Lobsta has the best quality I find and real down home folks.
Will you be cooking the Feast of the Seven Fishes this year?
And a quick note: Chef Al Massa is no longer with Chianti restaurant, which I reviewed last week—I can no longer stand by that review because of the chef change. Stay tuned…