Article
Season of Eating
Chef Judi recaps a week that includes the Suncoast Food and Wine Fest, a South African wine tasting at Michael's On East, Brunch on the Bay, Il Panificio pizza and lunch at Eat Here.
Funny, as the holidays approach I do not worry so much about overeating with plates of gravy and stuffing, lasagna and prime rib, turkey legs and pie. I am more concerned with all the fabulous food we have day-to-day in Sarasota.
With restaurants opening like Social (good meatballs and an awesome vibe) and all the restaurants re-opening for lunch like Clasico, Eat Here and Louie's, the temptations might be on every corner.
And of course, "season of eating," as I call it, has already started. The Suncoast Food and Wine Festival was a huge hit this past Saturday, and I confess to loving the milk chocolate toffee bar from Kilwin's. Sure, I may be the only one who goes to a wine fest and doesn't drink (seriously, I would be asleep in the polo field by 3 p.m.), but having a Starbucks to sip on while hosting the cooking demo tent did me just fine.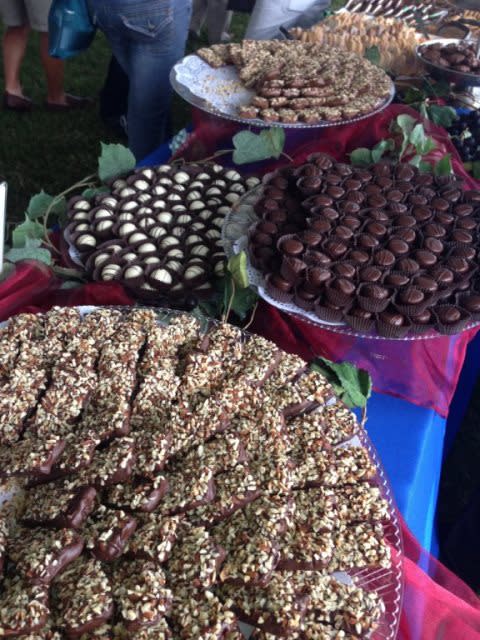 Kilwin's and Starbucks could be two of the best combinations at the Suncoast Food and Wine Festival.
A few hours later I was dancing to Katy Perry and pan searing scallops for our wonderful table of YMCA VIPs. Michael's On East rocked the house with South African chef Anna and their own dancing star, chef Jamil. Great South African wines and a beautiful fund raiser for all to enjoy.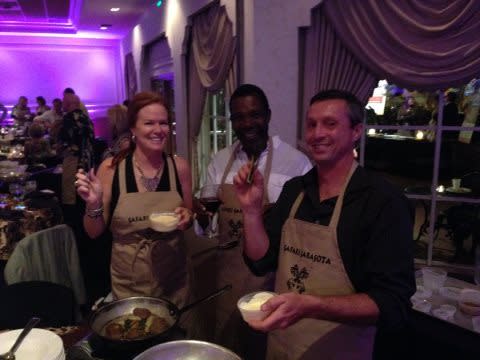 The interactive South African Dinner at Michaels was a HUGE hit.
The next day was the 20th anniversary of Brunch on the Bay, and I confess to hitting up Michael's On East for a second round of sliced flank steak. The restaurants continue to bring it each year, and although I pouted about not being able to have a crepe Suzette or cupcake, it was a delicious time at USF.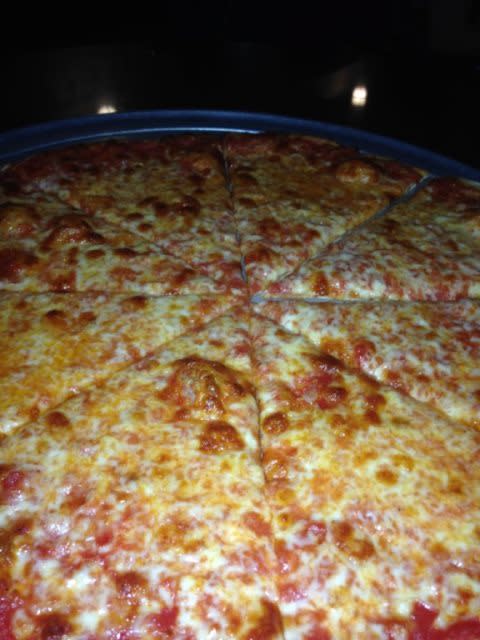 Pizza at Il Panificio.
OK, here comes the big confession and worth every darn calorie in the world. Saturday night, after a romantic walk on Lido Beach, we decided to have our cheat meal. Yes, that's right, on Paleo you get a cheat meal. We did it right—a whole cheese pizza at Il Panificio. OMG, if you love a great pizza, try going without a slice for four months and then get a big hot baby! We devoured the whole thing—four pieces each—and I lived another day with NO REGRETS!!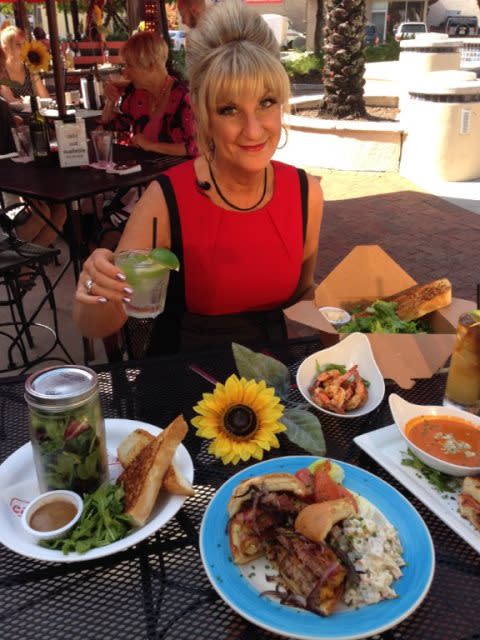 Eat Here, now serving lunch.
After two GREAT lunches at Eat Here, I have decided that Sean Murphy did the right thing by offering the top 10 (well, I counted 12), including the world's best meatloaf sandwich and the world's best grilled cheese with tomato soup. OK, I was a good dieter and ogled but stayed with my fresh mason jar salad. Totally cool idea to let you take the leftovers home and the jar!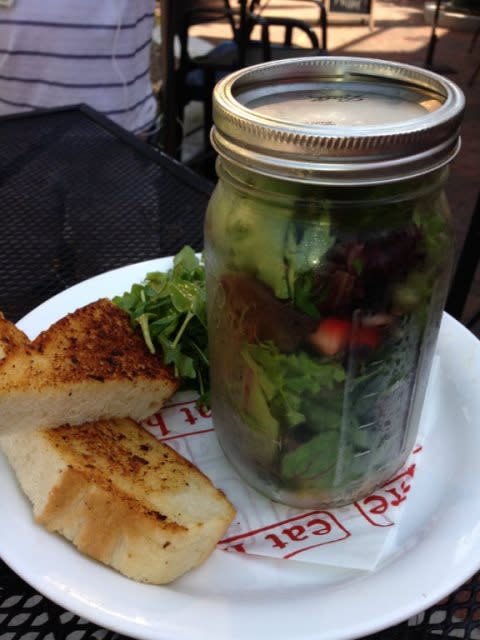 Check it out—you bring the leftovers home in your mason jar!
There is more coming; rumors are Tartane on 5th is a good choice (we head there tomorrow) and once Roast (the new restaurant next to the opera house) settles down and gets their beat I will have a review.
And then there is always another pizza!