Article
Restaurant Review: P.F. Chang's
P.F. Chang's delivers.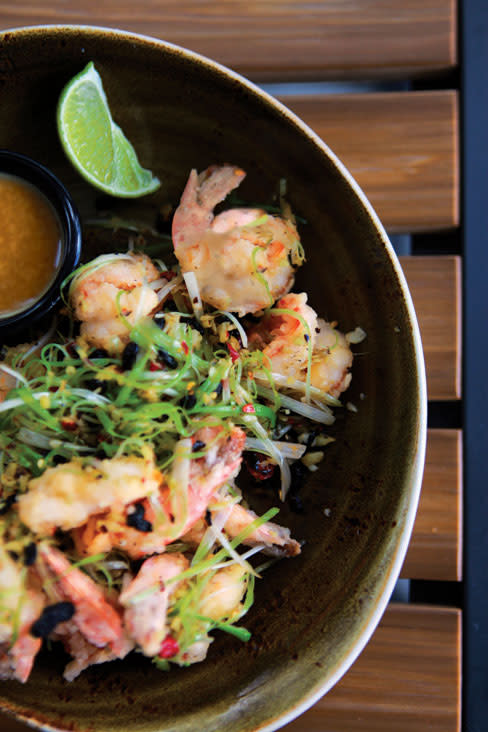 The outpost of P.F. Chang's China Bistro that opened this summer at Osprey and Mound in Sarasota is a handsome iteration of the chain's restaurants, with high ceiling, open sight lines and big windows creating a light and breezy ambiance. The building makes good use of its outside seating areas, too, including an al fresco interface with the attractive bar.
P.F. Chang's, which we have visited in several cities, is a reliable outfit. You may not get the dazzling surprises we treasure in a locally owned, chef-driven restaurant, but you will get well prepared, high-quality ingredients and attentive, cordial service. The creative menu offers many options, including vegetarian dishes and the now de rigueur gluten-free stuff. The specialty cocktails list is a winner, and there are plenty of good wine buys by the glass or bottle.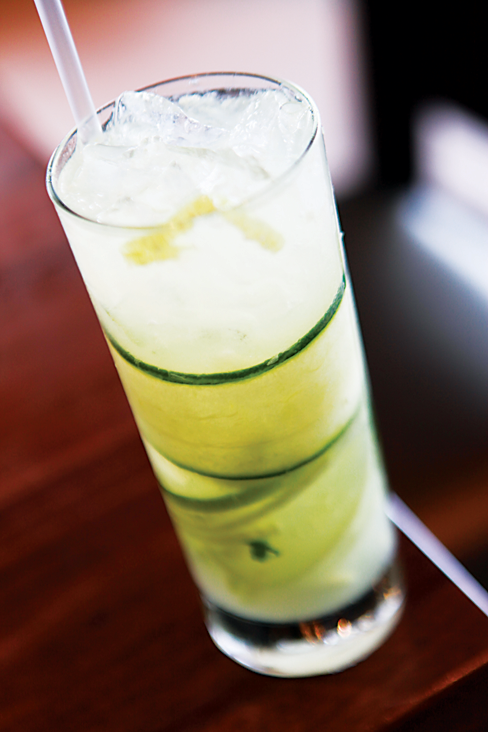 Creative cocktails are a big deal these days, so we've made it a habit to try a couple when offered. Colette is a fan of the good old G&T and so decided to try the Bert's Gin & Tonic ($9). She was offered her choice of three top-shelf gins (she chose Bombay Sapphire), which arrived in a generous pour over a big round chunk of ice (said to melt more slowly than cubes, yielding a less watered drink) with lemon and lime wedges and a pretty star anise pod floating in it. On the side was a small bottle of Fever Tree Premium Indian Tonic for mixing to taste. Nice. I went for a Cucumber Agave Fresco highball ($10) that married tequila and its less civilized cousin, mescal, in a drink garnished with strips of agave and cukes. Chalk up another success.
For starters we shared pan-fried dumplings stuffed with veggies ($6.95) and crab wontons ($7.50). Dumplings are more familiar in the pork-stuffed version, but the veggie option is a good one and we'd order it again. The deep-fried wontons enclosed a nice creamy crab mixture, like crab rangoon. On the side came a trio of dipping sauces: mild plum sauce, incendiary red pepper paste and eye-watering Chinese mustard. Mix them to taste and away you go.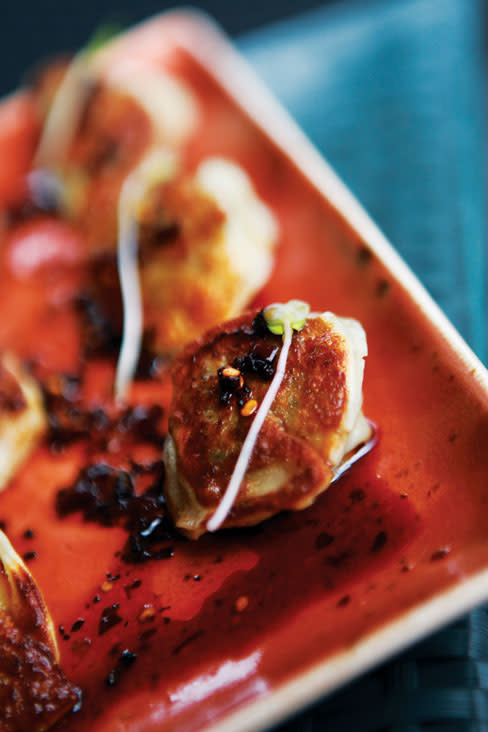 From the vegetarian portion of the menu Colette selected Ma Po Tofu ($8.95), a lively dish in which little cubes of bean curd are perfectly browned, bathed in kicky red chile and garlic sauce and plated on broccoli florets done al dente. This is a splendid alternative to meat-based cuisine.
I'm a huge fan of the salt-and-pepper style of Chinese cooking, in which much is made of a seasoning combination of kosher or sea salt and a mix of ground black, green, red and Szechuan pepper. P.F. Chang's version ($17.95) features a bountiful portion of crisp-fried prawns tangled up with slivers of chile peppers, ginger and green onion smattered with tiny black beans served with a yummy sweet chile dipping sauce.
We also sampled a couple of side dishes, which come in full or half portions, the latter going for $2.95. We liked the Szechuan-style, wok-crisped asparagus best, owing to the understated heat of its red chile paste and garlic sauce, but the Shanghai cucumbers in a light soy sauce with sesame seeds provided a welcome cooling counterpoint.
Given that we were already having leftovers boxed up for the next day's lunch, we guiltily dodged our responsibility to art and science by skipping dessert. Next visit, though, the banana spring rolls or maybe the great wall of chocolate are definitely in our sights.
The Verdict:
There's nothing wrong with a chain restaurant when that restaurant does it right. The sleekly designed new P.F. Chang's China Bistro in Sarasota does it right.
766 S. Osprey Ave., Sarasota
Reservations (advised): (941) 296-6002
Hours: 11 a.m. to 10 p.m. Sunday-Thursday, until 11 p.m. Friday-Saturday
Bar: Full bar and wine list
Cards: Major
Parking: In lot or complimentary valet
Handicapped accessible: Yes
Read more about Sarasota restaurants and local dining news right here. >>