Article
Hot Dish: Caramel Café's Poached Pear with Salted Caramel Sauce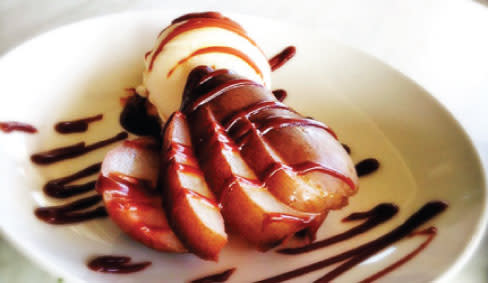 At Carmel Cafe, where chef Steven Cook is creating an intriguing array of Med-Mod small plates, the poached pear with salted caramel sauce is our current favorite. First, Cook strikes a classic chord with a fresh pear poached with star anise, cranberry and pomegranate juice and orange zest and spiced with cinnamon and cloves. Then he adds a scoop of vanilla-bean ice cream and tops it all with salted caramel sauce. This may be the perfect winter dessert.
Carmel Cafe, Shoppes at University Center, 8433 Cooper Creek Blvd., (941) 893-5955.
Click here for the recipe for Carmel Cafe's salted caramel sauce.