Article
Foodologist: Ionie Bergs
Ionie Bergs' raw food cafe serves much more than smoothies.
[caption id="attachment_23189" align="alignnone" width="488"]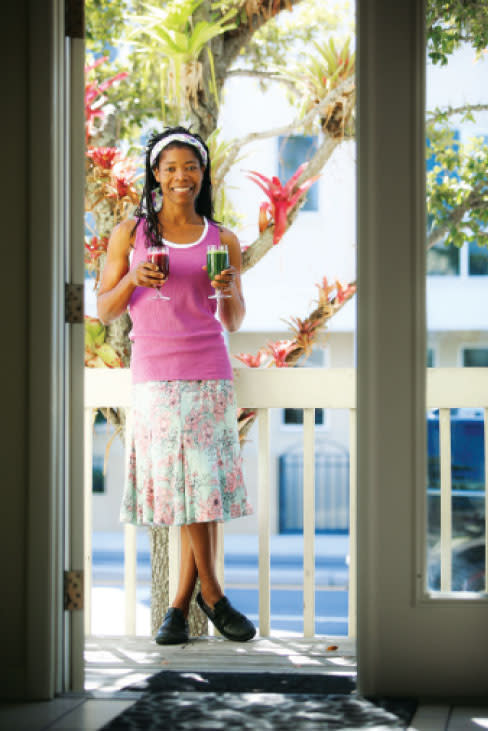 Ionie Bergs - "When I started eating more [raw food], I felt the differences instantly." (Chad Spencer)[/caption]Ionie Bergs, proprietor of ionie: Healing Center & Raw Food Cafe, eased into her passion for raw foods back in 2000 when, she says, she began to "dabble" in smoothies and juices. Her interest kicked into high gear five years later courtesy of a book by Dr. Gabriel Cousens extolling the virtues of Conscious Eating. Now a big yellow house on Fruitville Road just east of Tamiami Trail hosts not only a full-blown raw foods cafe but also Bergs' massage, acupuncture and Rolfing therapy rooms and yoga studio.
Why raw foods? "I believe that organic, vegan raw food is the healthiest and most nutritious way to feed the body. When the body is adequately nourished it can better heal and balance itself."
How does it work? "Dr. Cousens' thesis is that cooking at high temperatures reduces or destroys the health-giving nutrients in foods. It makes sense to me. When I started adding more uncooked vegetables, fruits, nuts and seeds into my diet I felt the difference immediately."
Who are your customers? "Many of our clinic clients like to have a refreshing juice before or after a treatment, but most of our cafe customers are independent of the clinic. I think they like coming to a place that feels peaceful to have some healthy food. Our top sellers? Our lasagna and our lemon cheesecake—all organic, vegan and, of course, raw!"

An editor, writer and online publisher, John Bancroft has reviewed restaurants, books, movies and music for many magazines, websites and newspapers, most recently for the Tampa Bay Times.