Article
Vacation Extras: Make Mine Meatless
Stay in swimsuit shape at these five vegetarian-friendly eateries.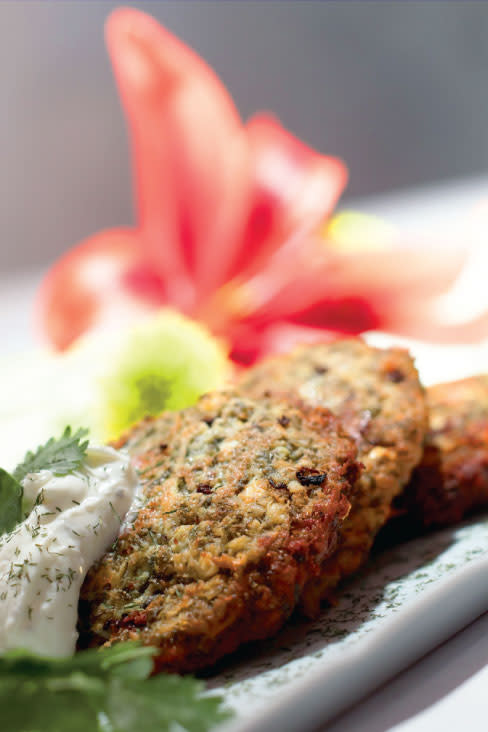 Vegans, vegetarians and carnivores break bread together at Simon's Coffee House, an unfussy deli/restaurant with a wholesome variety of vegan, vegetarian and raw dishes, along with fresh seafood and meat. Specialties include the crisp n' crunchy veggie burger, vegan lasagna (made with sundried tomato sauce and sunflower seed cheese), daily-made soups and an inspired selection of panini, wraps and sandwiches. Simon's Coffee House, 5900 S. Tamiami Trail, Sarasota; (941) 926-7151.
Veg Sarasota offers healthy, back-to-basics cuisine for vegetarians, vegans and pescetarians. Here, you can ask for low-fat or salt- or gluten-free and never feel like a pest. Their pan-seared organic tofu salad is a veggie fan favorite—a hearty bowl of steamed kale, bok choy and Swiss chard, served with tofu and ginger dressing. And don't pass up the "Portabella Volcano," which comes on a bed of sautéed spinach and quinoa. 2164 Gulf Gate Drive, Sarasota; (941) 312-6424.
Vegetarians and carnivores dig Chutney's baked feta and sundried tomato strudel; foodies of all flavors enjoy the menu's panoply of Indian and Mediterranean dishes, including falafel, spinach pie, dolma and hot n' spicy samosas. Try the zucchini and feta fritters, the brainchild of co-owner Ash Shukla. "If you love potato pancakes, you'll love these," he says. "If you hate carbs, you'll love them even more." 1944 Hillview St., Sarasota; (941) 954-4444.
Mi Pueblo El Restaurante Mexicano & Cantina offers specialties reflecting the cuisine of northern Mexico, including a healthy selection of vegetarian fare. Try the delicious Burrito de Luz—gluten-free, sprouted wheat tortillas packed with avocado, sprouts and sunflower seed sour cream. If you feel like forgoing una cerveza, the juice bar boasts a wealth of freshly squeezed juices. Muy bueno! 8405 Tuttle Ave., Sarasota; (941) 359-9303.
At Sahara Cafe & Mediterranean Market spicy Middle Eastern and Mediterranean fare is the name of the game, including falafel (made Lebanese-style—with fava beans and chick peas), tabouli, baba ghanoush, stuffed grape leaves and spanakopita. It's an intimate hole-in the-wall, so if you can't snag a table, you can always order your feast to go. Sahara Cafe & Mediterranean Market, 1121 S. Tamiami Trail, Sarasota; (941) 954-1423.