Article
The Holiday Brunch Bunch
Entertaining during the holidays does not have to be stressful. In fact, it can be downright relaxing and enjoyable, especially when you limit the number of guests, serve a brunch which acts as two meals, set the table outside to enjoy this glorious weath
By Judi Gallagher
Entertaining during the holidays does not have to be stressful. In fact, it can be downright relaxing and enjoyable, especially when you limit the number of guests, serve a brunch which acts as two meals, set the table outside to enjoy this glorious weather and let your guests contribute.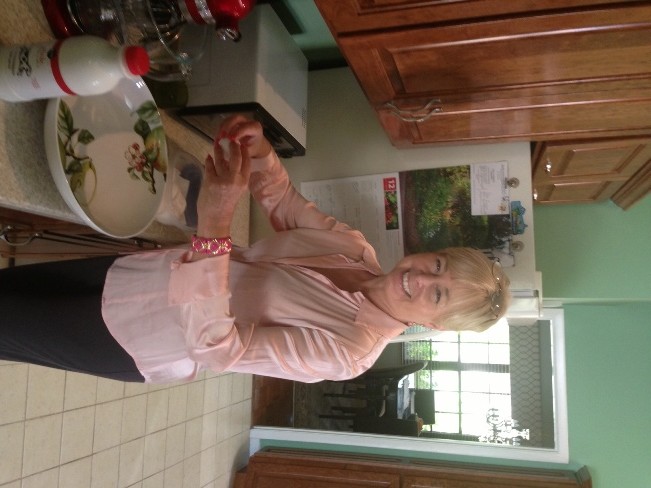 Marsha Fottler is ready to whip the batter.
Thanks to friends Debbie and Peter, we enjoyed a marvelous stress-free (well, maybe not quite for them since they were stellar hosts) delicious brunch.  A comfortable size, and everyone had their station on which to create.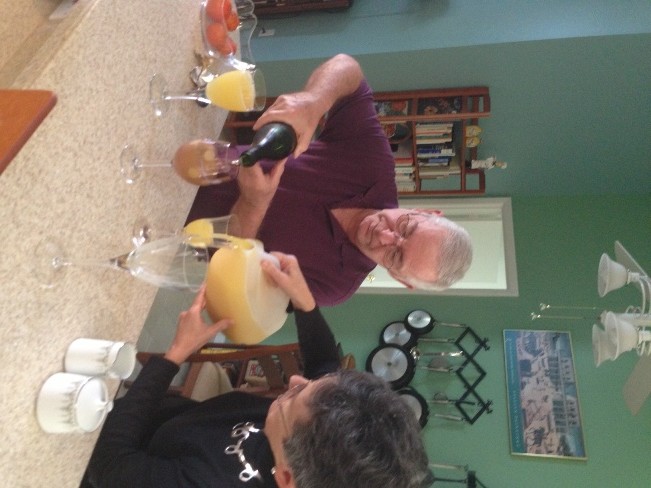 The bartenders.
Here is what was on the menu:
Fresh squeezed orange juice and mimosas
French press coffee
Fresh fruit salad dressed with fresh figs and a simply delightful banana poppy seed yogurt sauce for drizzle.
Stuffed French toast with warm berry and peach compote. (See below for recipe.)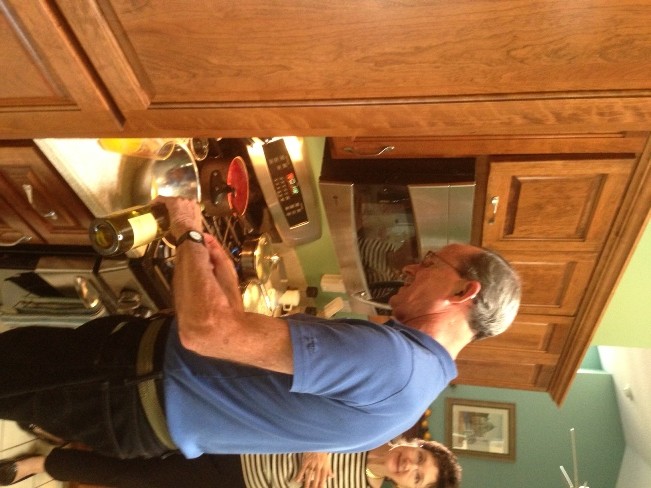 Making the hollandaise.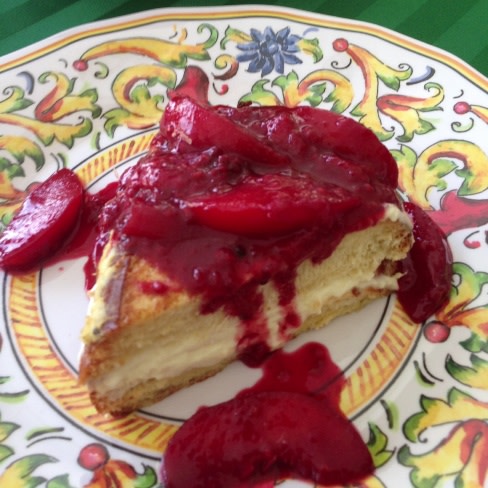 Stuffed French toast is a perfect brunch dessert.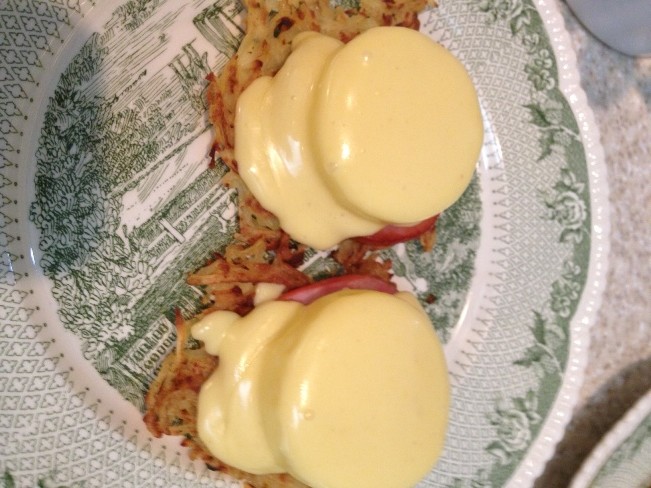 Jacques Pepin would be proud.
You know it is a great brunch when you gather at 11 a.m. and continue the conversation until 3 p.m. without any worries of schedules and times. Yes, perhaps we were also on a carb-load enhanced by Peter's sinfully and skillfully prepared Hollandaise, but it was also a chance to let everyone share in the courses and spend more time together. Isn't that what the holiday is all about?
A few more tips from the Brunch Bunch to make your holiday brunch a success.
Decorate the table simply and place a creative gift for each guest. In this case, our hostess Debbie placed several jars of assorted jams from a local store for us to select to share at our own holiday meals.
Our friend Lynn shared her Harry and David pears with each of us, gifted in lovely little Saks bags.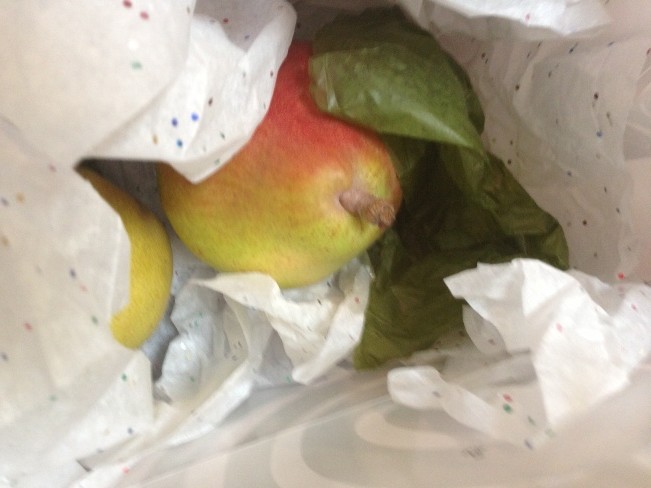 Pear gifting.
Marsha Fottler and I shared the stuffed French toast responsibilities. Marsha did the shopping and created the luscious mascarpone, cream cheese filling and I sliced and stuffed and dipped the French toast, using both our electric griddles that we carried in.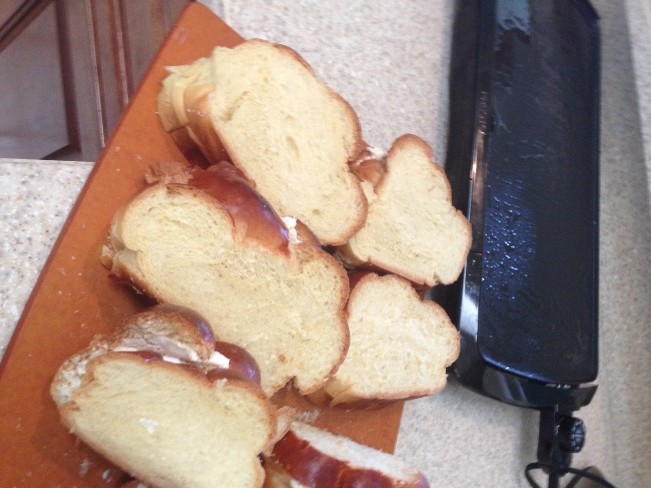 Do you have a favorite brunch recipe or brunch table scape to share?
Stuffed French Toast with Warm Peach Blueberry Compote
Chef Judi Gallagher
Frozen peaches and frozen mixed berries are just as good as fresh.
1 loaf challah bread, sliced thick
1 pound cream cheese, softened
½ cup mascarpone cheese (Italian cream cheese)
3 tablespoons-plus powdered sugar
1 teaspoon pure vanilla extract
2 tablespoons Grand Marnier
3 eggs beaten
½ cup whole milk
1 tablespoon ground cinnamon
1 teaspoon pure vanilla extract
2 cups frozen peaches and mixed berries
Unsalted butter (approximately 6 tablespoons split)
¼ cup brown sugar
Whip softened cream cheese, mascarpone and vanilla extract with powdered sugar. Spread mixture between two slices of challah bread.
Whip eggs with milk, cinnamon and 1 teaspoon vanilla extract in a large bowl.
Preheat electric fry pan or large pan to medium high. Add 1-2 tablespoons butter. (Do not brown the butter.)
Dip stuffed bread into batter mixture and lightly brown on both sides. Remove from pan and repeat.
Cut the stuffed French toast into quarters and arrange on a platter. Add remaining butter and melt. Add brown sugar and blend with butter. Deglaze pan with Grand Marnier and add frozen fruit. Continue to stir until thick compote has blended and the fruit is warm.
Pour over French toast and serve immediately.