Article
What I'm Drinking: The brews of Darwin's on 4th
Can't make it to Oktoberfest this year? Just head to Sarasota's Darwin's on 4th, where Jared Barnes is turning out craft beers of considerable interest.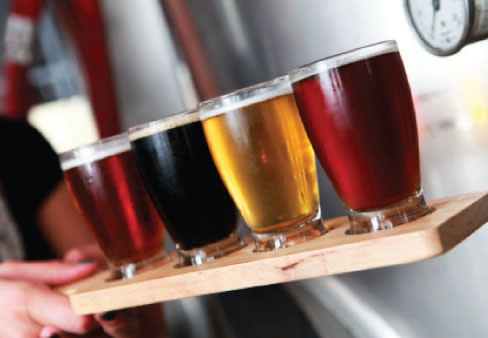 Can't make it to Munich for Oktoberfest this year? No problem. Just head over to Darwin's on 4th, where brewmaster Jared Barnes is turning out beers and ales of considerable interest year-round.
You certainly can construct a full dinner with beer pairings, but if you'd rather just nibble a few, a great way to go is to take a seat at the bar and order a sampler: five five-ounce glasses of your choice for $14.
Selections change with the season and the brewmaster's inclination, but as a rule there are at least eight house brews on tap, as well as something tasty from Cigar City Brewing in Tampa and a guest beer or ale from who knows where.
For our most recent sampler we chose three pretty traditional quaffs—an IPA, a brown ale and a French-style lemongrass ale—and a couple of Peruvian specialties we'd not encountered before. The IPA was nicely hoppy with a lot of grapefruit and an agreeably bitter finish. The brown ale was toasty, chocolatey and malty. The seasonal French ale was light and bright and fresh. We liked all three.
The Peruvian brews demonstrated that neither of us has a sufficiently developed sweet tooth to fully appreciate them. Chicha is brewed with purple corn (which we love in puddings) and is a little grapey and subtly spiced. Nice, but not for us. The Ayawasca, a Belgian-style dubbel, was pink bubble gum and caramel all the way. Save that one for dessert. And if, like me, you find that beer inevitably calls for a burger, you're in luck. Darwin's sirloin burger on a rosemary bun with pepper jack, bacon and sundried tomato aioli goes down handsomely with a house ale or stout.
An editor, writer and online publisher, John Bancroft has reviewed restaurants, books, movies and music for many magazines, websites and newspapers, most recently for the Tampa Bay Times.