Article
Eat This Now: The Best Sarasota Restaurant Dishes
Our food editors and Facebook fans pick 57 great tastes of the town.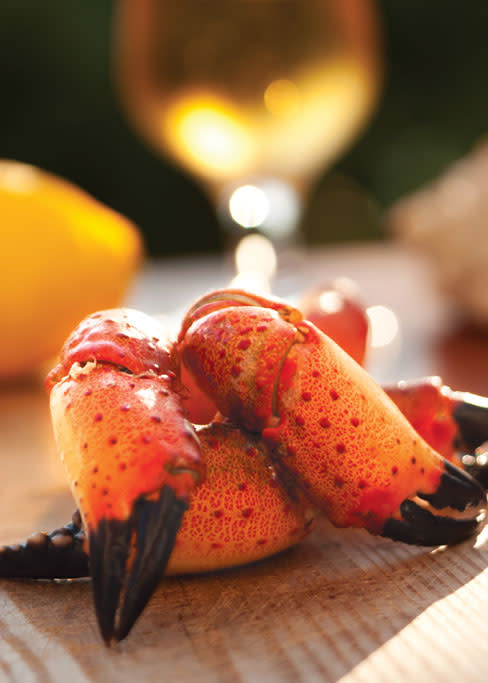 If you're a visitor, you're here because of the beach, the sun, the lively arts scene, the golf and the fishing as well as an easy-breezy lifestyle and rooms with a view. But you may not realize just how gastronomically advanced this little resort area actually is. In addition to enjoying a wealth of locally grown ingredients, from produce to seafood, we've become home to adventurous chefs from all over the world. They're creatively interpreting food cultures from Peru, Japan, France, Italy, Germany, India, China, Mexico and all regions of the United States.
It's hard for even year-round foodies to keep up with all the choices on our dining scene, and visitors can only get a taste of what's on offer. To help you eat as much wonderful food in as short a time as possible, we asked our editors, restaurant critics and some passionate foodies to choose the top dishes in town right now. And we also asked our Facebook fans to chime in with their favorites. The tasty total: 57 dishes, from sumptuous starters to decadent desserts, that should be on your wish list this year. Let the dining begin!
The new 2164 salad at Veg is composed of chopped kale, shoestring carrots, purple cabbage, shredded raw beets, avocado, pea shoots, toasted sunflower seeds and papaya-citrus dressing. Absolutely up to the high standards of this adventurous vegetarian (and often gluten-free) restaurant. 2164 Gulf Gate Drive, Sarasota, 312-6424.
A gigantic shrimp reclines atop a tangle of ink-squid pasta embellished with pistachio pesto and mozzarella mousse. The black ink spaghetti with grilled shrimp at Social Eatery & Bar is as artful as the interiors at this new downtown hotspot, where trendy drinks accompany artisanal creations. 1219 First St., Sarasota, 444-7072.
At Mozzarella Fella, every sandwich is super-fresh, but you just can't beat the breaded veal cutlet sandwich with sautéed broccoli rabe, sundried tomatoes and fresh mozzarella. In every bite, you taste the hot and crispy veal, oozing cheese, rich tomato and fresh rabe. Mamma mia! 1668 Main St., Sarasota, 366-7600.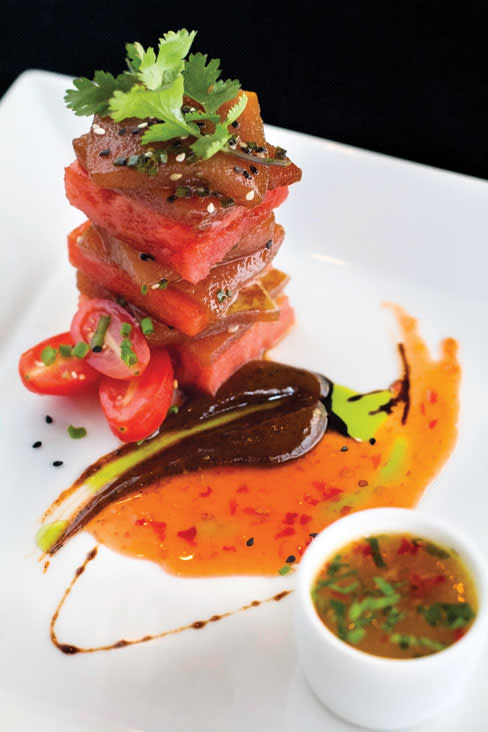 Tuna tiradito nillel is a signature appetizer at Selva Grill, a swanky little downtown Peruvian restaurant where all the ceviche is wonderful. This one features sushi tuna in a light, tangy ginger sauce with fresh cubes of watermelon. 1345 Main St., Sarasota, 362-4427.
At the Breakfast House, a 1920s yellow cottage along a busy road, the charming ambiance is matched by good home cooking. Take a seat in the back garden and order the eggs Benedict, topped with a freshly made Hollandaise that is perfect every single time. 1817 Fruitville Road, Sarasota, 366-6860.
Yummy House has finally brought authentic Cantonese Chinese food to town. Start with the dim sum; you can go wild with all the choices, but do try the chive dumplings and custard pastries. Make it a meal and eat like an emperor for under $30 a head. 3232 N. Tamiami Trail, Sarasota, 351-1688.
Nothing shows off Moroccan-born Dylan Elhajoui's cross-cultural culinary chops more than his signature dish at MoZaic: seven-vegetable couscous with ginger, green olives, lemon confit and chick peas. Every ingredient shines in this fragrant, flavorful medley. 1377 Main St., Sarasota, 951-6272.
Every Sunday, they roast a whole pig at Siesta Key's Blue Que. For some regulatory reason, they can't sell the pig, so around 6:30 p.m., they put it on a picnic table with tongs and sauce, and patrons help themselves for free. Great setting with live music in the laid-back center of local beach life, and the price is right. 149 Avenida Messina, Siesta Key, 346-0738.
We have a wealth of Thai restaurants, but few offer green papaya salad. Yet it's the perfect thing to eat on a tropical holiday—a light, sweet, refreshing and fiery celebration of ingredients that grow right here. Enjoy an excellent version at the newly reopened Taste of Asia. 4413 S. Tamiami Trail, Sarasota, 923-2742.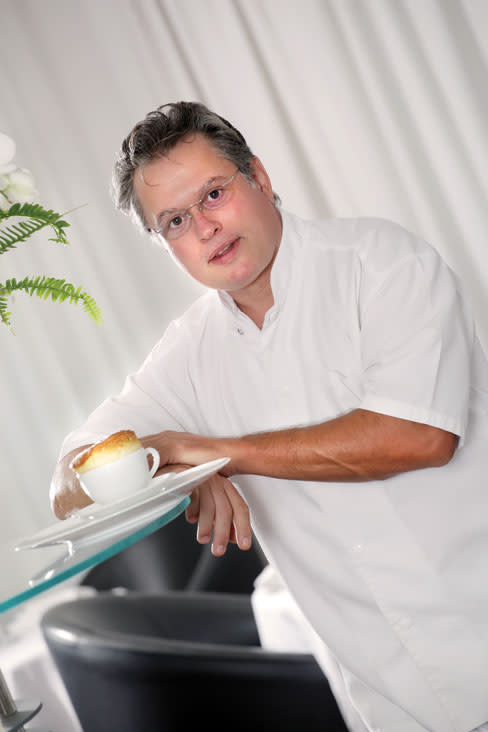 The exacting art of the soufflé requires a gifted, classically trained chef, and Sarasota is blessed with one of the best in Jose Martinez at Maison Blanche. For the grandest of finales, place your order a few days before you go. Make ours the Grand Marnier. 2605 Gulf of Mexico Drive, Longboat Key, 383-8088.
Michael Klauber, who frequently leads culinary tours of South Africa, just put Cape Malay pork belly on the dinner menu at Michael's On East. Richly layered and slightly exotic, it combines barbecued pork belly, turmeric-spiced squash cake, tempura tomato and grilled zucchini with a fig demi-glace. 1212 S. East Ave., Sarasota, 366-1212.
We know folks who drive 45 minutes for a bowl of soup at Simon's Coffee House. A favorite with vegetarians and healthy eaters, the restaurant has a wide-ranging menu and makes a couple of different soups each day. They're all wonderful, especially with the homemade bread or muffins. 5900 S. Tamiami Trail, Sarasota, 926-7151.
At new Peruvian restaurant Jalea, one of the many stars on the enormous tapas menu is the leche de tigre, an ambrosial blend of fish, corn and onions in a secret ceviche sauce. Savory, creamy and light, it comes in a wine glass with shrimp and lime garnish. 1532 Main St., Sarasota, 955-8272.
For years the recipe for the Columbia Restaurant's 1905 salad was secret, but recently they released it. It still tastes better when composed tableside by your formally dressed waiter. Lettuce, olives, ham, cheese and a snappy garlicky dressing, with warm Cuban bread and butter on the side. 411 St. Armands Circle, Sarasota, 388-3987.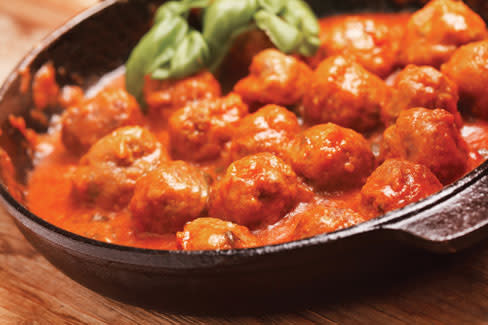 Sunday sauce, an all-day-long simmered combination of tomato sauce and various meats, is an Italian tra-dition, and they nail it at MADE IN ITALY. Pick a day when you want to be stuffed and enjoy a leisurely stroll around downtown Venice after dinner—that's what the Italians would do. 117 W. Venice Ave., Venice, 488-8282.
The raw oyster flight at Crab & Fin offers a dozen briny bivalves, three each from a different part of the country, each with its own distinct flavor profile. A learning experience as well as an indulgence, whether you're an oyster connoisseur or not. 420 St. Armands Circle, Sarasota, 388-3964.
Deviled eggs may seem mundane and easy to get right. But the popular starter at Libby's Café + Bar manages to be simple yet superb. Maybe it's the sturgeon caviar topping. Pass the herbed biscuits with truffle butter and cherry preserves, please. 1917 S. Osprey Ave., Sarasota, 487-7300.
Chef Roy Yamaguchi, founder of Roy's, introduced the world to Hawaiian fusion food, and aren't we glad. The ebi shrimp roll morsel embodies all our favorite tropical tastes—shrimp, mango, coconut, avocado and a hit of hot pepper in the aioli. 2001 Siesta Drive, Sarasota, 952-0109.
The chef at Café Gabbiano has been having a torrid affair with truffles lately, and his passion for the underground fungus is extravagantly expressed in the escargot and truffle paté. It's elegant, earthy, sensual—and wonderfully worldly, too. 5104 Ocean Blvd., Siesta Key. 349-1423.
In Sarasota, even the concession stands have gourmet fare. Head to beautiful Lido Beach on Sunday morning, and enjoy a top-notch Maine lobster roll for just $10. Sundays only and they always run out, so come early. Beverages and live music, too. 400 Benjamin Franklin Drive, Sarasota.
The chick pea fries at Carmel Café & Wine Bar are light little logs of flavor, fried and served hot with sides of tomato jam and curry aioli. Dip them, share them or eat the whole order on your own. But you will never be able to eat just one. Carmel Cafe & Wine Bar, 8433 Cooper Creek Blvd., Sarasota, 893-5955.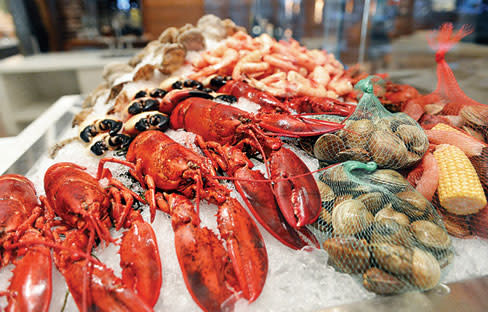 The classy-beachy-resort ambiance of the new Jack Dusty at The Ritz-Carlton, Sarasota, is half the fun of eating here, and the bountiful raw bar is the rest. Oysters, rock shrimp, caviar, clams and stone crab claws are arranged like edible art from the sea. 1111 Ritz-Carlton Drive, Sarasota, 309-2266.
Caragiulo's, a downtown Italian-American trattoria, made its reputation on pizzas, pasta and the best chopped salad in town. Chef just added a crispy Maple Farms duck dish that has regulars saying, "Who knew?"  It comes with a gourmet spinach/lentil/cauliflower fonduta and amerena cherry glaze. 69 S. Palm Ave., Sarasota, 951-0866.
Phillippi Creek Oyster Bar's setting on an inland waterway is scenic and relaxing. The restaurant is big and rustic, and you can eat as close to the water as you want. The new cedar plank trio of grilled fish lets you enjoy three different but equally delicious species, each with its own unique topping. 5353 S. Tamiami Trail, Sarasota, 925-4444.
Ophelia's on the Bay is famous for gourmet fare, but nothing outshines the Bandera quail, gloriously stuffed with oysters and herbs and presented with peppered ham gravy,  plum compote and a side of rock shrimp and grits. Plus it comes in a postcard-perfect waterfront setting. 9105 Midnight Pass Road, Siesta Key, 349-2212.
Sarasota has some excellent sushi, but Kazu's 2.0, winner of our Sarasota's Best Sushi Contest a few years back, is consistently excellent—and creative. Case in point: the mandala roll, with fresh salmon, white tuna, asparagus, cilantro and crispy chips wrapped with seared tuna and served with chili garlic sauce. 6566 Gateway Ave., Sarasota, 922-5459.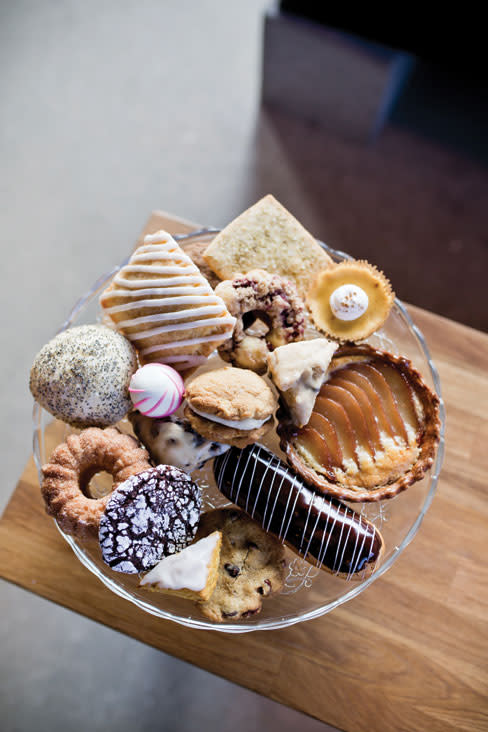 Inside the cozy new Perq Coffee Bar, the pastry menu changes often, but we've never had a confection here we didn't love. Pair the day's offerings with a cup of their truly great coffee. 1821 Hillview St., Sarasota, 955-8101.
Star Fish Company recently won national accolades for its seafood and casual waterside location in a historic fishing village. It doesn't get more Florida vacation than sitting at a picnic table, watching bobbing boats, and enjoying what just might be the world's best grouper sandwich. Did we say "paradise"? 12306 46th Ave., W., Cortez, 794-1243.
There's lots to applaud at the new Louies Modern, but the star is the burrata salad, with local tomatoes and the super-creamy cheese sitting atop an icy block of salt. Pickled cippolini and a focaccia stick round out the picture. A happy marriage of sweet, salty and savory. 1289 N. Palm Ave., Sarasota, 552-9688.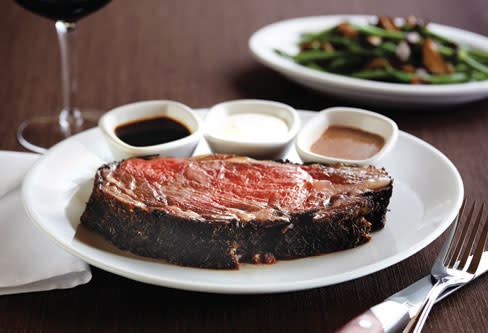 We know, you want seafood. But there will come a night when you will crave a big, juicy steak seared to carnivorous perfection. Go to Fleming's Prime Steakhouse and Wine Bar and get the gorgeously marbled ribeye; nobody does it better. 2001 Siesta Drive, Sarasota, 358-9463.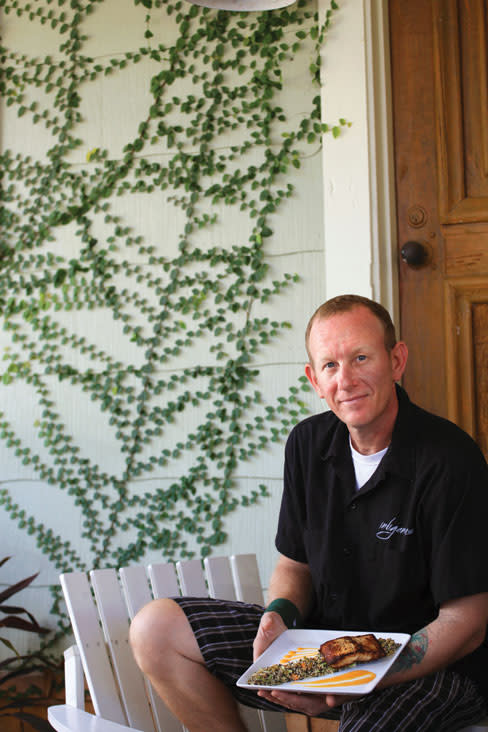 Chef Steven Phelps's downtown Indigenous is a favorite of locavores, especially for Phelps' genius with fresh fish. For an incomparable taste of Sarasota, order the sturgeon, a meaty fish rich in healthy oils that's farmed locally by our own Mote Marine Laboratory. 239 S. Links Ave. (Towles Court), Sarasota, 706-4740.
For as long as we can remember, the pommes gratin Dauphinois at Bijou Café has been a staple at nearly every dinner table. The oven-baked potato casserole is rich with Gruyere cheese, cream and garlic. It's finished off under the broiler, so there's a lovely little crust on top. 1287 First St., Sarasota, 366-8111.
A step back in time, Owen's Fish Camp is done up like an old-fashioned fish shack. But dishes like the masterful pan-seared scallops with a side of pork over cranberry-studded succotash belie the humble décor. We've spotted leading local chefs rhapsodizing over this entrée. 516 Burns Court, Sarasota, 951-6936.
Very few restaurants take the trouble to prepare classic Crêpes Suzette, but at the Haye Loft, the upstairs dessert room at Euphemia Haye, they do. Imagine three thin French pancakes crowned with a flambéed sauce of brandy, Grand Marnier, caramelized sugar and butter. Mais oui! 5540 Gulf of Mexico Drive, Longboat Key, 383-3633.
The creamy, rich tomato soup with a grilled Muenster and Gruyere cheese sandwich with caramelized onions on thick, chewy bread at Eat Here proves that comfort food can rise to art. They're offered separately, but you want both together. 1888 Main St., Sarasota, 365-8700.
Sooner or later, just about every visitor ends up at Yoder's Amish Village to indulge in farmhouse comfort food, especially homemade pies. The most famous of them all? The big, fluffy, sweet and incredibly rich chocolate peanut butter pie. Yes, you will eat every bite. 3434 Bahia Vista St., Sarasota, 955-7771.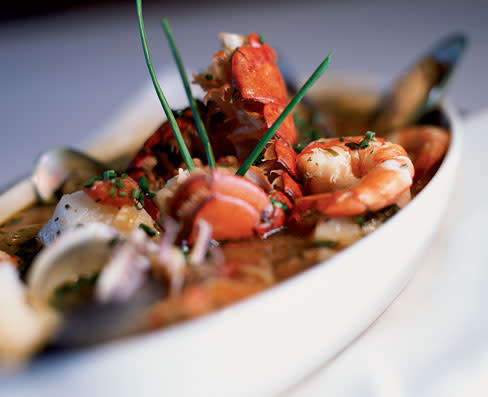 At $66 for a big bowl, it's the most you've ever paid for soup. And guess what? You'll want to do it again. The bouillabaisse at Beach Bistro is the ultimate coastal cuisine, aromatic and brimming with local seafood as well as Nova Scotia lobster tails. Herbed garlic toast and aioli on the side. 6600 Gulf Drive, Holmes Beach, 778-6444.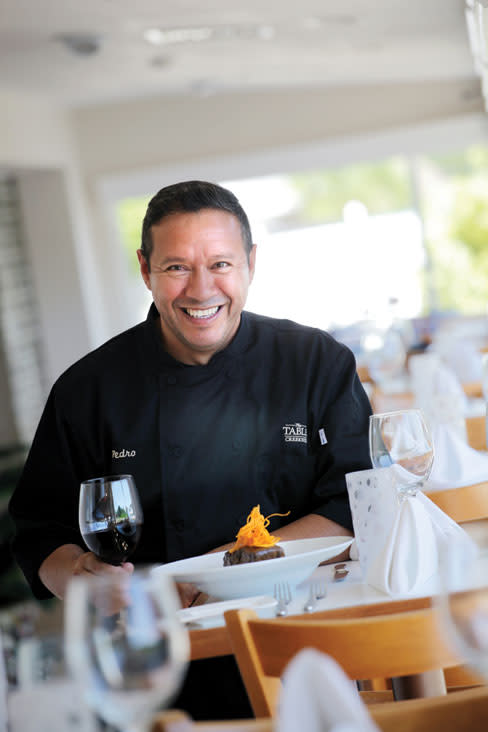 Innovative chef Pedro Flores at The Table makes short rib fans of people who didn't even know they liked them. Fall-off-the-bone tender meat is creatively seasoned and served with Caribbean gnocchi and roasted root vegetables with manchego froth. You can't make this at home. 5365 S. Tamiami Trail, Sarasota, 921-9465.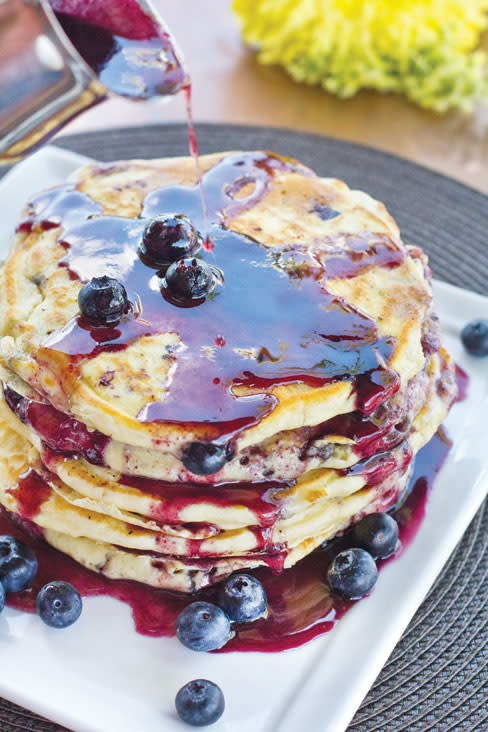 Station 400 is actually an old train station, just not one that ever existed in Sarasota. But it's becoming a local institution, especially for breakfast, where you need to order the blueberry almond pancakes. Fluffy, rich and extra-big, they're a great way to fuel up for a day of sightseeing. 400 N. Lemon Ave., Sarasota, 906-1400.
Fave Dishes from our Facebook Fans.
We asked our 8,300 Facebook fans to weigh in, and did they ever! Here are just a few of the dishes they're loving right now.
Mini lobster rolls from State Street + Cocktails Eating House. They are amazing! I am obsessed.—Kyla Yaeger Weiner
Mac and cheese at Artisan Cheese Company. —Wendy Getchell
Veal marsala and gnocchi from Nicola's Italian Kitchen in Englewood.—Rina De Fazio Remmers
The BLT panini at Sirard's Chocolate Cafe. It's cocoa-cured bacon, fresh tomato, lettuce and cheddar on freshly baked focaccia bread. Delish!—Lynne Carpenter
Duffy's Tavern's burger on Anna Maria Island.—Holly Switow
Fiery scallops from The Lobster Pot on Siesta Key. —Marina Smith
The lobster roll at Drunken Poet Café is a showstopper. —Mart Solu
Linguini frutti di mare at Café Baci is magnificent. —Deb Knowles
Ionie's lasagna from Ionie's Raw Food Café.—Vegan Sarasota
Gulf Drive Café's fresh spinach and feta omelet—comes with Gulf views.—June Mylott
Peanut spring rolls at Chutney's. Addictive! —Patty Ketchum Shaw
The Crow's Nest's grouper Key Largo is amazing. —Susan Binder
Tiramisu from Matto Matto Café is off-the-charts heaven. —Elaine Perangelo
A cheeseburger from the grill at the back of Geier's Sausage Kitchen.—Bobbe Wykowski Hildebrand
French baguette with real butter and homemade jam from C'est la Vie downtown. To die for! —Holly Mohan
For more Sarasota dining and restaurant news, click here to read our Foodie's Notebook blog. >>
This article appears in the December 2013 issue of Sarasota magazine. Like what you read? Click here to subscribe. >>