Article
WBTT's A Motown Christmas
Arts editor Kay Kipling reviews the troupe's holiday show.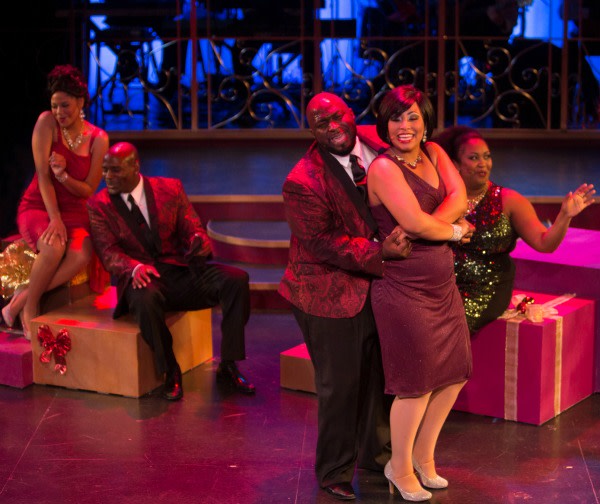 By Kay Kipling
With some holiday packages, looks can be deceiving. With others, you know just what's inside. That's the case with Westcoast Black Theatre Troupe's holiday production, A Motown Christmas.
Fans of WBTT know the formula, and it works: Put some of the company's popular performers together with some newcomers, add lively staging (by Nate Jacobs) and dancing (designed by Donald Frison), and deliver some much beloved tunes—in this case, obviously, from the Motown era—played by music director James E. Dodge II and his band. Audiences love it, and why not?
In this production, which Jacobs devised, there are lots of familiar songs from the record company—not all of them Christmas-themed, but made unforgettable by such icons of the label as The Temptations, The Four Tops, Smokey Robinson and the Supremes. But there are also some lesser-heard songs that mesh well with the others; for example, I Can Tell When Christmas Is Near, Christmas Everyday, or I Believe in Christmas Eve. Taken all together, it means a show that mixes up-tempo, soulful numbers and more traditional ones like Jingle Bells and Silent Night as well.
But WBTT, of course, puts its own stamp on even the most-sung carols, incorporating different rhythms and harmonies for a distinctive change. And A Motown Christmas benefits enormously from the choreography of Frison, whether he's adapting some of the signature moves of the male groups on tunes like My Girl or Can't Help Myself or coming up with totally new concepts. Take, for example, Rudolph the Red-Nosed Reindeer, which features young dancers Derric Gobourne Jr. and Joshua Thompson as reindeer. Decked out with appropriate costumes by Cristy Owen, they're a treat to watch, especially Gobourne as the funkiest Rudolph you'll ever see.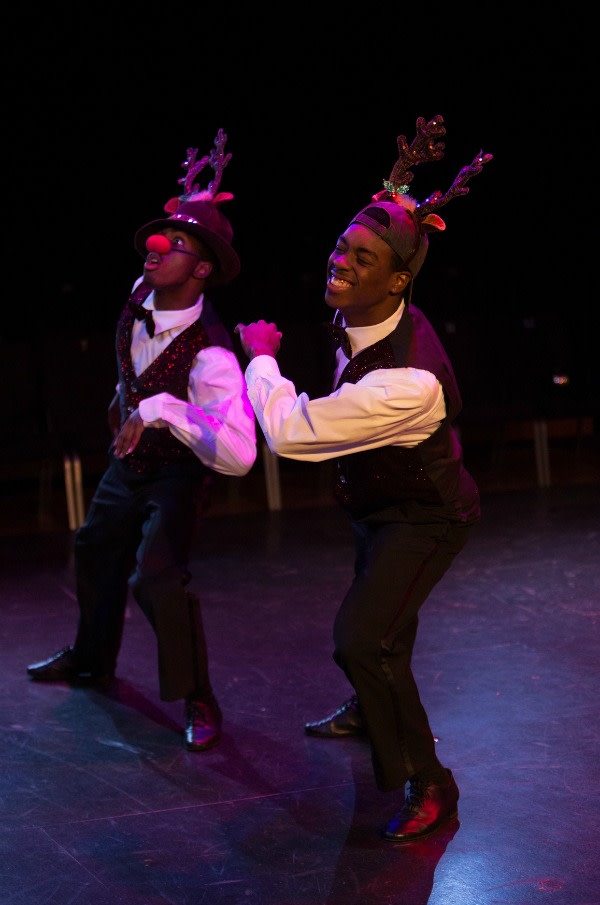 Some other lighter moments: newcomer MaRah Williams, backed by other female cast members, singing My Christmas Tree to a pretty woeful-looking specimen, or Chris Eisenberg puzzling over I Saw Mommy Kissing Santa Claus, backed by the men. But there are more emotional moments, too, as with Bless This House, led by Jacobs, or the show's closer, a blend of Go Tell It on the Mountain/Ain't No Mountain High Enough with Sheldon Rhoden and Mandi Jo John leading the company. And though I haven't singled them out by song, cast members Ariel Blue, Leon S. Pitts II and Michael Mendez are just as on the mark as their fellow performers.
While there's not much dialogue in the show, there's just enough about the essence of Motown to remind us that back in the 1960s and even 1970s, for many listeners the songs that sprang from the hitmakers there provided a bridge between black and white worlds, at a time when not many bridges existed. That adds just a little more depth to what's otherwise a bright, uplifting evening.
A Motown Christmas continues through Dec. 31 at WBTT; call 366-1505 or go to westcoastblacktheatre.org for tickets.