Article
Venice Theatre's Hair
Arts editor Kay Kipling reviews the original counterculture musical.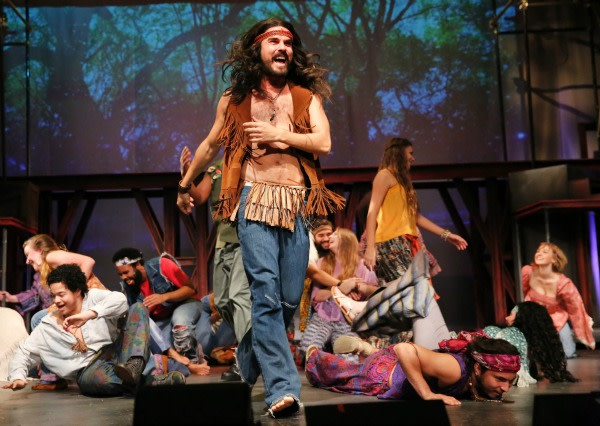 By Kay Kipling
Your take on Venice Theatre's production of Hair (which opened with a gala Monday night celebrating the company's 65th anniversary season) may depend a bit on what stage of life you are currently in. That's probably true of almost any show, but it seems particularly true when dealing with a young people's musical that, back in 1968, upended all the commonly held ideas of what a Broadway or off-Broadway musical might be like.
As a "counterculture" piece, filled with Vietnam war protests, pot smoking, revolutions in sex and race relations and a pretty free-form book that made it hard to pin down, the Hair that audiences saw nearly 50 years ago (by Gerome Ragni and James Rado, with music by Galt McDermot) was definitely a shock to theatergoing audiences. And some of the shock value still holds in VT's production, masterminded by director Ben Vereen, who himself appeared in Hair back on Broadway.
It's hard to say exactly how Vereen has "reimagined" the show unless you happen to have seen it in 1968 and can still remember it. (As the wink-nudge saying goes, if you remember the '60s, you weren't there). But certainly Hair, with its loosely strung together snippets of song and large ensemble cast of not especially defined characters, is a piece that's always ripe for tweaking—Milos Forman did a lot of it in the 1979 film version.
Here, Vereen has his hippies assembling on a two-level set by Tim Wisgerhof, wearing mostly ragtag costumes by Nicholas Hartman and moving to choreography by Geena M. Ravella that gives free rein to the high-energy cast, mostly composed of young people so clearly passionate about their work here that it can be inspiring. They hang out in the park, giving each other hugs, tugs, and occasionally joints, while turning their backs on the society their parents inhabit and the violence of a war they consider immoral. (That may sound familiar from more recent conflicts than Vietnam.)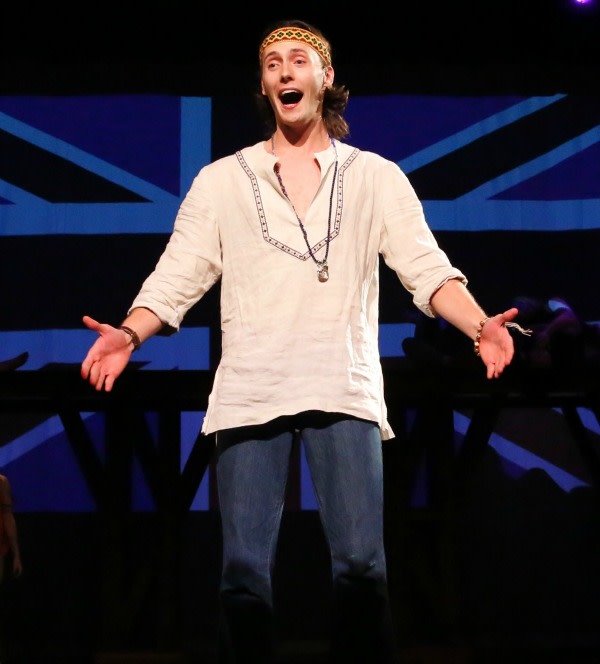 Especially worried is the idealistic Claude (Patrick Mounce, in a performance that touches), whose number is being called for the draft. His friend Berger (Charles Logan, right on target), who's more wild and crazy in his manner, is after him to burn his draft card in protest, and their roommate and sort-of-shared girlfriend, Sheila (Vera Samuels, also very effective), is in agreement. There are some messy but not nasty relationships here: Claude loves Sheila, Sheila loves Berger, Jeanie (Jessica Babcock) loves Claude (but is pregnant by another man), and then there's Samantha Centerbar as Crissy, pining away sweetly for the missing Frank Mills.
Hud (played by Vereen's son, Aaron, who is not only a powerful presence onstage but a master of the drum he uses to get some of the show's songs started); Woof (Joseph Visaggi), who's in a wheelchair but, with a free spirit, anything but bound to it; and Melody (Syreeta S. Banks, who delivers powerful vocals in the show's opening number, Aquarius) are some of the other characters who float through the story. But in a way it can be said the evening belongs to the "tribe"—that rainbow coalition of all shapes, sizes, genders and races who perform with zest on numbers from Ain't Go No to Hare Krishna to, of course, the title tune.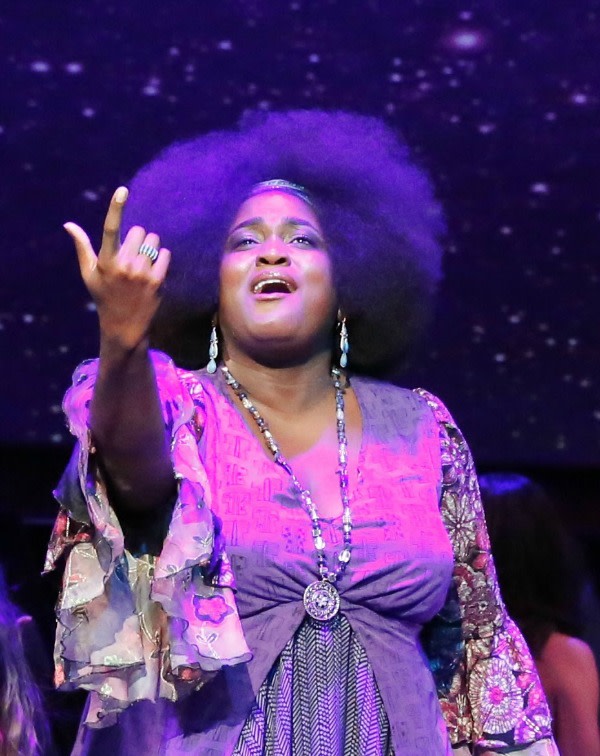 Those numbers are so lively and action-packed that one actually looks forward to the quieter moments of the show, when Sheila sings poignantly on Easy to Be Hard, or Claude asks the question Where Do I Go to close the first act (and yes, there is nudity following that number, but it's well handled and plausible). The commitment and enthusiasm of the cast are never in doubt; it's obvious that Vereen and his assistants, backed by music director Michelle Kasanofsky and a strong onstage band, have worked tirelessly to make everyone onstage feel at home there and with each other. And the video projections by Thor Trammell, ranging from familiar newscast images of tumultuous events to "groovy" posters of pop figures like Jimi Hendrix and Mick Jagger, aid in taking us back to that time of protest. (Towards the end of the show, the images are more current, referencing threats to peace from ISIS threats and school mass shootings.)
Despite all the talent and the many positives associated with Hair, though, I sometimes found myself restless—perhaps constricted, stuck in my seat instead of being free to move along with, or perhaps even sing along with, the cast on certain beloved numbers. I wasn't really taking part in the show, and Hair is a show in which everyone should be encouraged to take part.
If you go, perhaps you will find yourself freer than I did in that respect. Hair continues through Dec. 13; for tickets call 488-1115 or go to venicestage.com.