Article
WBTT's The Color Purple
Arts editor Kay Kipling reviews the musical version of Alice Walker's powerful tale.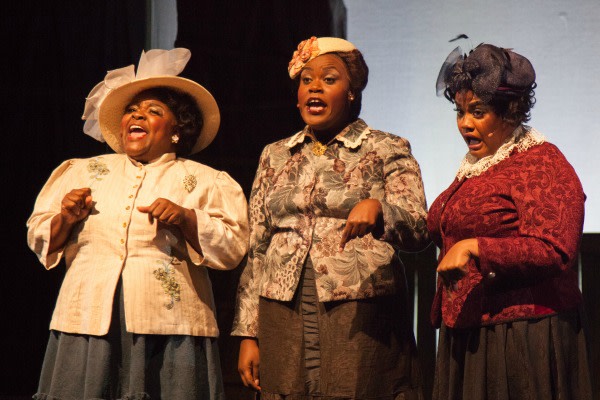 By Kay Kipling
Most of us have probably either read Alice Walker's Pulitzer Prize-winning epistolary novel The Color Purple, or seen the Steven Spielberg film version, or both. But Westcoast Black Theatre Troupe's current production of the Broadway musical version is the first by a local company, and it's quite an undertaking—one that should ultimately leave you moved and applauding.
With a book by Marsha Norman that sometimes struggles to encapsulate Walker's original story (and inevitably leaves some details out), and a score mixing various styles from gospel to juke joint (by Brenda Russell, Allee Willis and Stephen Bray), the show has a lot of ground to cover. It begins with two sisters—Celie (Apphia Campbell) and Nettie (Khadijah Rolle)—growing up poor and black in the rural South, about a hundred years ago. Their lives are hard, Celie's especially so, as at the age of 14 she's already been raped by the man she believes to be her father, and given birth to two babies he takes away from her.
But the love between the sisters survives, even after Celie, abused and considered ugly, is given in marriage to Mister (Cecil E. Washington Jr.), who needs someone to look after his children and his house. Mister actually wanted to marry singer Shug Avery (Neyce Pierre), but his father interfered, leaving Mister bitter and, towards Celie, cruel. Beaten and cowering, and eventually separated from Nettie, Celie has nothing but hope to keep her going.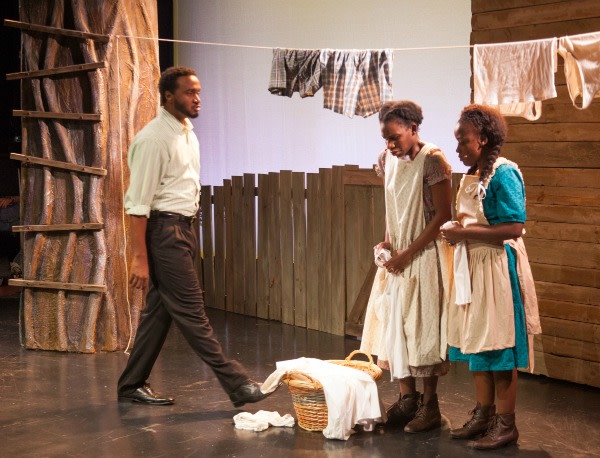 Eventually, she also finds more sisterhood, in the form of Shug herself, who sees through the surface to Celie's inner self, and of Sofia (Dametria "Dee" Selmore), the wife of Mister's son, Harpo (Joel Patrick King), who gives as good as she gets in the war between men and women. Over the course of decades, Celie gradually finds a strength she didn't know she had, and a position in her community that she deserves.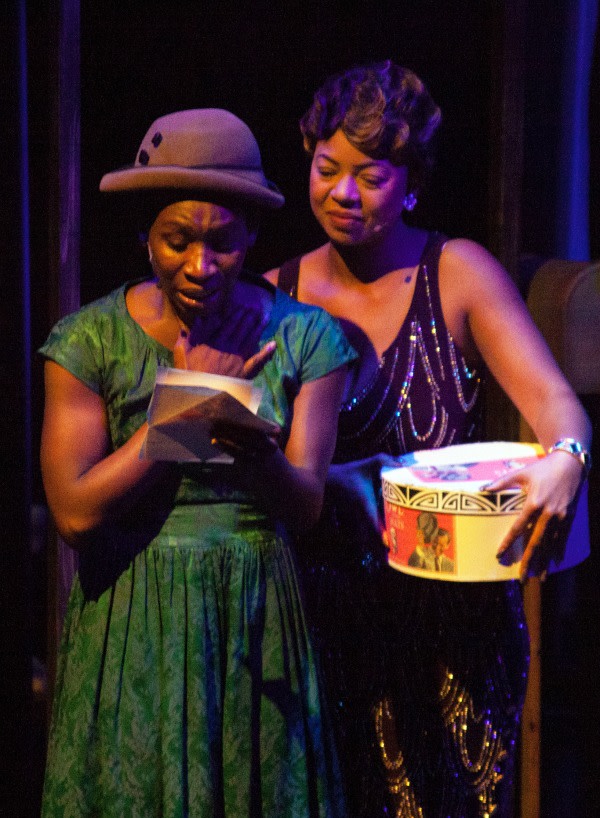 It's the kind of life-affirming, uplifting story that can too easily become sentimental in the wrong hands. But here the cast, and director James Harkness, manage to keep the right balance between comedy (yes, there is some) and compelling drama. On WBTT's intimate stage, the large ensemble cast moves through fights, celebrations and a journey to Africa convincingly, backed by sure music direction by John Bronston, so that the tale of Celie's transformation plays out in an emotionally satisfying way.
That's due in large part to the central performance of Campbell, who is believable every step of the way from young girl to older woman, from fear to rage to love to gratitude. She's impressive both for her acting and her vocals; who wouldn't root for her?
Strong work is also turned in by Pierre, Selmore, Rolle and Washington, who has the difficult task of making us believe his Act II conversion, but succeeds with Mister's Song. And a chorus of church ladies, led by Tarra Conner jones, provides entertaining musical comment all along.
By the show's end, when Campbell delivers her triumphant I'm Here, you'll be ready to echo that statement with a cheer.
The Color Purple continues through Nov. 21; for tickets call 366-1505 or go to westcoastblacktheatre.org.