Article
The Players' Chitty Chitty Bang Bang
Arts editor Kay Kipling reviews this musical based on an Ian Fleming book.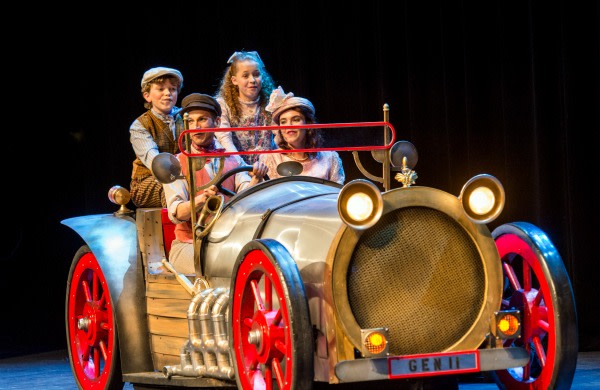 By Kay Kipling
When you go to see a musical about a flying car—i.e., Chitty Chitty Bang Bang, now onstage at the Players—you have certain expectations. Namely, that the car will fly. In this production, however—It. Does. Not. Fly.
That's one disappointment in the show, which is based on the 1968 film, itself based on a story by James Bond creator Ian Fleming. Perhaps it could be forgiven if there were more of a sense of cohesiveness to the adaptation by Jeremy Sams, but while there are sporadic moments of fun here, the whole thing doesn't hold together or move along very well.
That's despite some talent in the cast, which includes AJ Forsyth as the inventor Caractacus Potts. Potts has two adorable children (well played by Ryan Modjeski and Belle Babcock), a spirited if sometimes dotty father (Ric Stroup), and not very much money. So when he needs funds to buy the wreck of an old car his kids crave, in order to keep it from being junked, it's lucky for him he's able to sell another invention (one that doesn't work exactly as planned) and purchase the beloved Chitty Chitty Bang Bang.
He fixes it up, and he and the kids are soon on their way to a picnic with love interest Truly Scrumptious (Kaitlynn Barrett), the daughter of a candy manufacturer (There isn't really much of a relationship to buy into here). But they're pursued by some inept spies (Bill Sarazen and Brett Johnson) working for the Baron and Baroness Bomburst of Vulgaria (Timothy Fitzgerald and Debbi White, who provide some good comic interaction). Vulgaria is a country with no children; they've been spirited away by the evil Child Catcher (Daniel Pelissier, having a field day with the role, and truly frightening in his appearance and attitude). Of course, the Baron is a big child himself, and with his birthday coming up, he wants that magical car for a present.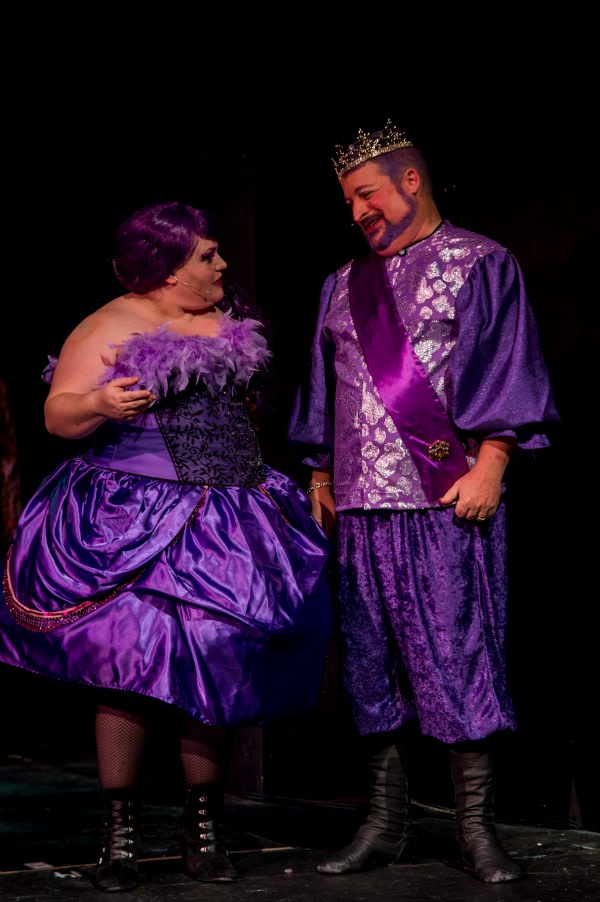 Would that it were more magical. While the car looks the part, it never gets off the ground, so when it's supposed to be floating or soaring as it saves its occupants from their pursuers, we have to use our imaginations more than we should (along with the visual projections of countryside rolling by behind the vehicle).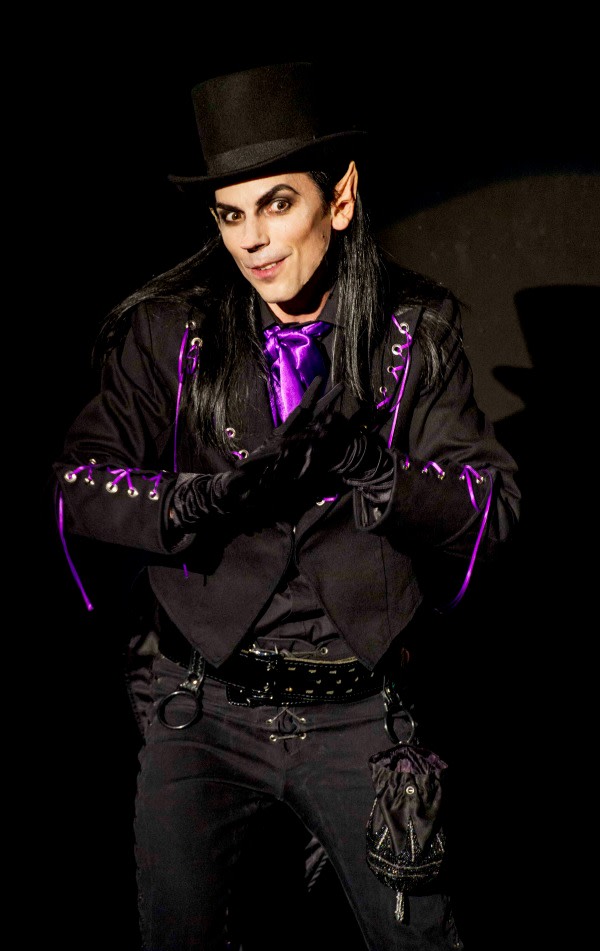 A couple of the tunes here are easy to sing along with—the familiar title song, which is hard to get out of one's head; Toot Sweets; the lullaby Hushabye Mountain—but with a largely female ensemble (it can be hard to find male dancers for community theater sometimes), director-choreographer Berry Ayers can't really make much of the dance numbers. Kaylene McCaw's costumes for the Vulgarians are appropriately hideous in their purpleness, I guess; my eyes got tired of looking at them, though. Musical director Rebecca Heintz does a good job keeping the songs as lively as possible.
But this Chitty Chitty Bang Bang can be—I have to say it—a bumpy ride. The show continues through Nov. 15. For tickets, call 365-2494 or go to theplayers.org.