Mr. Chatterbox
The New York Post's Michael Riedel is Coming to Town
New York Post theater critic Michael Riedel has penned a book about Broadway and its ups and downs.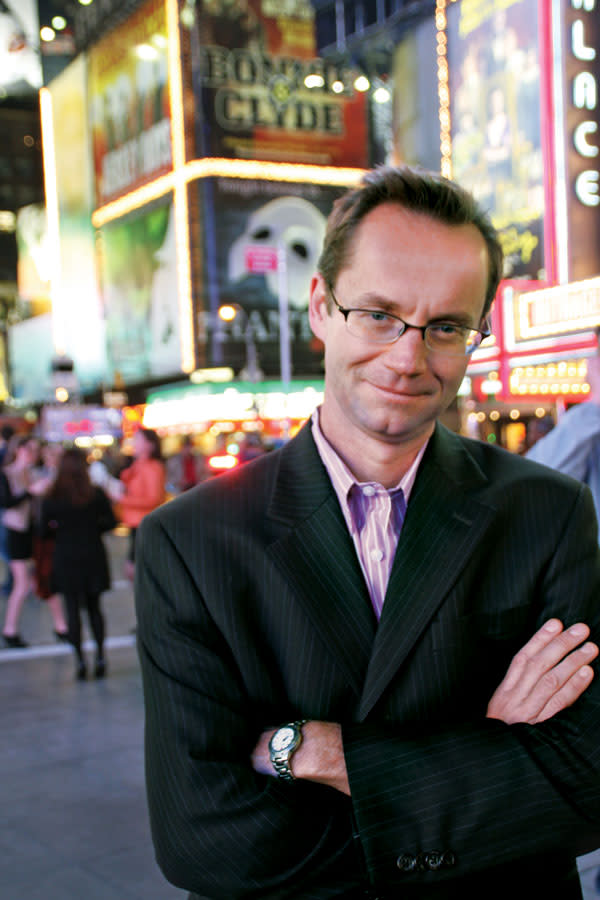 You may recall seeing articles in Sarasota Magazine from time to time written by a guy named Michael Riedel. They are about the New York theater world and they offer insider advice about what productions you should see the next time you are up that way, where you should eat after the show—that sort of thing. The information presented is up to the minute and a little candid and edgy. But it still begs the question—who is Michael Riedel and why is he writing for Sarasota Magazine?
If you're from New York, you certainly know who he is: the Broadway theater columnist of the New York Post, and the co-host—along with his "Ethel Mertz," Susan Haskins—of the PBS show Theater Talk. He is not a critic, although he often makes the artistic judgments of a critic. But his beat is the people who make up the world of Broadway—along with their feuds and deals and dreams and illusions.
He's a quintessentially New York kind of character, the direct journalistic descendant of Walter Winchell and Ed Sullivan, who, in their heyday, covered the same beat. Everybody follows him—the stars and directors, the producers, the cutthroat press agents—and they all tremble in their shoes at the thought of finding themselves in his column. I guess you could say he's the Mr. Chatterbox of the Big Apple.
I've known Michael for 30 years or so, ever since he was 23, a recent Columbia graduate and just starting his career in New York. I was then at the peak of my power—a not very famous novelist though a frequent contributor to The New York Times. I sensed a kindred spirit in Michael, and one night at Joe Allen's when we were both a little tipsy I gave him the advice that made his career: "Attack the mighty."
Well, Michael took me at my word. From then on he began to operate outside the accepted rules of behavior.  As one writer put it, "He became an attack dog in a world of lapdogs." He began to crash parties. He repeated backstage gossip. He wrote about things that people begged him not to write about. And most importantly, he began to needle Frank Rich.
Rich was at the time the drama critic for The New York Times and the man whose reviews could make or break a play. Michael saw his weak points, though. He thought Rich—and his wife, Alex Witchel, who also wrote about theater for the Times—had become too close to their subjects and were trading indiscreet gossip with them. Michael's attacks on the couple soon became the talk of the town, and he officially became the enfant terrible of Big Apple journalism. One producer accused him of "causing tremendous discomfort, damage and heartbreak." To this day Frank Rich is known to stammer and twitch at the mention of his name.
Some of the fights he gets into are more than verbal. Twice people have slugged him over something he wrote. When a revival of Fiddler on the Roof opened in 2005, Michael complained that the show had been "de-Jewed." The director knocked him to the floor. His watchband was broken, but he was in heaven. "I love it when they fight back," he told the press.
I know I'm making him sound awful, but in reality he's one of the most charming, gregarious people imaginable. He loves restaurants, bars and parties and stays to the end, holding court and telling stories. Then, when everybody leaves, he stays and entertains the waitstaff with even more stories.
His parents are perfectly normal and quite proud of him. They are from upstate New York and have retired to The Meadows here in town; that's one of the reasons he visits Sarasota a lot. Another reason, I suspect, is that he finds our town and its inhabitants strangely fascinating. He's always wanting to know the latest gossip about his favorite local characters—Jay Handelman, Cliff Roles, Michael Donald Edwards—which I am only too happy to supply.
In spite of the tension and conflict he creates, Michael has led a charmed life. Just about the only serious misstep he made is when they were putting together a little TV show on which B-list stars and has-been celebrities would dance in competition with each other. It was to be called Dancing with the Stars. They asked Michael to be one of the judges, figuring he'd be quick with the putdowns and acerbic wit. Michael thought the show was hokey and didn't have a chance, so he turned them down.
He has his enemies, but many people love him. Elaine Stritch was a big fan and Dame Edna dotes on him, as do Hugh Jackman, Kevin Spacey and Helen Mirren. Many of those he's insulted have forgiven him and gone on to become fast friends. Music mogul Clive Davis invited him for Rosh Hashanah dinner in September, and producer Scott Rudin is hosting the launch party for his new book.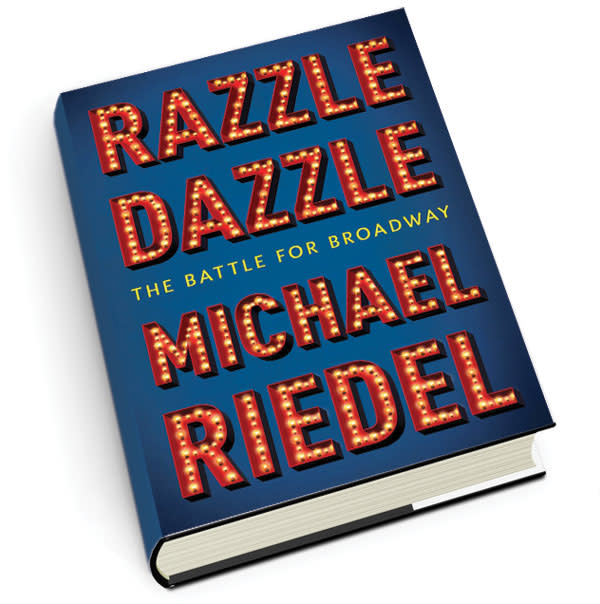 Wait a minute, did I say "new book?" Yes, Michael has gone and written a book. And it's not a scandalous tell-all of celebrity gossip but rather a serious study of Broadway and its ups and down, particularly during the 1970s and '80s.
Now, when I say "serious," I don't mean academic and boring. It races along at an incredible clip. My point is that this is not the provocative, in-your-face side of Michael but rather the intellectual, almost scholarly side. He knows his stuff. And he's backed it up with hundreds of interviews and years of research.
Fortunately, the book is still full of gossip. You'll find out all about the Schubert organization and how they controlled Broadway for years, about the corruption, both petty and massive, and how Broadway declined as did Times Square, only to reinvent itself as the Disneyfied center of New York tourism. All the legendary eccentrics are here: the slightly mad David Merrick, the brilliant and tragic Michael Bennett, the brash upstart Tommy Tune, the clever and canny Andrew Lloyd Webber. One of the best parts deals with the all-out war between Dreamgirls and Nine for the 1982 Tony Award. Vanity Fair has excerpted it in the October issue.
I used to keep trying to get Michael to attend local theater, but he has always refused. Actually, he did go once—to a production of Evita at the Golden Apple in which I played the Pope. Unfortunately, during intermission he gleefully started referring to the show as Velveeta, a reference to the leading lady's ample figure.
That's when I realized he shouldn't attend local theater—never, ever, under any circumstances.