Article
A Preview of This Season's New Music New College
Here's what to expect this season.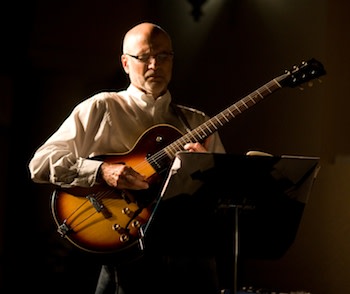 New Music New College wants to change your life. Yeah, that's a tall goal, but we truly believe that when you open yourself to new experiences, even in the domain of music, your see the world differently. How do we do it? We offer a wide range of cutting- edge music, performed by today's finest musicians as well as New College students, faculty and staff, and our concerts last about an hour. Each NMNC event is focused, intense and memorable. Best of all, you experience new music in a warm and welcoming environment with adventurous folks from New College and the Sarasota-Bradenton community. We've been at this for 16 years, and we're thrilled that so many people have become NMNC regulars.
First up this season will be composer and soprano, Kate Soper, performing her composition Ipsa Dixit with the ensemble Wet Ink on Saturday, September 26, at 8 p.m. in the Mildred Sainer Pavilion. Ipsa Dixit is a quasi-theatrical, semi-staged work of concert music with texts by Lydia Davis, Wittgenstein, Freud, Plato, Aristotle and others, on themes of ensemble virtuosity, the treachery of language, and the relationship of expressivity to meaning.
On Saturday, November 14 (also at 8 p.m. in Sainer), we'll present the extraordinary Miya Masaoka—musician, composer, performance artist. In her performance pieces she has investigated the sound and movement of insects, as well as the physiological responses of plants, the human brain, and her own body. For NMNC, Masaoka will present works for koto and electronics, including excerpts from a new work, A Line Becomes a Circle.
Through the years, NMNC has formed close relationships with particular artists, and one of our favorites is the renowned JACK Quartet. Hailed by the New York Times as "among the best ensembles of its generation," the JACK Quartet will perform Wind in High Places by Pulitzer Prize-winning composer John Luther Adams. Consisting entirely of natural harmonics, Wind in High Places is ethereal and deeply moving. Don't miss this concert on Saturday, January 16, at 8 p.m. in Sainer.
New College students will perform under the direction of Eliza Ladd in Selfie of the Ancients, presented in New College's Black Box Theater on February 12, 13 and 14. Ladd has quickly established herself as one of Sarasota's most adventurous artists. In her first collaboration with NMNC, she will offer an original work that is visual, aural and physical. The performance -- combining the sounds of objects and human movement with layers of primitive voice and song – will reflect our primordial musicality.
Our season will close with a return performance by another extraordinary ensemble, Third Coast Percussion. Percussion is central to new music because of its dualities – sounds pitched and unpitched, contrived and natural, sounds from traditional music and sounds usually taken as noise. Within those dualities is music that is paradoxically beautiful and stirring, and few ensembles offer this repertoire more authoritatively than Third Coast Percussion. In "Points of Contact" (April 30, 8 p.m., in "Club Sudakoff"), Third Coast Percussion will perform Augusta Read Thomas's acclaimed Resounding Earth, composed for bells from around the world, and Steve Reich's Music for Pieces of Wood.
In addition to our concerts, NMNC offers opportunities to learn more about the music and the musicians. Meet the performers and enjoy the dialog at our Artist Conversations, presented the Thursday before each concert at 5:00 in the performance venue. The evening of the performance, I offer a preconcert talk 30 minutes before the show. And be sure to stick around after each concert to enjoy food, drinks and conversation with the performers and the audience. See you on campus!
For more Sarasota arts and entertainment news, click here. >>