Article
Manatee Players' Cats
Arts editor Kay Kipling reviews the beloved musical.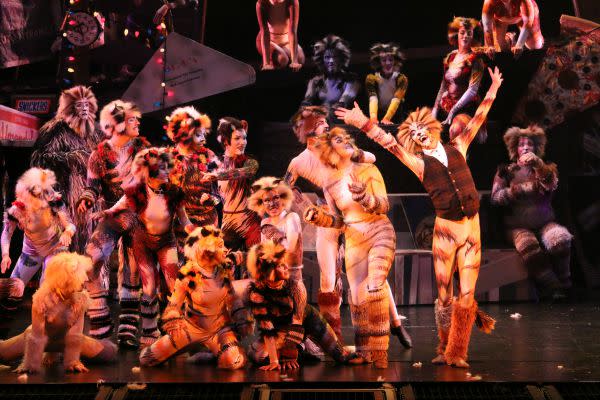 By Kay Kipling
How does one begin to write a review of Cats (now onstage at the Manatee Performing Arts Center, in a Manatee Players production), one of the longest-running musicals ever and surely among the most beloved? Probably not, ideally, by confessing that it is not really one of my favorites, even though I admire the concept, the songs, the often gymnastic dancing and the theatricality of it. And, oh, yes, the cats themselves, too.
I admit I tend to favor more of a traditional book musical, one with more plot, character development and, perhaps, spoken word. Nevertheless, millions of fans of this Andrew Lloyd Webber show based on T.S. Eliot's Old Possum's Book of Practical Cats can't be wrong, and over the years I've seen enough productions of Cats to appreciate its strengths, which are many.
They're readily on display in the Manatee Players' version of the piece, directed and choreographed by Thomas Dewayne Barrett, who also helmed the company's earlier production of Cats in the old Riverfront Theatre. It's good to see the cast members explode onto the roomier stage of the Manatee Performing Arts Center, and Barrett makes good use of all the space at his command. He's aided by Donna Buckalter and Bill Booth's set design, dominated by that huge Jellicle moon, with strings of colored lights and the usual junkyard detritus for the cats to play on.
And the cast is as enthusiastic and dedicated to the material as one could wish for. Led often by Munkustrap (Logan O'Neill), they are introduced to us (along with the conceit of the Jellicle Ball and the Heaviside Layer, where one cat can be taken up to return to a new life) in seemingly random order. There is the old Gumbie Cat, Jennyanydots (Rachel Knowles), who loves to "sit and sit and sit"; there is the strutting Rum Tum Tugger (Logan Junkins), who will always do just what he wants to do (we've all known a cat like that); there is Grizabella the Glamour Cat (Christina Capehart), bedraggled and injured and an object of derision to most of her fellow cats.
We're reintroduced also to the fat cat Bustopher Jones (David Walker describing with relish some of his favorite meals); to the robbing rascals Mungojerrie and Rumpleteazer (Tajh Malik and Caitlin Longstreet Ellis, infectiously appealing in one of the show's most pleasing numbers); and the wise and revered Old Deuteronomy (Ken Basque), who must decide which cat gets to ascend to the Heaviside Layer.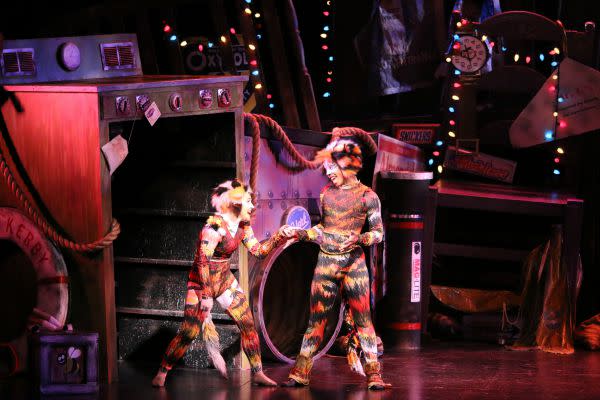 Let's not forget Gus, the Theater Cat (Brian Chunn), remembering better days in a performance of Growltiger's Last Stand; Skimbleshanks the Railway Cat (Brian Craft), in a number that emphasizes the creative staging of Cats; the mysterious, destructive Macavity (Jonah Wright); and the magical Mister Mistoffelees (Jamon Buie, who performs his character's famous "conjuring turn" dance with skill and elan).
Each number, individually, impresses with Barrett's choreography and the strong cast of dancers (led by dance captain Tahlia Byers as Victoria, the white kitten); and Becky Evans' costumes and Joseph P. Oshry's lighting (especially magical on The Jellicle Ball number) likewise deserve a good deal of praise.
I found the music (utilizing pre-recorded tracks and under the direction of Phyllis Gessler) a bit subdued at first, and not every lyric is discernible in the ensemble numbers. But beyond that, Cats is quite a triumph for the Manatee Players, demonstrating the wealth of talent at work onstage and behind. Somehow, on opening night at least, I found myself more impressed by the stagecraft here than actually touched by the story of Grizabella and her transformation. But maybe in that regard I've just seen one Cats too many.
Cats continues through Aug. 30; for tickets call 748-5875 or go to manateeperformingartscenter.com.