Article
Banyan Theater Company's "My Old Lady"
Arts editor Kay Kipling reviews Israel Horovitz's three-character play.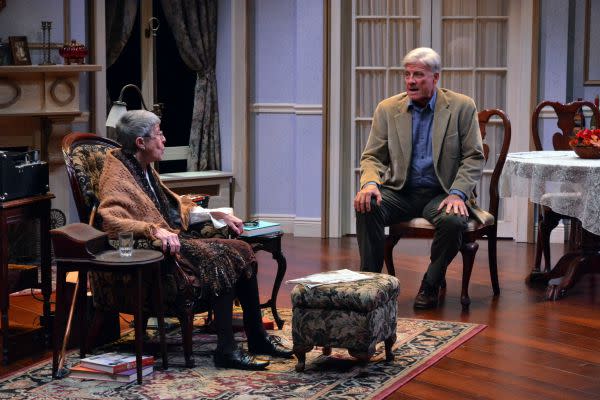 By Kay Kipling
You may be familiar with Israel Horovitz's film version of My Old Lady, which came out just last year and starred Maggie Smith, Kevin Kline and Kristin Scott Thomas. But you've most likely never seen the stage version, now the final production of the Banyan Theater Company's summer season.
In fact, although Horovitz has been an amazingly prolific and long-running playwright, it's hard for me to recall any of his works being produced here in Sarasota over the years. That seems something of an omission, since, based on My Old Lady, he has considerable skill at writing scenes and characters and balancing the elements of comedy and drama in his story.
That story begins when Mathias Gold (Peter Thomasson), also called Jim, arrives in Paris eager to take possession of—and ultimately sell—the high-priced apartment his estranged father left him in his will. But surprise, surprise, that apartment is occupied, by the old lady of the title, Mathilde (Donna Gerdes), and he can't get her out, due to a unique French law called viager. She sold the apartment to Mathias' father years before, but with the provision that she could live the rest of her life there. And at an admitted age 90, Mathilde is in no hurry to exit.
That's frustrating for Mathias/Jim, who's down on his luck after three divorces, three unpublished novels and a generally unhappy life caused by traumas from his childhood. Mathilde's daughter, Chloe (Lilian Moore), at first hostile to this intruder in their lives, has likewise been damaged young by the actions of her parents; and, eventually, the pair draws together despite their differences.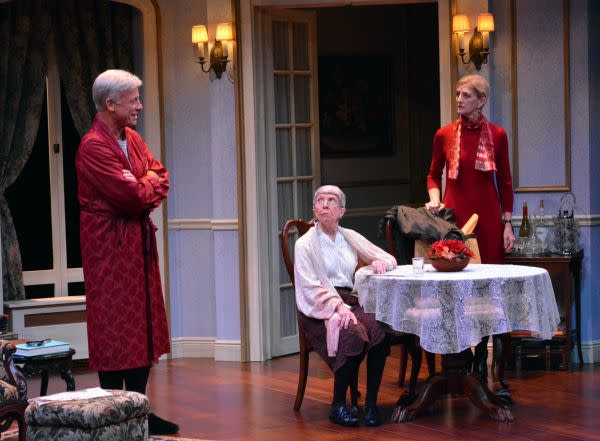 Although there are certainly comedic (and some fairly predictable) moments in My Old Lady, there are genuinely painful ones as well, as dark family secrets come to light and admission of past mistakes must take place. Horovitz, who considers France his second home, makes his characters discuss, and embody, some of the differences in the ways the French and Americans feel about politics and affairs of the heart—even going back to the issue of how Jews were treated by the French during World War II.
Thomasson and Gerdes, who have both appeared in Banyan productions before, have some interesting back-and-forths, with Gerdes' self-assured character seeming in control over Mathias' "loser" persona early on. There is affection there, but also deep disagreement, and our assumptions about them can never stay fixed. Still, their relationship is believable.
That's not always so much the case with Mathias and Chloe; the development of their feelings for each other is not as strong, and the chemistry between Thomasson and Moore is iffy, so you may come away unconvinced by the play's closing scene.
But there is enough humor, emotion and depth to the story of My Old Lady (one told, by the way, on a perfect, gently faded-by-time set designed by Rick Cannon) to make seeing it worthwhile. The production continues through Aug. 23; for tickets call 351-2808 or go to banyantheatercompany.com.