Article
FST's Over the River and Through the Woods
Arts editor Kay Kipling reviews this Joe DiPietro comedy-drama.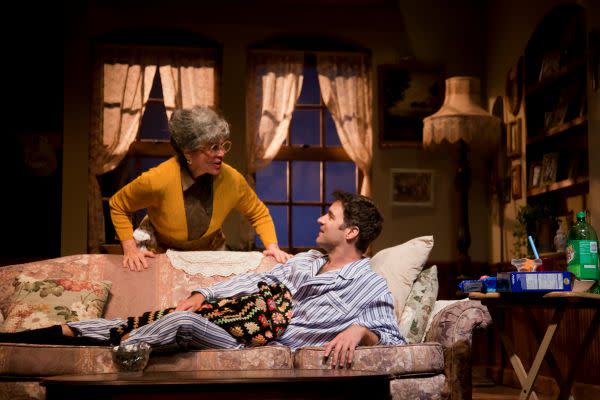 By Kay Kipling
No matter what your age or ethnicity, you will most likely find moments of recognition—some rueful, some fond—in JoeDiPietro's Over the River and Through the Woods, now onstage at Florida Studio Theatre's Gompertz Theatre.
I first saw this work when I was much closer to the age of young Nick Cristano (Matthew DeCapua), the 29-year-old grandson of four Italian-American grandparents in Hoboken, N.J. I am—ahem—somewhat closer now to the ages of those grandparents. From either end of the spectrum, it's a show that will touch you even as you laugh—and even as you acknowledge it's all highly predictable.
The tone is set before the show even begins, thanks to the homey, lived-in set of designer Jeff Dean. In a simple, slightly frayed house, live one set of grandparents, Frank (Eric Hoffmann) and Aida (Rita Rehn). Every Sunday, they welcome grandson Nick and the other set of elders, Nunzio (Andy Prosky) and Emma (Marina Re), to dinner, where reminiscences and advice flow as freely as the wine, and the motto "Tengo famiglia" ("I have family") speaks to the dilemma at hand.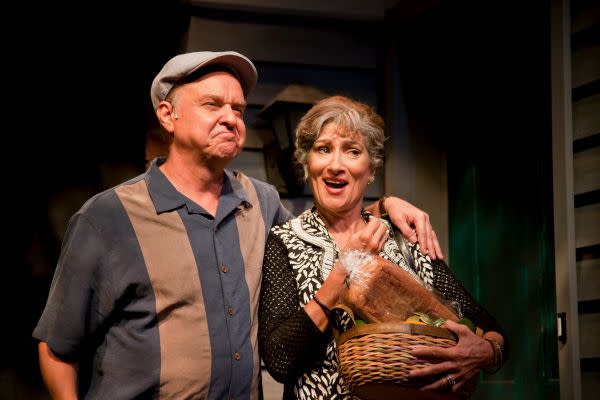 That dilemma is that Nick is about to receive a promotion that will move him to the other side of the country. Since his parents have already decamped for Florida, and his sister to San Diego, this will leave the grandparents with no family nearby—and that's a situation they're prepared to do anything to avoid, even to the point of setting up Nick with a friendly nurse, Caitlin (Caley Milliken), in the hopes that love and marriage will keep him close by.
There's really not much more than that to the plotting of Over the River, which could fill an hourlong television episode. But because of the heartfelt nature of the play, believable portrayals by the cast (although at least one or two of them are younger than their roles would suggest) and feeling direction by Kate Alexander, there doesn't really need to be. Sit down to dinner with Caitlin and the group, or watch how a game of Trivial Pursuit (yes, the piece is set firmly in the 1990s, with mentions of VCRs and answering machines as the latest devices) goes funnily south, and you enjoy a couple of little comedy gems, even though you know how each will turn out.
DeCapua is engaging as Nick (although he gets a little hoarse at times, perhaps from too much shouting), and Milliken makes a likable, lively counterpart as the Irish Caitlin. Each of the other four members of the cast succeeds in making their characters more individuals than stereotypes, even though of course Aida's passion in life is to constantly feed someone and Emma's to go to Atlantic City to gamble—familiar traits, but nonetheless real ones for their generation and backgrounds.
Sentimental, yes, it is, but it's universal, too, in reminding us how life demands change and leavetaking—but the lessons and memories family pass on to us never go away.
Over the River and Through the Woods continues for several weeks at FST's Gompertz; for tickets call 366-9000 or go to floridastudiotheatre.org.