Article
Banyan Theater Company's The Amish Project
Arts editor Kay Kipling reviews this real-life-inspired drama.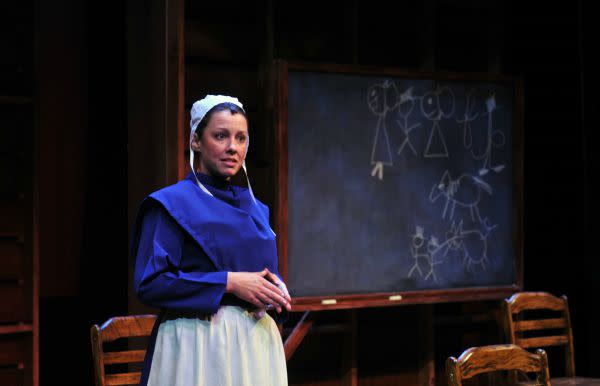 By Kay Kipling
How do we respond in the face of an unthinkable tragedy? With anger, with grief, with shock and disbelief—and, in the case of the fact-inspired play The Amish Project, now onstage in a Banyan Theater Company production, with forgiveness of the perpetrator—that is, if you're Amish.
You may remember the horrific schoolhouse shooting of 2006 in the Lancaster, Penn., area that was the starting point for playwright Jessica Dickey's work, which has received numerous productions around the country but is a first for Sarasota. What so riveted the nation at the time was not just the pathos and horror of the crime (committed by a milk truck driver with young children of his own), but the Amish community reaction to it—the seemingly inexplicable (to most of us) reaching out to the killer's widow with compassion and willingness to forgive the killer (who also killed himself) as well.
Dickey examines that in The Amish Project, although as her notes in the program explain, her play's characters are her own, and not exact representations of their real-life counterparts. They include, besides the killer and his widow, two young Amish girls (sisters) from the school; a non-Amish teacher who has long studied the Amish culture; a Latina teen; and a middle-aged non-Amish woman who probably speaks for many with her troubling response to what has happened. All of these characters are portrayed by one actress—Katherine Michelle Tanner—who first enters the stage as a lively, talkative Amish girl of 6, and is totally believable and engaging as such.
The young Velda speaks to us from the classroom, where six chairs and two chalkboards (the latter increasingly important as the 75-minute play goes on) are all that's needed for us to be solidly in the place and time. She draws for us stick images of her parents, her house, her siblings, etc., as she breathlessly tells us about them; her air of innocence contrasts sharply with the sense of foreboding we already have, accentuated by occasional notes of recorded music.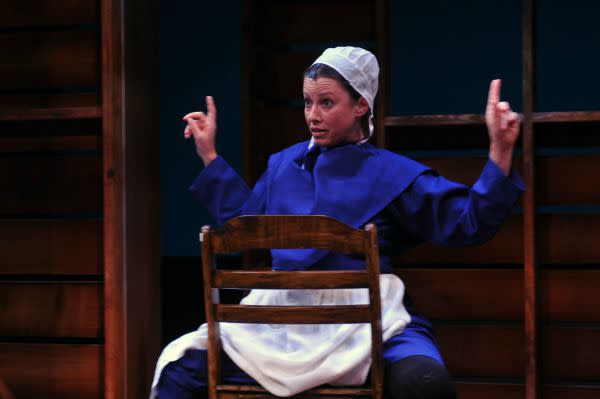 But Tanner, dressed throughout in a simple blue dress with an apron and bonnet, is convincing not only as Velda but as her older sister, Anna, on the verge of her teen years; as the sassy America, the 16-year-old Latina who emphasizes her delivery with snaps of her fingers; as Eddie, the gunman (always seen in near-darkness, who tells us early on we will never know the "why"); and as Carol, Eddie's widow, who chain smokes her way through a near breakdown as she tries to cope with her own loss as well as guilt, shame and both being derided and pitied by her community. Her voice, her demeanor, her energy level, all change to create distinct people in a second's flash; and Dickey's script ranges in mood equally convincingly from touching to frightening to cynical to joyful.
Throughout the play (presented seamlessly, with no intermission), we see how we all are both divided and united by incidents like this one, which seem to occur all too often. But thanks to Dickey, Tanner, director Todd Olson and most especially Velda, The Amish Project is not unbearably grim; rather, there is a note of hope we will all want to cling to.
The Amish Project continues at the Cook Theatre through Aug. 2. For tickets call 351-2808 or go to banyantheatercompany.com.