Article
Theater Review: Florida Studio Theatre's "Inspired Lunacy"
Arts editor Kay Kipling reviews Florida Studio Theatre's new summer offering.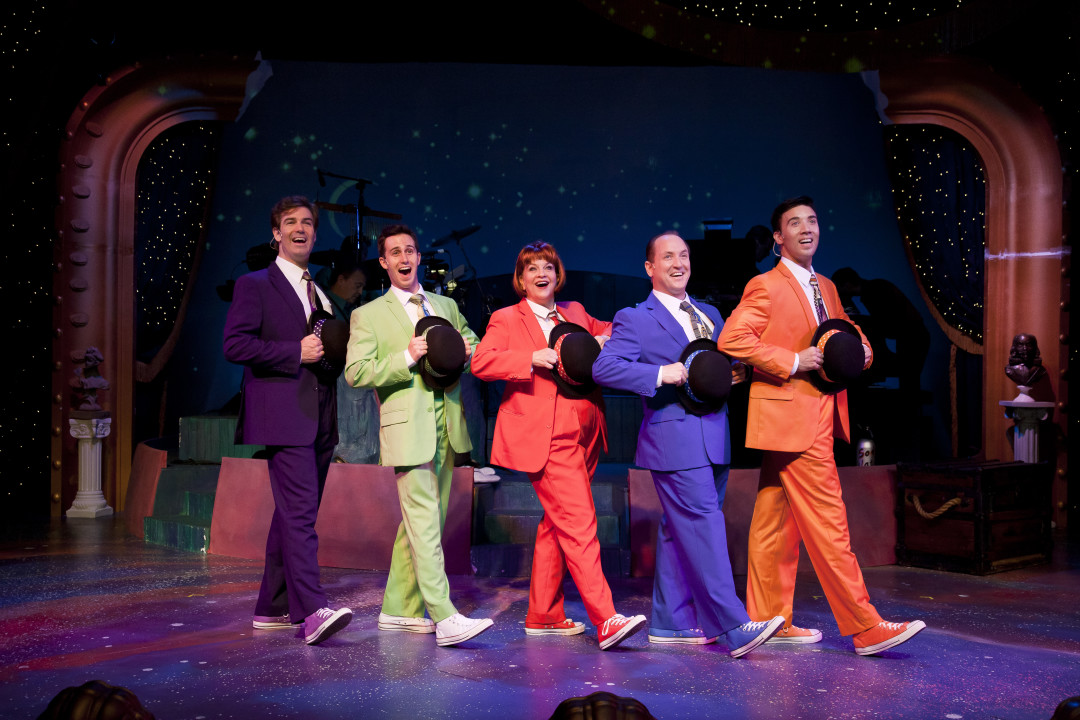 In the summertime, local theaters' fancies often turn to light comedy entertainment, and Florida Studio Theatre's current production of Inspired Lunacy is certainly an example of giving the audience, during these hot, lazy months, what they want.
The show is actually a reworking and update of a comedy revue FST did a number of years ago, and certain of the numbers here have popped up not only in that first edition but in other FST revues as well. No matter; only those with long memories are bound to recall, and there are a few lesser-known tunes as well to round out the silliness.
The tone is deliberately silly, of course, from the moment the five-member cast--four men, one woman--bounds onstage in eye-popping colors of orange, red, green,purple and so on (by designer Gregory A. Poplyk). Supposedly, they're all on a quest for something about the meaning of life, but that does't really matter, either; it's just a device to tie together--loosely--song-and-dance numbers featuring the talents of composers from Allan Sherman to Kander and Ebb to Tom Lehrer to Jerry Herman.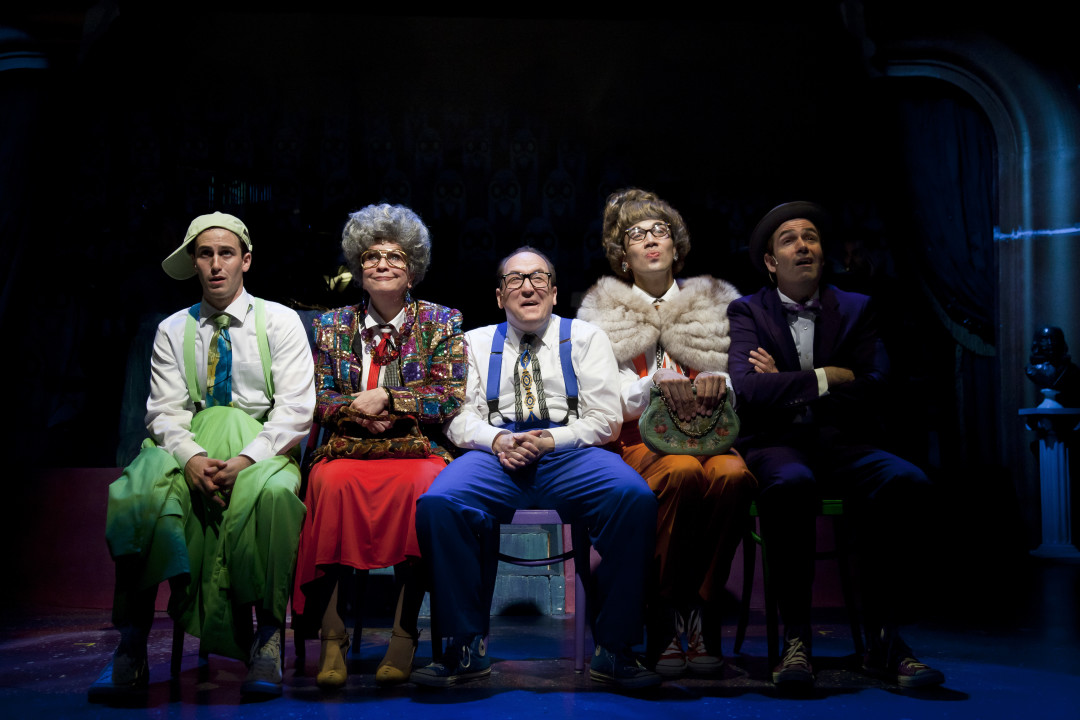 The performers, under the direction of co-creator of the show Richard Hopkins (with Rebecca Hopkins and Jim Prosser) are as polished and upbeat as you could want, backed by a four-piece band led by music director Ben Krauss. They're aided greatly by the choreography of Christine O'Grady, which keeps them in almost constant motion in a variety of funny ways, whether they're saluting that Magic Kingdom in the Sky wearing mouse ears and white gloves, performing a medley of 1950s novelty hits, or actually tap dancing on Tap Your Troubles Away, wherein one cast member, Gil Brady, comes out wearing one tap shoe and one sneaker. "It's a choice," he explains, although it's natural to wonder if he ran out of time to change backstage in this fast-paced production.
Brady also scores in a bit as a lounge singer, but everyone gets their moment in the spotlight. Frequent FST performer Kathy Halenda, the lone female, puts a lot of gusto into Ring Them Bells, as a New Yorker who travels around the world to meet her special guy; she's also appealing in a telephone bit with Don Farrell on Sarah Jackman. Dennis Kenney gets some solo numbers, as he portrays both a Maladjusted Jester and a guy who gets his jollies Poisoning Pigeons in the Park; another Lehrer song, Vatican Rag, has the guys dressed up as--what else?--nuns.
Dane Becker (seen at FST recently in Hairspray) sweetly declares his love for Sara Lee in that familiar Kander-Ebb song, while Halenda and Farrell make some suggestive moves in the background. And all of the cast gets into the act on the previously seen but still right-on bit Symphony of the House, as sneezes, coughs, phone calls and noisy snack bags timed to the Blue Danube Waltz take their toll during a concert. (Been there, haven't we?)
All in all, you'd have to be in a pretty grim state of mind not to get some chuckles out of Inspired Lunacy, and that's what it's all about. After all, if you want to send a message (as they said in the old days), use Western Union.
Inspired Lunacy continues through June 21 at the Gompertz Theatre; for tickets, call 366-9000 or go to floridastudiotheatre.org.