Article
Asolo Rep Premieres "Luck Be a Lady: The Iconic Music of Frank Loesser"
A world premiere at Asolo Rep showcases the enduring appeal of Broadway songwriter Frank Loesser.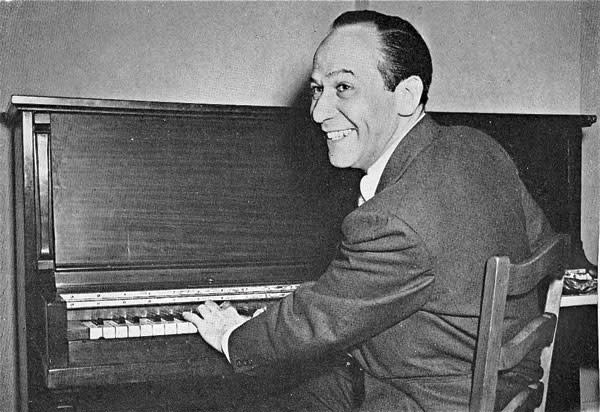 The 16-year-old boy, dressed in a three-piece suit and carrying a briefcase, waited for the secretary to call his name. The boy was an aspiring songwriter, and his mother, through a friend in her bridge group, had arranged an audition for him with Frank Loesser, the celebrated composer and lyricist whose latest show, Guys and Dolls, was the biggest hit on Broadway.
Loesser's office was in the Brill Building in Times Square, and it was from here that he ran Frank Music, one of the largest music publishing companies in the country. Loesser, always on the lookout for new songwriters, had granted the boy a half-hour audition. Summoned by the secretary, the boy exchanged a few brief words with "Mr. Loesser," then sat down at a piano to play one of his songs. Loesser asked to hear another. And then another. He told the secretary to cancel his next appointment. He wanted to hear every song the boy had written.
"You've got talent, kid," Loesser said, a cigarette dangling from his mouth. "All good songs need a caboose, and yours have them."
The boy was perplexed. A caboose? Loesser pulled out a black marker and a piece of paper and started to draw a locomotive.
"A song is like a train," he said. "Here's the engine, the idea that pulls the song along. Here are the boxcars—the verses that develop the idea." Then he picked up a red marker and drew the last car. "And this is the caboose," which, he explained, is the exclamation point at the end, the memorable phrase that pulls together the sentiment of the song.
As an example, Loesser cited the last line of one of his hits, Slow Boat to China.
I'd like to get you
On a slow boat to china
ALL TO MYSELF, ALONE.
As the boy got up to leave, Loesser gave him the drawing of the train. "Remember the caboose, kid!" he said. "Remember the caboose!"
If you happen to catch the revue Luck Be a Lady: The Iconic Music of Frank Loesser at Asolo Rep starting April 28, "remember the caboose!"
It's there in many of Loesser's standards:
"Call it dumb, call it clever, but you can give odds forever that the guy's only doing it for some doll, some doll, some doll!"
"Oh, baby, please come back or you'll break my heart for me, 'cause I don't want to walk without you, No siree."
"Foggy little fella, drowsy little dame. Two sleepy people, by dawn's early light, and too much in love to say, 'Good night.'"
Although Frank Loesser may not be as well known today as some of his contemporaries—Richard Rodgers, Oscar Hammerstein II, Cole Porter, Hoagy Carmichael, George and Ira Gershwin—his songs endure, their titles forever written in the Great American Songbook. Notice, in the lines quoted above, how he worked three of his most famous titles into the caboose: Guys and Dolls, I Don't Want to Walk Without You, and (one of my favorites) Two Sleepy People.
And how about a few more? Baby, It's Cold Outside, Heart and Soul, Once in Love With Amy, Sit Down, You're Rockin' the Boat, Standing on the Corner, I've Never Been in Love Before.
"He is the quintessential American songwriter," says Gordon Greenberg, who conceived and directed Luck Be a Lady. "His stuff ranged from World War II to Hollywood to the Golden Age of Broadway. The songs have grit, glamor, showgirl optimism, and at the same time are human and lovely."
Set in the 1950s, Luck Be a Lady, which is having its world premiere at the Asolo, tells the story, through song and dance, of a group of entertainers who meet in an abandoned nightclub. The cast is made up of several Broadway performers, including Louise Pitre (Mamma Mia!), Erik Altemus (Pippin), James David Larson (Into the Woods national tour) and Mary Michael Patterson (The Phantom of the Opera).
Greenberg has long been an admirer of Loesser's songs. He grew up in Dallas, learning Loesser's song Big D from his mother at an early age. He appeared in the 1995 revival of Loesser's How to Succeed in Business Without Really Trying, starring Matthew Broderick.
And last year he directed a revival of Guys and Dolls at the Chichester Theater Festival in England. He's also friendly with Loesser's second wife, Jo, who has told him many stories about her husband's life and work habits.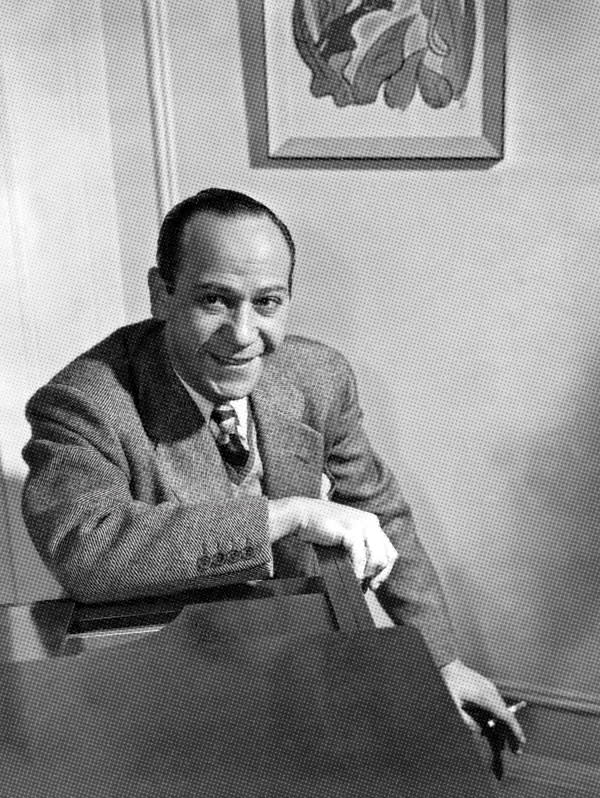 Frank Loesser was born in New York City on June 29, 1910. His father was a piano teacher who loved the classics and turned up his nose at popular music. Loesser rebelled against his father's snobbery, refusing to practice his Bach, Beethoven and Brahms on the piano. He didn't have the patience. But he loved music, catchy, middlebrow music, and he could set words to just about anything that made a noise. He wrote songs to the sound of the elevated trains that ran through his neighborhood—ballads for the local, up tempo numbers for the express.
He was always restless, flitting from one job to another. By the time he was 18, he had run errands for a jewelry company, screwed caps on bottles of insect spray, wrote about knitting for Women's Wear Daily, and inspected food at a chain of cafeterias.
"It was the Depression, and everyone was scared," he recalled many years later in an interview with The New York Times. "Somehow you had to find a way of getting a job. You had to keep alert all the time. I suppose that's where this tremendous energy of mine originated."
He landed a job as a reporter for a small paper in New Rochelle, N.Y. Assigned to cover the annual Lions Club Dinner, he was asked to contribute some bits of verse poking fun at the officers of the organization. This one brought down the house: "Secretary Albert Vincent, Read these minutes right this instant!"
In his spare time—he never slept more than four hours a night—he contributed lyrics to vaudeville shows and played the piano (usually his own songs) at the Back Drop, a nightclub frequented by gangsters, who would one day inspire some of the characters in Guys and Dolls.
His songs caught Hollywood's attention. In 1937, he was contracted to write the theme song to a movie called The Hurricane. The song was called The Moon of Manakoora. It was a hit, and Loesser never had to take another odd job. He moved to Hollywood and wrote lyrics with such composers as Jule Styne, Burton Lane and Jimmy McHugh. He was in the habit, however, of setting his words to his own music before his collaborators got around to writing their own tunes. When a song he wrote by himself, Praise the Lord and Pass the Ammunition, became a hit during World War II, he never wrote with anyone else again. From then on, it was always "words and music by Frank Loesser."
Broadway beckoned in 1948, and Loesser wrote the score to a conventional musical comedy called Where's Charley. Its star, Ray Bolger, stopped the show night after night with Once in Love With Amy.
His next show, Guys and Dolls in 1950, was a smash. It is considered to be one of the best, if not the best, American musical comedy. Based on Damon Runyon's short stories about New York City gangsters, the show featured one terrific song after another—Luck Be a Lady, I've Never Been in Love Before, A Bushel and a Peck, Adelaide's Lament—all tied to the characters and plot.
"The work uses music and dancing as embellishments to the libretto, rather than making the latter a loose clothesline for assorted capers and vocal numbers," wrote Howard Barnes of New York's Herald Tribune.
Loesser summed up his approach to writing for the theater this way: "What counts is the basic situation. You can't have a man in love with a crocodile. The audience just won't believe it. Take that number we have in the show—Sue Me. The guy who sings it runs a crap game and there's this dame trying to reform him. Think of all the guys who've been in that spot where they just are what they are and there's nothing they can do about it. So all they can say to the dame when she's got him cornered is: 'Sue me. Shoot bullets through me.'"
Loesser spoke like the characters in Guys and Dolls. Men were "guys," women, "dames or broads." Short, brash, sometimes irascible, he wore loud ties and smoked three packs of cigarettes a day. The only direction he ever gave performers was, "Louder!" When his daughter, Susan, said she wanted to be a singer, he told her to come to his office after school and audition. She sang a few songs and then, as she wrote in her book A Most Remarkable Fella, he dismissed her. "I don't think you really have a gut love for this," he said. "And besides, you're nowhere near loud enough!"
But under the tough-guy image was a romantic, who, after Guys and Dolls, wrote the tender and heartfelt score to The Most Happy Fella. The story of an elderly winemaker in California who falls in love with a young waitress, the musical features arias, duets, trios, quartets and choral passages. It was as close to an opera as a Broadway show had ever come. But the score also contains showstoppers like Standing on the Corner and gorgeous, soaring ballads such as Joey, Joey, Joey and My Heart Is So Full of You.
Loesser's next hit (after a near-miss called Greenwillow) was the snappy How To Succeed in Business Without Really Trying, a satire of the corporate world. Everything in the gleaming office tower was a target—the sycophants (I Play It the Company Way), the coffee machine (Coffee Break), the office party (Paris Original), even the executive washroom, where a corporate climber sings a song called I Believe in You to himself in the mirror while he shaves with an electric razor.
How To Succeed won the Pulitzer Prize for Drama in 1961, one of only eight musicals ever to win the award.
Sadly, it was Loesser's last hit. His next show, Pleasures and Palaces, closed out of town. He then went to work on a show called Señor Discretion, but gave up. "I have begun to remechanize the poor thing in several different ways, only to find the results deadly dull," he wrote to a friend.
Musical tastes were changing by the mid-1960s. The Great American Songbook was giving way to the Beatles, the Rolling Stones, Motown and Hair. Loesser had no use for any of it.
"What he saw being written and fancied had nothing to do with his tastes or concerns or talents," his daughter Susan wrote in A Most Remarkable Fella. "The world was racing past him, the younger generation nipping at his heels as it went by, and drawing blood."
And he was dying. He complained of "an ache in my gut," and he had trouble swallowing. He was diagnosed with lung cancer, which had spread to his esophagus. He died on July 28, 1969, at the age of 59.
He left behind a catalogue of standards and three classic Broadway musicals—Guys and Dolls, The Most Happy Fella and How To Succeed in Business Without Really Trying.
And he passed his knowledge of songwriting on to the next generation. The teenager who learned about the importance of the caboose that day in Loesser's office was Jerry Herman, who went on to write Hello, Dolly!, Mame and La Cage aux Folles.
Loesser lived long enough to see Herman's success.
"I kept in touch with him," Herman once told me, "and whenever we got together, he'd pat me on the back—a pat, by the way, that could knock you across the room—and remind me of that first meeting. And he'd shout, "Ya see, kid, ya see! I knew it! I knew it!'"
Michael Riedel is the theater columnist for the New York Post and co-host of Theater Talk, the nationally syndicated PBS television series. He appears weekly as a panelist on the Hollywood & Vine segment of the Imus in the Morning show. His first book, Razzle Dazzle: The Battle for Broadway, will be published in the fall by Simon & Schuster.