Article
An Evening at the Avant-Garde with Dylan McDermott
Party Girl Loren Mayo spends an Evening at the Avant-Garde with Dylan McDermott.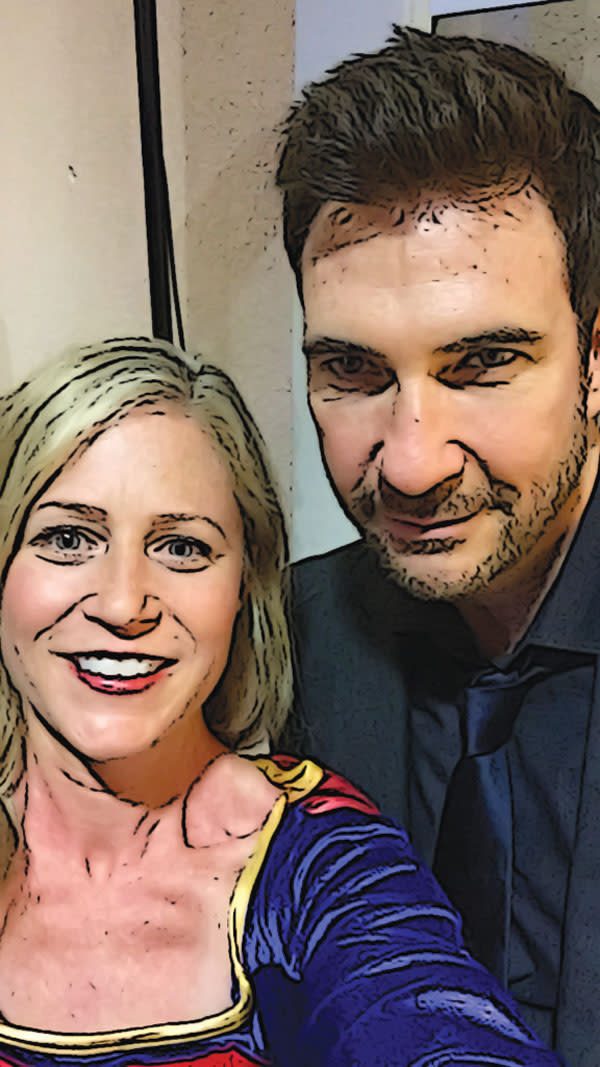 Dylan McDermott totally knows I'm stalking him outside of the Ringling College of Art and Design bathroom. He must fear that, at any second now, I might break into a squealing schoolgirl frenzy over his starry (so, so starry and piercingly sexy) blue eyes, perfectly coiffed mahogany locks and 5 o'clock shadow. At this point, I should probably inform you that I'm dressed as Superwoman, so it's likely Dylan fears I'll grab him by the arm and whisk him up, up and away into the sky, which probably alarms him because he's left his beautiful fiancée back at the dinner table, and I've left my own Superman on a kayak in
Cape Coral.
Tonight is RCAD's 19th annual student scholarship fund raiser, "An Evening at the Avant-Garde: Comic Capers," and the reason dozens of costumed Batmen, Cat in the Hats, Wonder Women, Maleficents and other caped characters are happily scampering across the campus. I arrive to find RCAD president Larry Thompson and his wife, Pat, dressed as "Captain Creative and the Imaginator," climbing out of a DeLorean. Captain Creative proudly showcases his orb (you know, for super powers) to students, staff and hundreds of guests and supporters who are crowded around the Thompsons, clapping and snapping photos.
As I'm marveling over the costumes, fearing that my 2006 version of Superwoman—completely stuck together when I pulled it from the package locked in my storage unit—is slightly outdated, five talking buildings representing Gotham City, with their own Batman and Joker to boot, catch my attention.
"We're the architects for the new library," Mary Hale and Dehne Sibbernsen tell me.
Mary and Dehne, who spent three lengthy evenings with their friends crafting these splendid costumes, say the new RCAD library will increase in size, enhance its 14th- and 15th-century special collections, use color and theory as a teaching tool and act as a living room for the campus.
I catch up to event co-chairs Ken and Peggy Abt—amazingly dressed as Oliver "Daddy" Warbucks and Annie—who chose the Comic Capers theme because it is a perfect reminder of all the special skills demonstrated by Ringling students, such as illustration, computer animation, digital filmmaking and game and art design.
The comic book theme is carried throughout the entire event, from program and auction catalogs to signage, décor, centerpieces, superhero Pez candy dispensers and even dinner placemats. The event invitation depicts an original comic strip that tells the story of 2013 Ringling graduate Tyrell Waiters, a graphic designer at Abercrombie & Fitch, who could not have attended RCAD without a scholarship and is the special star tonight. (Sorry, Dylan!) Event proceeds will benefit Ringling's Student Scholarship Fund, which has raised more than $1.5 million.
Before Tyrell approaches the podium, a video detailing his Ringling saga is projected on two large screens before the guests. Dressed in a backward blue baseball cap, red cape and blue Ringling T-shirt, Tyrell watches from beside the stage.
When he begins to speak, the emotion in his voice is undeniable. "I am grateful to be here tonight to share my story," Tyrell says. "Thank you for making a difference in my life and thank you for presenting me with the opportunity to be lucky."
Just like Tyrell, I, too, am head-over-heels enchanted with Ringling, and have been since I first attended summer art camp here when I was just a wee middle schooler.
I still remember the lazy summer days when I used to drink Grape Crush from the vending machine during lunch break. How tiny the campus was back then! It's blossomed in such incredible ways.
Founded 80 years ago in 1931 with a push from John Ringling, RCAD has students representing 44 states, 60 countries, two military bases, Washington, D.C., Puerto Rico and two autonomous regions: Bermuda and Hong Kong. The world-class facility boasts 156 faculty members, who are all practicing artists, designers and scholars, with a faculty-to-student ratio of 1 to 10.6. The campus now encompasses 53 acres just north of downtown Sarasota and offers 11 majors and three minors.
But considering the cost of tuition for the 2014-2015 academic year—$35,490—it's no wonder the Student Scholarship Fund exists. Still proudly grasping his orb, Captain Creative informs us that last year's Avant-Garde raised $50,000 and tonight he's shooting for $100,000. And with that, Daddy Warbucks and Annie get the paddle raise started. (By the evening's end, when all contributions are counted, Larry is grinning big, with $225,000 raised for student scholarships.)
Later on, when I tell Dylan that our selfie is for my column, I'm pretty confident that, in his mind, that translates into "my very first blog post ever." Oh, well, what he doesn't know is that this costume gives me X-ray vision, and his fancy schmancy suit is now crystal-clear and transparent…
Click here to see all the photos from Ringling's "Evening at the Avant-Garde" gala. >>