Article
Westcoast Black Theatre Troupe's Spunk
Arts editor Kay Kipling reviews this collage of Zora Neale Hurston stories.
By Kay Kipling
It's been years since Westcoast Black Theatre Troupe first presented a production of Spunk, a show incorporating music to present three stories by Florida writer Zora Neale Hurston. Memories of it are faint now, so it's a good time to revisit the piece in the production now onstage.
Two of the three tales take place in and around Eatonville, Fla., an African-American community, in the late 1920s and early '30s, joined by one set in Harlem, where Hurston also resided during the Harlem Renaissance. Adapter George C. Wolfe brought the stories together (with some songs from Chic Street Man to provide commentary and background) to give us a representation of Hurston's people and her/their language style.
The first story, "Sweat," is about a young laundress (Candace C. Culcleasure) whose no-good husband (Yohance Myles) has taken to both beating her and betrayal with another woman. Delia doesn't care about Sykes anymore, either, but she's damned if she'll let him drive her out of the house her hard work (sweat) has paid for. When he brings a rattlesnake onto the property (she has a deathly fear of snakes), someone is bound to get bitten—but whom?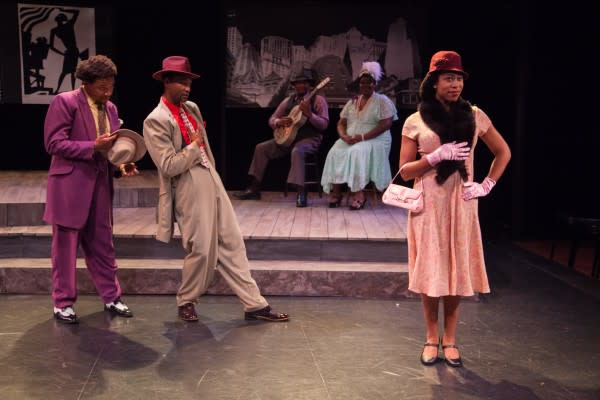 The third tale, "The Gilded Six-Bits," reunites Culcleasure and Myles, this time as a much happier married pair, whose lives together are filled with love and innocence—until a newcomer to town (Joel Patrick King) turns Missie May's head with his "gold" money. She only wants the best for her husband Joe, but a mistake could doom their little paradise on earth.
The second story, "The Story in Harlem Slang," is much lighter material, showcasing WBTT regular Earley Dean Wilson III and Myles as duded-up "pimps" (meaning they live off the money of women) in competition to get, at least, a "hot" (hot meal) from a pretty domestic worker (Culcleasure again) on her day off. Their exaggerated posturing, strutting and delivery of slang insults (in outrageous outfits by costume designer Cristy Owen) are fun to watch, and you just know they'll both get their comeuppance from their not-easy-to-dupe target.
Throughout the show, "Guitar Man" Sammy Blue plays and sings bluesy music evoking the period, and Deidra Grace also adds vocals, along with some spice, as "Blues Speak Woman" and other characters. The entire cast performs with energy and verve, and Jim Weaver has added some nice directorial touches to amplify these simple stories.
It's a good reminder of Hurston's unique role in American letters, and just may drive you back to the source material itself for more. Spunk continues through May 17; call 366-1505 or go to westcoastblacktheatre.org for tickets.