Article
Sarasota Film Festival: Blythe Danner and More
More bits and bites from the festival.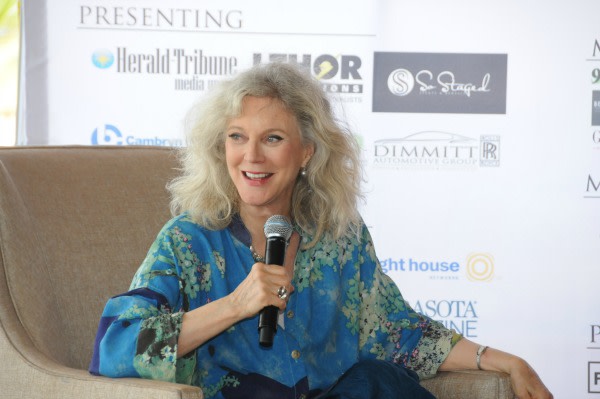 By Kay Kipling
Some bits and bites from the past few days of the Sarasota Film Festival:
Movies: I thought I was attending The End of the Tour, starring Jesse Eisenberg and Jason Segel, on Friday night, but found out that screening had been cancelled. So I stumbled instead into Divine Access, a comedy-drama starring Billy Burke as a seemingly laid-back Texas loner whose friend (Patrick Warburton) talks him into appearing on his cable access show to debate religion with preacher Guy Roy Davis (Gary Cole).
From there Burke's character, Jack, somehow, and rather reluctantly, embarks on a tour spreading his philosophy of life to hungry seekers of truth—and women all too willing to bed down with him. Burke, Cole, Warburton and Sarah Shahi as a mysterious woman who keeps appearing at Jack's stops all turn in likable performances, as we watch Jack cope with a sudden horde of followers while trying to keep his own life in working order. There's also a brief turn by Adrienne Barbeau as Jack's long-lost mom.
Parties: The Cinema Tropicale party, which has taken place at the Sarasota Yacht Club the past couple of years, moved to Michael's On East this year, and what it may have lacked in visuals (hard to beat the yacht club's waterside location and pool) it made up for in accessibility (parking). I didn't stick around for the 11 p.m. fashion show, but the food, the band and the crowd made for a lively evening.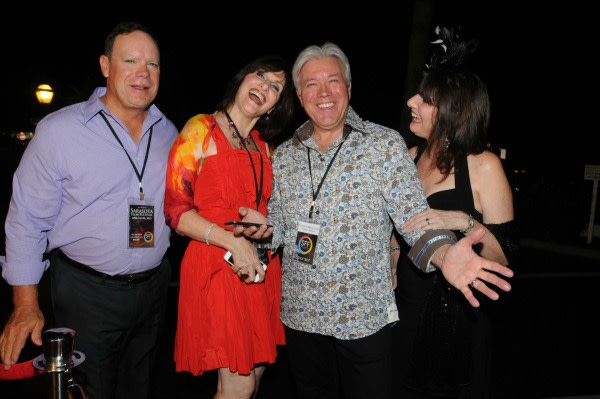 Luncheons: Tea by the Sea, with Blythe Danner, at the Ritz Members Beach Club on Lido Key. Blythe, a beautiful-looking 72, starred in the festival's closing night film, I'll See You in My Dreams, and she was here to be honored for her career as well as for her role as Carol, a widow who decides to try dating again after a long drought. (The film's director, Brett Haley, and actress Jane Seymour, herself honored at a luncheon the day before as an "Icon of Television," were also in attendance.)
After lunch, Danner answered a few questions about her career, saying that making I'll See You in My Dreams was a labor of love, and a role she was surprised to be offered. Since Danner appears in virtually every scene of the movie, she was a bit daunted when first reading the script, but then realized, "I'd be an absolute fool not to do this."
Danner's had a career lasting more than five decades, on stage and screen, but said that in films "I've been a supporting player" for the most part, although she has starred in more than one television movie, sometimes playing real-life people from Zelda Fitzgerald to Mrs. Lou Gehrig. Of the latter, she said, "She was still alive when I played her, and she told me, "Don't make me be sweet, because I wasn't sweet.'"
Danner also touched on the perils of fame, citing the case of her own daughter, actress Gwyneth Paltrow, as one where social media often plays a negative role. "She gets lots of slings and arrows," she said of Paltrow, "and it's painful to see her being bombarded by the press. But I'm very proud of her" for her social activism. "She and my mother have been two of my role models."
Awards: The festival came to an official close Saturday night at the Sarasota Opera House, with the screening of that Danner movie and the announcement of awards. The list of those is too long to recap in entirety here (go to sarasotafilmfestival.com), but among the winners: White God, for narrative feature; Walking Under Water, for documentary feature; and Lamb, in the Independent Visions category.
Danner also received the Impact Award and Ondi Timoner the Dramatic Storytelling in Documentary Award for Brand: A Second Coming. And actress Rachel Weisz presented the Emerging World Cinema Auteur Award to Tom Browne, whose film, Radiator, she produced. In addition, director Lynda Obst was given the Polly Platt Award for Producing, and local judge Charles E. Williams received the Poitier Family Award (with a number of actor Sidney Poitier's family in attendance) for his work on the Booker High student film, Newtown at 100.
And that's a wrap until next year's fest. See you then.