Article
Florida Studio Theatre's Chapatti
Arts editor Kay Kipling reviews this two-person comedy-drama.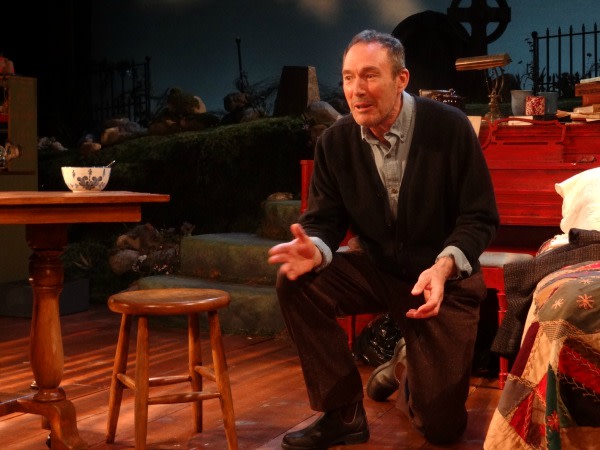 By Kay Kipling
A play about two lonely older people meeting up because of their love for pets? Sounds like the perfect piece for the demographics of Sarasota, and in some ways Chapatti, now onstage at Florida Studio Theatre's Gompertz Theatre, is indeed the right sort of work for the majority of area audience members.
It's set in Ireland (and written by Irish playwright Christian O'Reilly), but there's no doubt it's the kind of story that could transpire here on any given day. Working-glass guy Dan (Colin Lane) lives alone in his modest bedsit with just his dog, Chapatti, for company (the dog is never actually seen, and yes, we do learn how he got his unusual name). He talks to us and to the dog, but not very often to other human beings, except when he forces his pet to visit the vet even though he's not sick.
He's mourning the loss of the woman he loved for 30 years. His neighbor, Betty (Susan Greenhill), on the other hand, does not miss the husband she no longer has, whom she feels never loved her. But she's almost as lonely as Dan, devoting most of her time and attention to the kittens she tries to find homes for, along with caring for an older widow (also not seen) who's embittered by her losses. The difference, we gradually learn, is that Betty, a chatty, lively woman who laughs a lot (even if sometimes inappropriately), may be ready to finally connect with another human, whereas Dan is more ready to connect with the afterlife, where he believes he may meet up once more with his beloved.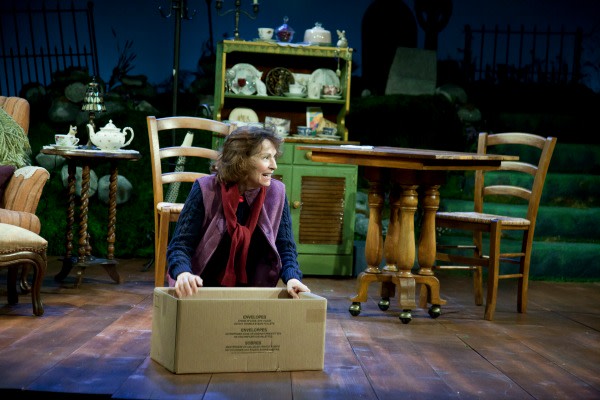 Despite his reluctance to engage with Betty, the outcome of their meetings is never in much doubt; although both have had sadness in their lives, Chapatti is not set up to depress us. A graveyard overlooks the living areas of the characters (in the set design by Isabel and Moriah Curley-Clay), but Chapatti comes down, naturally enough, on the side of making the most of our time here on earth, together.
It's a likable play, at times touching, although this production (directed by Kate Alexander) sometimes feels too rapid, too high-pitched and even breathless, meaning that when there actually does come a moment of high drama, it doesn't have as much impact as it could, because we've been at a fairly feverish level of intensity all along. Lane and Greenhill are forced to work harder than they should for this small but welcome tale; a more low-key approach could draw us in more tantalizingly.
Still, Chapatti is bound to resonate with many in the audience who've had to make their own decisions about moving on after a loved one's death. The production continues through May 30; for tickets call 366-9000 or go to floridastudiotheatre.org.