Article
The Players' Catch Me If You Can
Arts editor Kay Kipling reviews this lively musical comedy.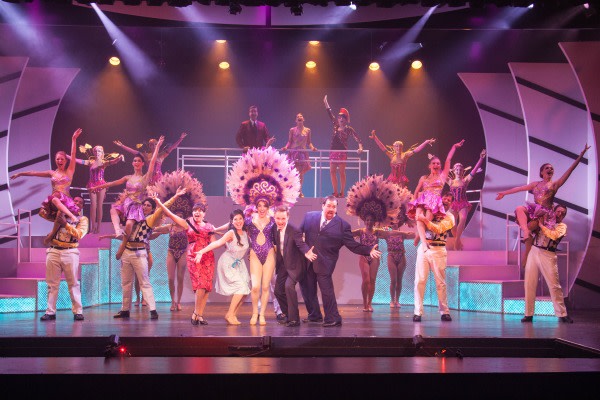 By Kay Kipling
It can be risky when a community theater presents a big, splashy Broadway show in its first local production, as the Players company is currently doing with Catch Me If You Can, the musical based on the Steven Spielberg film starring Leonardo DiCaprio. (A touring production played some time ago at the Van Wezel.) So many elements need to come together for success, and beyond that, audiences more accustomed to familiar shows can be reluctant to climb onboard.
Well, no worries with this show, directed and choreographed by Dewayne Barrett and featuring a cast that fills up the Players stage in a bright, colorful, energetic production. Not only does Barrett have a perfect pairing with his leads—Kenneth Rapczynski as dogged FBI agent Carl Hanratty and James Hyde as likable young con man Frank Abagnale Jr.—he's also got a big ensemble that rises to the occasion, especially those hard-dancing flight attendants and nurses in flattering, sexy costumes by Kenneth Mooney.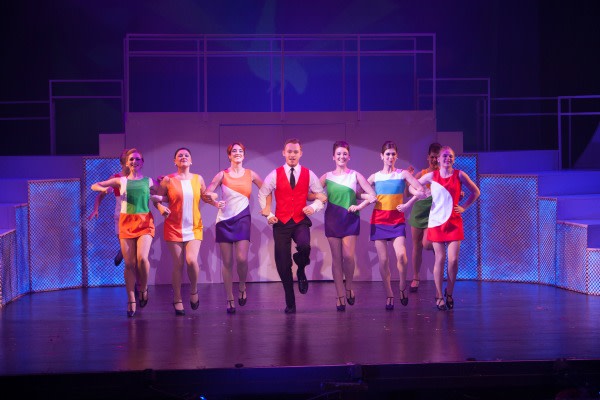 You may remember the story, based on the real life of Frank Jr. Frank (played by Hyde with assured confidence and channeling a little of a younger Neil Patrick Harris) is a happy kid living with his unscrupulous but beloved dad (Mark Athridge) and French-born mom (Jolie Rand) until the marriage disintegrates and he runs away from home to begin his career of crime. He's already had a taste of deception, randomly falling into pretending to be a substitute teacher at school; soon he's flying high as a Pan Am "pilot," even though he knows nothing about aviation. (He's got a real talent for forging documents and writing rubber checks, though.)
He attracts the attention of Hanratty, a divorced FBI man with no life outside of the job, who pursues him with his bumbling sidekicks from one end of the country to the other. Frank is always one step ahead, to Hanratty's growing and comic frustration—until Frank meets and falls for Brenda (Holly Rizzo), a young nurse who may derail him into an honest life.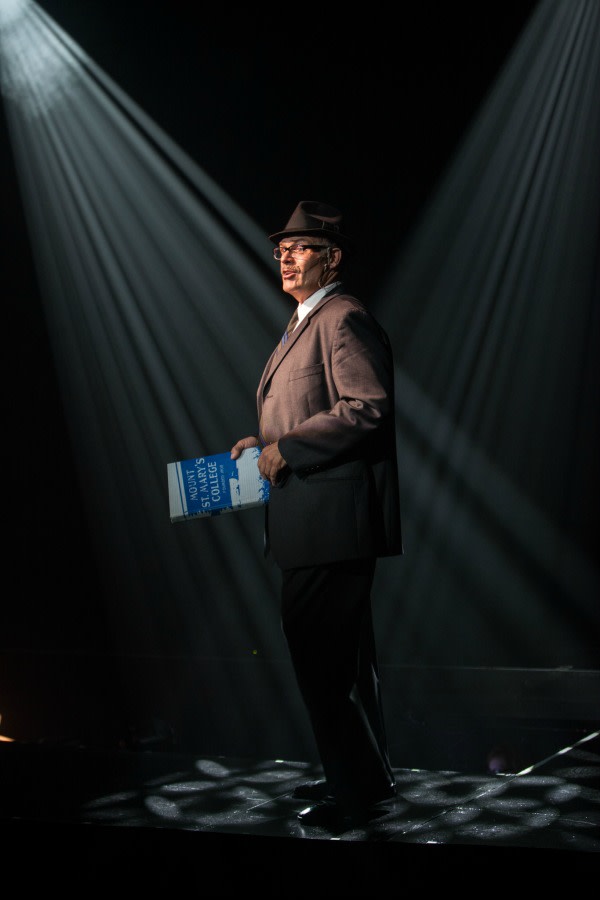 Rapczynski and Hyde have great chemistry as their replacement father/son relationship develops, and they and the ensemble really deliver on the songs by Mark Shaiman and Scott Wittman, whether on gaudier numbers like Our Family Tree, Doctor's Orders and Don't Break the Rules or, in Rapczynski's case, quieter solos like the noirish The Man Inside the Clues. Rapczysnki and Athridge also have a good moment comparing fathers with Little Boy Be a Man. And while Rizzo's Brenda doesn't get to do a lot, she sings with passion and power on Act's II Fly, Fly Away and is convincing as someone who could get Frank to change.
Barrett has some strong, mostly female dancers here who do justice to his clever choreography, with its nods to the slicker aspects of 1960s entertainment, and he's also got a great band, led by Rebecca Heintz, to make those numbers pop. Just about the only down side to the show, the night I attended, was the occasional but pretty startling miking issues—meaning unfortunate crackles and pops, as well as the loss of some of the lyrics.
I wish that problem could be solved, because you don't want to miss any of the fun here. Catch Me If You Can continues through April 4; for tickets call 365-2494 or go to theplayers.org.