Article
Venice Theatre's Mary Poppins
Arts editor Kay Kipling reviews the musical version of P.L. Travers' stories.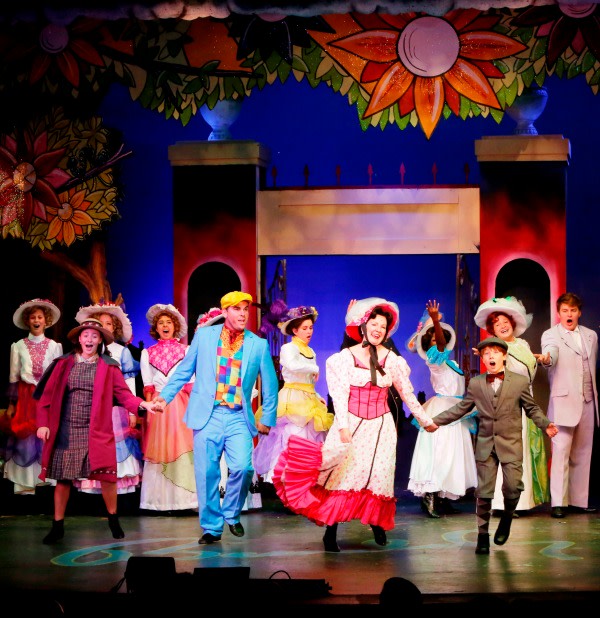 By Kay Kipling
Whether you're a longtime fan of P.L. Travers' Mary Poppins books, a devotee of the 1960s Disney movie version, or completely new to the Poppins phenomenon, you should find something to enjoy in the musical stage version, currently showing at Venice Theatre.
Co-created by megaproducer Cameron Mackintosh, this show is a mix of the original stories and the film, with its own additions to the tale of the early 1900s version of Supernanny. In this case, of course, Mary (Renee Cordonnier) is working her magic on the troubled Banks family of Cherry Tree Lane, London. The Banks children, Jane and Michael (Natalie Taylor and Logan Schultz the night I attended the performance; they alternate with Kiley Berkery and Ryan Hunek), have run through a long list of nannies, being both bratty and needy. Their issues stem from a martinet father (Douglas Landin) too busy with his work to notice them and a flustered, ineffectual mother (Lisa Figueroa), a former actress who has problems fitting into her role as a proper hostess and matron.
When Mary flies in, complete with umbrella and marvelously deep carpetbag (flying effects are provided by ZFX, Inc.), even she can't turn things around overnight, despite some pretty neat tricks and upbeat tunes (familiar ones from the film by Richard M. Sherman and Robert B. Sherman, along with new material by George Stiles and Anthony Drewe). But she can count on help from chimney sweep Bert (Logan O'Neill), who also provides the little bit of narration that's needed to move things along.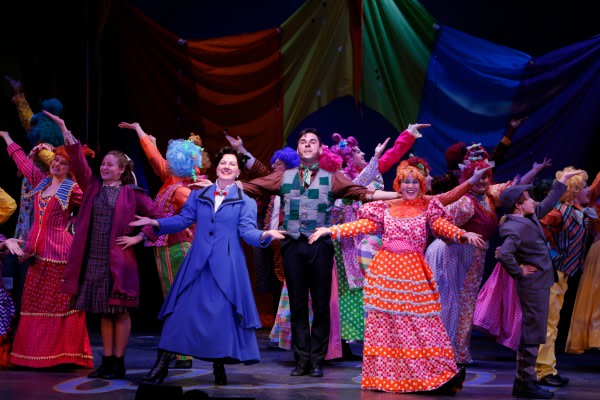 And things do move along swiftly and pretty smoothly here, under the direction of Murray Chase and with a set design by Tim Wisgerhof that whisks us from the rooftops of London or the front of St. Paul's Cathedral to Mr. Banks' forbidding bank office and the neighborhood park where statuary comes to life to dazzle Jane and Michael. The show is also given a great lift by the spirited dance numbers (choreographed by Geena Ravella), with Step in Time, Jolly Holiday and Supercalifragilisticexpialidocious obvious standouts. You're bound to admire O'Neill's work on Step in Time, as he climbs the wall and ultimately hangs upside down while tapping on the ceiling.
Cordonnier also does some fine work as Mary; thanks to Nicholas Hartman's costuming, she certainly looks the part, and she can alternate between firm and fun with deftness. There are a couple of scenes where the work required for her to fly is too noticeable or too involved for the payoff, but the show's close, when she soars into the audience, is a nice thrill.
Some of the supporting performances are either overdone or not done enough, and the comic business with cook Mrs. Brill (Kristi Hibschman) and lazy servant Robertson Ay (Charlie Kollar) gets repetitive. But overall, this Mary Poppins (with energizing musical direction by Michelle Kasanofsky), is a lively, colorful creation to entertain young and old alike. It continues at Venice Theatre through March 15; for tickets call 488-1115 or go to venicestage.com.