Article
The Players' Violet
Arts editor Kay Kipling reviews this area premiere musical.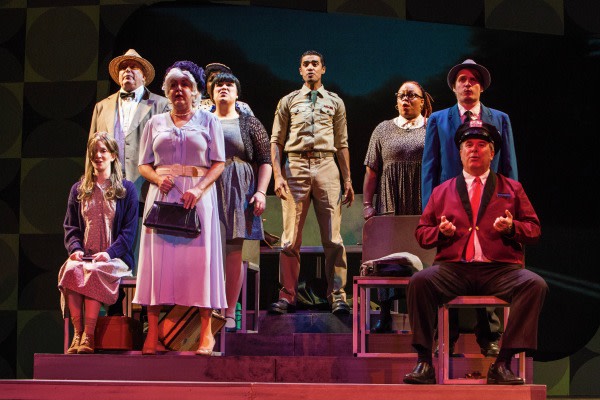 By Kay Kipling
Violet is a musical with a mixed history of success, but it's an interesting choice for the Players—a change of pace from some more familiar shows and one with an unlikely heroine.
That heroine is, of course, Violet (Kathryn Parks), a young woman from a tiny mountain town in North Carolina, circa 1964, who suffered a disfiguring accident as a young girl that has scarred not only her face but her life. (Note: We don't see any facial scar on Parks' face, for reasons that become apparent as the show progresses.) Now she's taking a long bus trip to Tulsa, Oklahoma, in the fervent hope that a preacher/faith healer there (Chris Caswell) can render her pretty—and therefore happy.
It's a long shot, but then Violet has little else to hope for. Her parents are both dead; her father (played by Allen Krestchmar) was the accidental cause of her disfigurement. And she's tired of being shunned, or pitied, by her fellow citizens, even if she is feisty enough to give as good as she gets.
The bus ride is more than a physical journey for some other passengers, too, including Flick (Michael Mendez), a young black Army officer who resents being shunted to the back of the bus, and his fellow soldier Monty (Brian Craft), who can come across as cocky but actually has his own fears and needs. Violet is torn between the two of them, especially at an overnight stop in Memphis where things get heated at a dance hall on Beale Street. But nothing and no one will stop her from making it to Tulsa.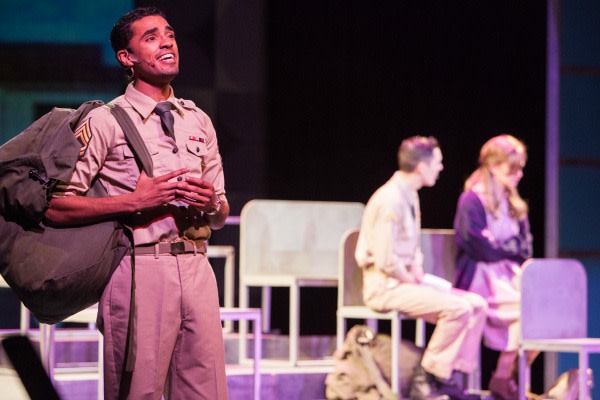 Violet bears a lively mix of song styles (by Jeanine Tesori and Brian Crawley, who also wrote the book, although neither is credited in the Players program), from the country-folk twang of Water in the Well (sung by Young Violet, energetically played by Hannah Beatt) to the gospel sounds of Raise Me Up to the more bluesy strains of Lonely Stranger/Anyone Would Do. Many songs are well-delivered as solos; it becomes more difficult to understand what is being sung when voices are on top of each other in the score. (Miking problems were an issue on opening night as well.) Phyllis Banks as a gospel soloist delivers, and Alyssa Goudy and Helen Holliday likewise can belt it out in their Memphis scenes.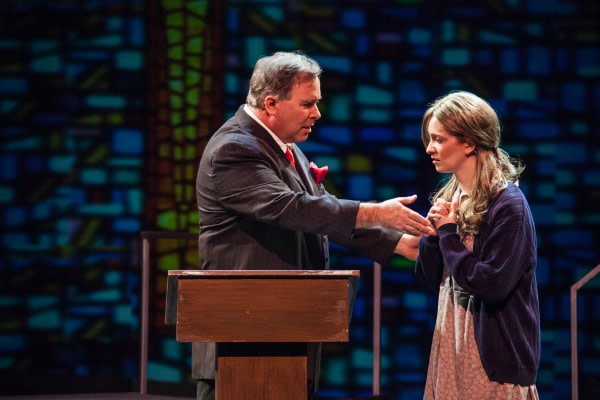 But while Violet is sometimes involving and engaging (and offers a moving final number with Bring Me to Light), it can also be confusing to follow, with some jarring shifts of tone. (Hard to say whether that's the show's problem or the direction, by Pamela Wiley and Bob Trisolini; maybe it's a combination.) Parks, who's usually played more traditional soprano roles, at times seems to be straining to portray the more gritty Violet and to vocalize in the lower ranges here.
But when Violet works, it's an effective reminder that all of us bear scars, even if they can't be seen, and that they cannot define us. Violet continues through March 1; for tickets call 365-2494 or go to theplayers.org.