Article
FSU/Asolo Conservatory's [title of show]
Arts editor Kay Kipling reviews this musical about a musical's creation.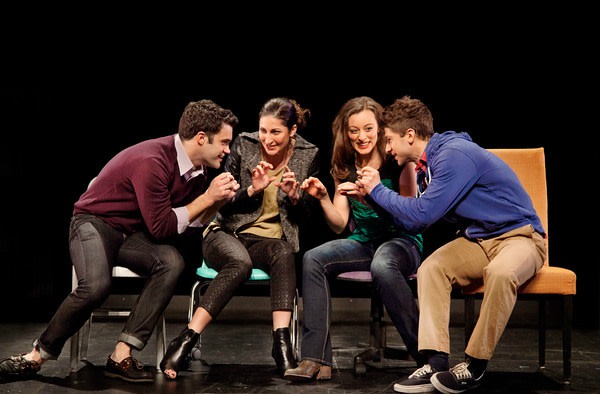 By Kay Kipling
For various reasons, it's been a while since the FSU/Asolo Conservatory has had its second-year students embark on a musical during their four-show season in the Cook Theatre. Four of them are starring in one now—the catchily named [title of show]—and it's a winner.
It's also a natural for the Conservatory students, as they are playing young theater hopefuls in New York City in this charming 90-minute-plus show (with no intermission) by Jeff Bowen and Hunter Bell. It's a piece with minimal set and props (four chairs, an answering machine), one musician (musical director Darren Server, on the keyboards) and the clever (if potentially dangerous) idea of having the characters actually create the show we're seeing, while we're seeing it.
If that sounds a bit confusing, it really isn't. Hunter (Evan Reynolds White) and Jeff (Joe Knispel) are friends (both gay) struggling to make it in show biz when they decide to enter a submission in a musical theater festival there. Trouble is, they have just three weeks to write it in. And they are planning to write something totally original—no book or movie adaptations, but something that reflects their own personalities. It all starts with a pencil and a piece of paper in the Untitled Opening Number and Two Nobodies in New York songs; then we see them reach out to their female best friends, Heidi (Kim Stephenson) and Susan (Ally Farzetta) to help them bring the show to life.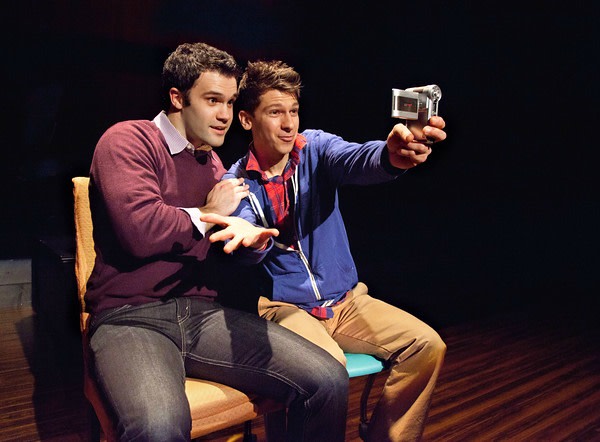 The woman are both talented but also struggling, with Susan having taken up the job of "corporate whore"/office manager since acting jobs are scarce, and Heidi auditioning repeatedly to be cast as replacement/understudy/ensemble in the type of big, popular Broadway musicals that Hunter and Jeff (and Kelly Burnette's choreography here) might reference in some of their new show tunes. (There are a lot of insider theatrical references in [title of show], but whether you get them all or not doesn't really matter; it helps to tell us about the world the characters live in, often as they poke fun at themselves, too.)
As the show takes shape, we see the various stages it goes through, from festival acceptance to an off-Broadway run to even the possibility of Broadway itself—and we also see the problems that hope can engender. Are Hunter and Jeff willing to adapt their little show to Broadway expectations (Change It, Don't Change It/Awkward Shoot) even if it means sacrificing their ideals (and friendships) along the way? Or will they stay true to the dreams they all had as children, when putting on a show, with people you like, was all they wanted, as Heidi sings on A Way Back to Then?
The players of [title of show], directed by Amanda Friou, are engaging and believable, and quite capable of making the seemingly improvised transitions needed here. There are a number of clever bits and lines in the show, but as important as the entertainment provided is the heart that comes through, always beating for these admitted theater nerds. You definitely root for them.
[title of show] continues through March 8 at the Cook; for tickets call 351-8000 or go to asolorep.org.