Article
Circus Sarasota
Arts editor Kay Kipling heads to the Big Top.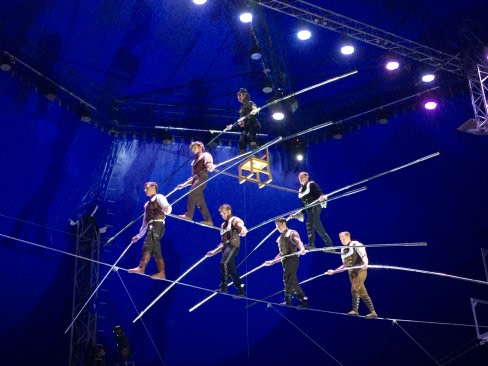 By Kay Kipling
Perhaps it's the new location (Nathan Benderson Park), perhaps it's the Wallenda family troupe featuring as headliners, or perhaps it's just the overall lineup—at any rate, this year's production of Circus Sarasota seemed to generate more energy from a packed crowd the night I saw it than usual.
Not that the circus doesn't always draw plenty of fans to the Big Top, but this particular night the audience was definitely pumped up, applauding fervently for every act and even occasionally standing to demonstrate its enthusiasm.
And there were new and distinctive acts to enjoy. No quick-change artists or dog acts this time; but still an international company demonstrating that circus artistry is alive and well.
The two-hour-plus show started with a dancing Clydesdale named Skyy and ended with the famous Wallenda seven-person pyramid (this time accompanied by a huge screen in the background, so you could watch it two ways while holding your breath). In between, we saw humorous performances by plate spinner David Burlet, Cousin Grumpy's Pork Chop Revue (you guessed it: pigs) and returning clown Renaldo (who reprised a bit I've seen before, utilizing volunteers to "produce" a movie; it's still funny).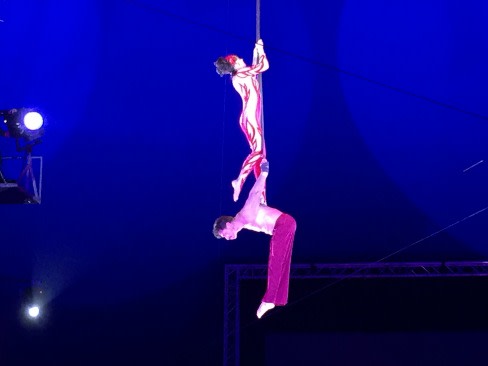 There was also a welcome air of joviality from the Ukrainian Duo Shcherbak Popov, working so seamlessly together in their balancing of their bodies on each other, with no props, to Singin' in the Rain. (Hand balancers can be so intense, but this act was light-hearted as well as impressive physically.) Plus we see male hoop artist Anton Monastyrsky (this is usually a female specialty); "punk" juggler Gamal David Garcia; the Russian bar artists Trio Stoian, with Corina executing flawless flips and somersaults with the assistance of her two male helpers holding the bar; and, of course, aerial artists Dolly Jacobs and Rafael Palacios, who seem to have added an extra level of romance to their daring and grace this time around.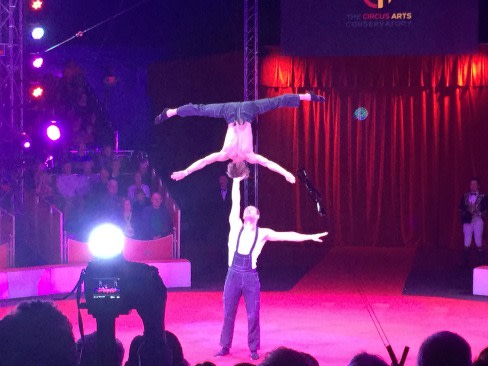 If you go, you're bound to have your own favorites among the performers. But don't wait too long; the circus continues only through Feb. 22. Call 355-9805 or go to circusarts.org for tickets.