Article
Sarasota Youth Opera's "The Hobbit" Opens This Weekend
The Sarasota Youth Opera puts on a full scale production of J.R.R. Tolkien's "The Hobbit" this weekend at the Sarasota Opera House.
The Sarasota Youth Opera presents its production of Dean Burry's The Hobbit, based on the book by J.R.R. Tolkien, this weekend at the Sarasota Opera House. We spoke with Ben Plocher, manager of educational activities, about the youth opera program, the production, and the rewarding experience both the professional staff and the young performers receive.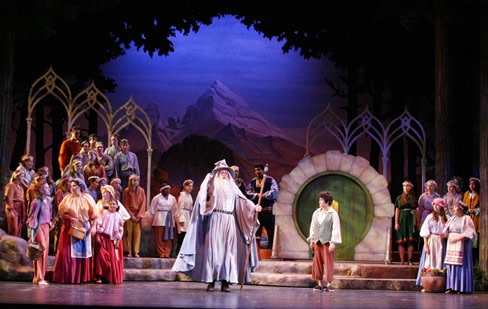 What makes Sarasota a good place for a youth opera?
We live in a community with so much art, it's amazing. I cannot think of another city of our size that has this many professional companies in all art forms. The fact that our community is not too big or small makes us a great place for all these programs; we're built around the arts as a community, so we have an investment in it.
Do you have any favorite stories to tell about your experience with the children?
One of our success stories with this production is Griffyn Stahlmann. Griffyn, 17, is on the autism spectrum, and he's just wonderful. He has a solo role as one of the evil bad guys and he was concerned that we thought he was a bad guy. We explained to him, "No, you're just really able to portray the character. It's harder to play bad guys than good guys!" [We can] see all the energy and confidence he puts into it; he just shines on stage.
What does the youth opera teach the young performers?
Confidence is a big one, but the other really big thing is teaching them to think about "How am I successful?" or "How can I be successful in what I want to do?" Beyond that, it shows them how to work with someone on a high caliber level, so even if they're not going into music they learn how to handle themselves in a professional setting, how to take constructive criticism from the professionals they work closely with.
All corporations are looking for creative people, and what better way to be creative than the opera? It has music, dance, spoken dialogue—all different art forms put into one, so even if they don't stay with us or opera, they still have the opportunity to learn how to maximize their strengths while working through their weaknesses.
What was working on The Hobbit like?
The Hobbit has 95 kids, our highest number in the last three years. We assigned the solo roles in May, started the chorus rehearsals in August and started staging rehearsals in October. As we've progressed, we've gone from one or two rehearsals per week to rehearsing every day. Most of these kids get up at 6 a.m. for school, then they have their part-time jobs or extracurriculars, then come here for rehearsal and don't get home until after 9 p.m., do their homework and go to bed—and wake up the next day and do it all over again. It's impressive!
This story is epic and it requires that heightened emotion to convey it to the audience. It's kind of sad in a way: when the curtain goes down on Sunday it'll be over, but we've had so much fun bringing Dean Burry's [the composer] opera to life. It's such a wonderful production.
What is most rewarding for you?
Seeing a kid light up when they first go out on stage. They've been working so hard for months to learn their music and they walk on to their stage and you can see in their faces, "Wow, I worked really hard on this and it's great!" We recognize they're young and we want them to sing like they're kids. Watching them work toward that and attain it, cherish what they've accomplished, it's really wonderful.
____
Tickets are still on sale for the 7 p.m. performance on Saturday, Nov. 15, and the 1:30 p.m. performance on Sunday, Nov. 16. Go here to purchase yours and watch the months of work come to life!
For children ages 8-18 interested in joining the opera, regardless of talent or ability to pay, visit one of the open enrollment auditions. Call (941) 366-8450 for information.