Article
FSU/Asolo Conservatory's The Water Engine
Arts editor Kay Kipling reviews this David Mamet radio play turned stage drama.
[caption id="attachment_1774" align="alignnone" width="488"]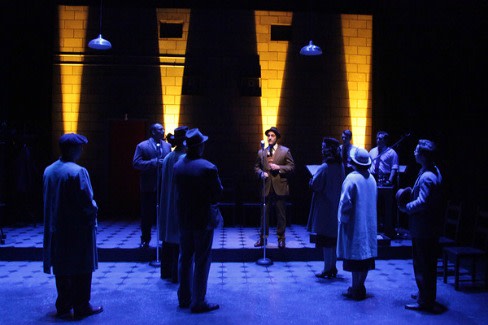 The cast of The Water Engine. Photo Frank Atura[/caption]
By Kay Kipling
There's a very good chance you've never heard of the play The Water Engine, now onstage in an FSU/Asolo Conservatory production at the Cook Theatre. Although it's by theater eminence David Mamet (American Buffalo, Glengarry Ross), it's a bit of a different animal for him, and not as well-known as his other works. But that doesn't mean it's negligible.
First produced in the 1970s, but set in 1934 in Mamet's native Chicago at the time of the Century of Progress Exposition there, The Water Engine was originally conceived as a radio drama for NPR, but later took to the stage as a sort of hybrid production. It still displays a radio studio setting, with microphones, a sound effects table and an "On Air" sign, but the actors also step forward to interact with each other in a more theatrical (though not necessarily more realistic) way.
The protagonist here is Charles Lang (Josh James), an inventor who wants to patent an engine he's devised that runs on water alone. (Imagine the effects on the world economy and environment that would have.) Although he and his blind sister, Rita (Lisa Woods), are rightly suspicious of the world outside their close-knit existence, Lang needs to take his plans to an attorney, Morton Gross (Chris Alexey Diaz), for help in securing a patent. Gross in turn brings into the mix another attorney, Lawrence Oberman (Jordan Sobel), and Mamet's story, filled with foreboding from the outset, turns even more menacing as Lang becomes trapped in a web of greed, threats and mysterious powers that be.
Director Greg Leaming and his cast (almost all of them second-year Conservatory students) play this in a way that clearly pits the little guy against a vast, unfeeling universe where big business rules. It's easy enough to place the storyline and its themes in the 1970s, with memories of Vietnam, Watergate and gas restrictions, or in 2014, where alternative forms of energy are still problematic and the 1 percenters of a capitalist world can exercise their influence everywhere at will.
[caption id="attachment_1775" align="alignnone" width="488"]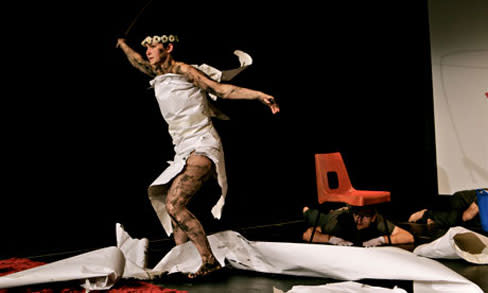 Background, Mark Comer; foreground, Tom Harney and Josh James. Photo Frank Atura[/caption]
The main action is backed by running recitations of chain letter spiels (don't worry, there's a reason for that) and inspirational messages from the Exposition, where rocket ships and other wonders of tomorrow fascinate a young boy in Lang's neighborhood (Tom Harney), whose shopkeeper father (Mark Comer) is a sympathetic friend to Lang. The play's characters also include a helpful neighbor, Mrs. Varec (Kelsey Petersen), who tries to look after Rita (who longs to escape city life permanently for a more rural idyll), and a possibly crusading newsman (Kevin Barber) whom Lang turns to in desperation as the wolves close in. And the show's concept also gives the actors a chance to smoothly morph into a variety of other, unnamed ensemble characters as well.
The Water Engine runs only 70 minutes or so, without an intermission, but there are some big ideas at work here in that brief time frame, and the production is tautly enacted for a surprisingly suspenseful ride. It's a promising start to the Conservatory's season, and it continues through Nov. 23. For tickets call 351-8000 or go to asolorep.org.