Article
Florida Studio Theatre's Hairspray
Arts editor Kay Kipling reviews this bright, bouncy musical.
[caption id="attachment_1787" align="alignnone" width="488"]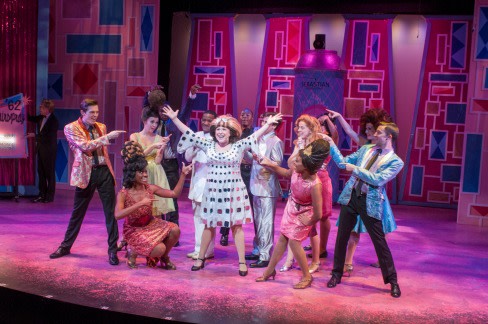 Cast members of FST's Hairspray. Photo by Maria Lyle[/caption]
By Kay Kipling
They're singing and dancing up a storm over at Florida Studio Theatre's Gompertz in a production of Hairspray that's just about as hard to resist as the show's heroine herself, the take-charge teen Tracy Turnblad, played by Brooke Shapiro.
Like the Asolo Rep's current show, South Pacific (see my review at sarasotamagazine.com/on-stage/2014/11/17/asolo-reps-south-pacific/), this musical, based on the film written and directed by John Waters, actually has a message about racism and intolerance at its core. But it's delivered in a bright, bouncy, candy-colored way that, to quote from yet another musical, helps the medicine go down.
Tracy, of course, is the big-haired, big-hearted center of it all, a girl who doesn't fit the conventional standards of 1960s' femininity but refuses to allow that to stop her in her mission to snag the guy of her dreams, heartthrob Link Larkin (Dane Becker), get her housebound mother (Greg London, carrying on the tradition of this role being played in drag) back into the world, and integrate the cast of Baltimore's very own Corny Collins Show, which means making Negro Day every day on local TV.
To accomplish all that, Tracy first has to get herself on the show as a dancer, and she faces mean-spirited opposition from the spoiled Amber Von Tussle (Alaina Mills) and her mother, Velma (Sarah Joy Ledtke), the show's producer. But she just might do it with the help of her friends, the loyal if loopy Penny Pingleton (Lindsay Nantz), the African-American dance sensation Seaweed (Melvin Brandon Logan), and Seaweed's mom, Motormouth Maybelle (Jennifer Fouche), who's broken down a few closed doors of her own in her time.
[caption id="attachment_1788" align="alignnone" width="488"]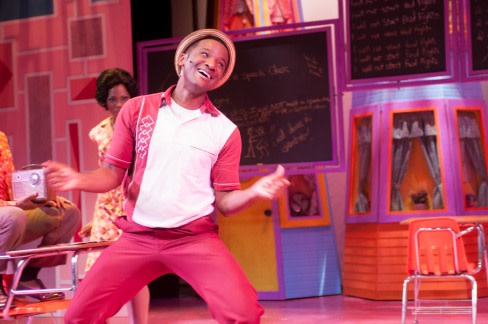 Melvin Brandon Logan as Seaweed. Photo by Maria Lyle[/caption]
The cast, under the direction of Richard Stafford, who also devised the production's swift, sharp choreography, is tight and accomplished here, squeezing the most out of every comic opportunity (although when it comes to the Von Tussles, a little bit less might feel like more. You practically expect actual venom to issue from their mouths).
Musical direction by David Truskinoff likewise takes full advantage of Marc Shaiman's often propulsive score (with Scott Wittman), and the bright, cartoony set by Isabel and Morah Curley-Clay is a huge asset as well. The costumes (designed and constructed by Michael Bottari and Ronald Case) and teased-to-the-max wigs (by Gerard Kelly) practically steal the show.
[caption id="attachment_1789" align="alignnone" width="488"]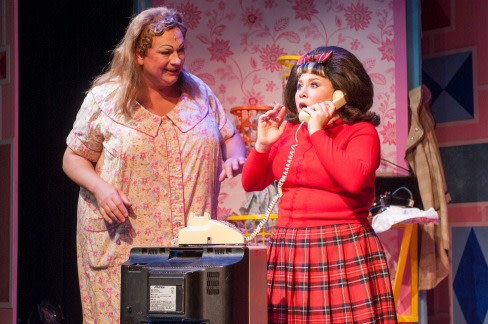 Greg London and Brooke Shapiro as Edna and Tracy Turnblad. Photo by Maria Lyle[/caption]
But Team Turnblad--the effervescent Shapiro, amusingly deep-voiced London and D.C. Anderson as Tracy's wacky father, Wilbur--keep that from happening with their right-on-the-money performances mixing laughs and heart. And Fouche brings down the house, as intended, with her powerful number about the civil rights movement, I Know Where I've Been. The only song that could follow that is You Can't Stop the Beat, the show's closer, as infectious a tune as they come.
Hairspray continues through Jan. 4; for tickets call 366-9000 or go to floridastudiotheatre.org.