Article
Asolo Rep's South Pacific
Arts editor Kay Kipling reviews this Rodgers and Hammerstein classic.
[caption id="attachment_1782" align="alignnone" width="488"]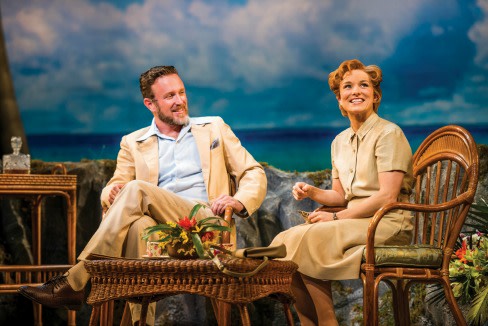 Ben Davis and Kelly Felthous in South Pacific. Photo by Cliff Roles[/caption]
By Kay Kipling
It's all too easy to forget, if you've seen a classic like South Pacific multiple times, that when it first opened on Broadway in 1949, it was groundbreaking in many ways. The Asolo Rep production currently opening the company's season is a reminder of that, but without sacrificing any of the enjoyment of the piece in order to make a point.
While the characters (taken from writer James Michener's tales of the South Pacific during World War II) are certainly so familiar to us now that they seem like old friends, 65 years ago it was still a novel idea to deal with the subject matters of war and interracial love in a musical theater piece, and for the play's secondary romantic interests--in this case Lt. Joe Cable and the Polynesian Liat--to be more than good old comic relief. And for a main character to die (on the slim chance you have somehow never seen the show, I won't say which one) was surely still rare.
But the Asolo Rep's production, which features new orchestrations by Brad Haak that allow the ear to fully focus on the beautiful melodies of the Rodgers and Hammerstein score, played by a smaller orchestra than is traditional (which you most likely won't mind at all), while honest, is not in any way downbeat. From the opening scenes, introducing us to ebullient nurse Nellie Forbush (Kelly Felthous) and lonely planter Emile De Becque (Ben Davis), we are caught up in the romance of it all. Little Rock native Nellie's longing to see the world comes across as real, and so does the longing these two have for each other.
Felthous and Davis (who was seen here last season in Show Boat) are near perfection as the couple who meet on Some Enchanted Evening but must confront the dangers of a war operation, as well as Nellie's reluctant racism, before they can hope for a happy ending. Their sparking takes place in an alluring hilltop waterfront setting, designed by Michael Schweikardt to rotate easily to represent the beach where the show's Seabees work and play, and lit by John Lasiter with subtly changing hues that create just the right atmosphere.
Those Seabees may, in some cases, be almost too fit and good-looking to be real (weren't there any just average-looking sailors on duty?), but they certainly demonstrate both athletic and comic prowess when energetically dancing to Ralph Perkins' choreography on There Is Nothing like a Dame. Benjamin Howes ups the comic ante as the scheming Luther Billis, redeemed by his adoration for Nellie.
[caption id="attachment_1783" align="alignnone" width="488"]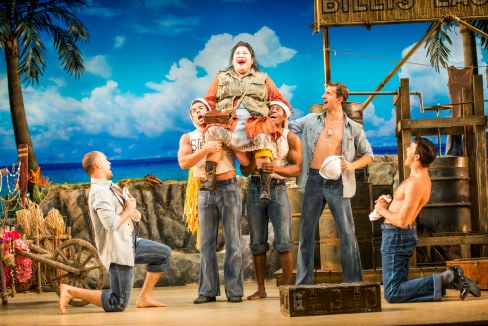 Bloody Mary (Loretta Ables Sayre) and Seabees. Photo by Cliff Roles[/caption]
He'd like to get the newly arrived Cable (Anthony Festa) to take him to the mysterious island of Bali Hai, and Cable isn't averse to the idea once he meets Liat (Autumn Ogawa), who happens to be the daughter of the Seabees' target of good-natured ribbing, Bloody Mary (Loretta Ables Sayre, who sinks her betel-juice-stained teeth into the role). While the doomed relationship of these two young lovers may feel simplistic and dated to some eyes today, it was certainly a more accepted interpretation of such a romance in the World War II era. And Festa's tautly delivered rendition of one of the show's most crucial numbers, Carefully Taught, is still as sharp and apt as ever.
[caption id="attachment_1784" align="alignnone" width="488"]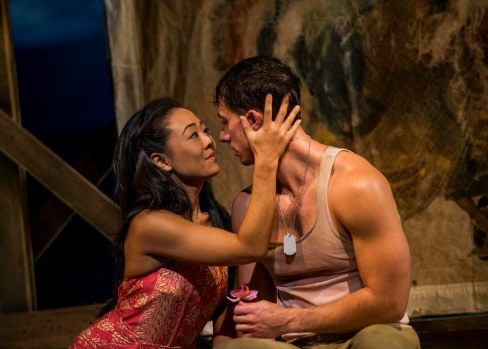 Autumn Ogawa and Anthony Festa in South Pacific. Photo by Cliff Roles[/caption]
Under the skilled direction of Rob Ruggiero, this South Pacific brings us a fine ensemble of performers along with its stars, and makes us glad to see the familiar favorite once more. The show continues through Dec. 28; for tickets call 351-8000 or go to asolorep.org.