Article
Sarasota's WSLR Radio Station Finds Its Voice
How Sarasota's community voice, WSLR, became the little station that could.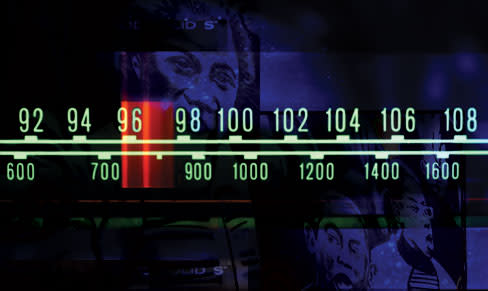 6 p.m. Tuesday.
One show is ending and another is beginning, which, for the moment, means chaos at Sarasota's WSLR. The departing DJ hurriedly collects his things as the three hosts of Maternally Yours hustle inside to set up their hour-long talk show dedicated to pregnancy, motherhood and infancy. Tonight's topic: Can toddlers remember and describe their births? Laura Gilkey, Dana King and Ryan Stanley grab purple, red and gold headphones from a coatrack stuck to one of the studio's walls and snag seats around the audio board.
Gilkey, dressed in a white WSLR T-shirt with the collar cut out, cues up a YouTube clip on the computer perched on a nearby table. A pair of turntables sits next to the PC, one of them plastered with a bumper sticker bearing the station's position on the FM dial: 96.5. A digital clock ticks away as the soft strum of an acoustic guitar introduces the show's theme and the
"On Air" light above the studio door flips red.
"All right," Gilkey says to King and Stanley.
King hoots and pumps her fist. "Remember your birth!"
Showtime.
Even if the call letters WSLR mean nothing to you, if you've flipped through the dial in Sarasota at any point in the last nine years, odds are you've stopped, at least for a little bit, at 96.5. Because amid a sea of annoying ads, generic pop and vitriolic talk, WSLR stands out.
You might hear zydeco from the Louisiana Gumbo Show, zouk from INI Radio, Grateful jams from Yesterday's Dead Today. You might hear investigative journalism from Amy Goodman, populist talk from Thom Hartmann, updates on the City Commission's latest blunders from Jumping Mullet. You might hear hip-hop, you might hear punk, you might even hear kids talking about their own births. WSLR does it all. And it does it from a small building in the Rosemary District with a $119,000 annual budget and exactly one full-time staffer.
The station's success didn't happen overnight. It's taken years of effort, hundreds of volunteers and committed management to make WSLR what it is today: Sarasota's only noncommercial, listener-supported radio station, and one of its only genuinely independent media operations, period. It's also a community, a gathering place for locals who distrust corporate media and are seeking music and talk that's a little rough around the edges, amateur in the best way possible.
But as the station plans to celebrate its 10th birthday this month, it also finds itself in transition. Founder and longtime station manager Arlene Sweeting stepped down at the end of last year and is now concentrating on work with the Peace Education and Action Center, the nonprofit that oversees the Fogartyville Community Media & Arts Center, the garage-like concert and event space adjacent to WSLR's downtown studio. For the time being, Sweeting's partner, fellow founder David Beaton, has taken over running the station, but both say the time has come for them to turn it over to fresh blood.
"I'm ready to move on," Beaton says. But not without leaving the station in capable hands: "I've got to get the station ready to move on."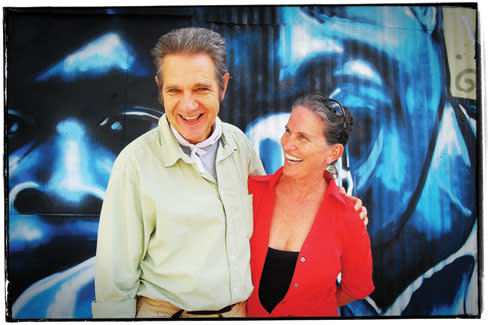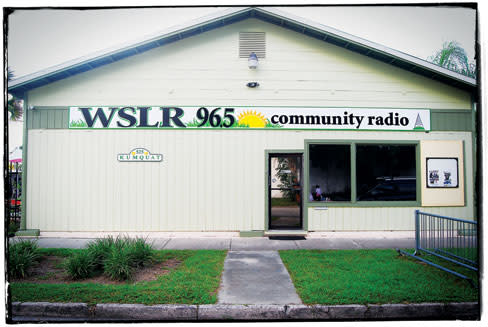 Community radio has a very specific birthdate: 1949, the year KPFA went on the air in Berkeley, Calif. The station was founded by Lewis Hill, a pacifist who became a conscientious objector during World War II. After serving time in a labor camp, he worked as a journalist and for the ACLU in Washington, D.C., and began making plans to launch a noncommercial radio station to promote peace. The first KPFA broadcast, Pacifica, its name inspired by pacifism, was born.
While these days we tend to associate criticism of the mainstream media with conservatives, there exists a long tradition of media critiques by the left as well. Liberal thinkers like Noam Chomsky, Bill Moyers and Eric Alterman have all assailed the Fourth Estate. But one common theme often emerges, a theme you don't see echoed in most conservative media criticism: Who owns the news?
General Electric, which once owned NBC while at the same time manufacturing parts for nuclear weapons? Rupert Murdoch, whose media empire includes Fox, the book publisher HarperCollins, The Wall Street Journal and more? Hill and KPFA offered something different from the newspapers and radio of their day—a noncommercial, community-supported broadcast dedicated to bringing a diversity of viewpoints to the airwaves while remaining fiercely independent.
And it wasn't just about politics. In its early years the station hosted Beat readings, offered kids' programming and spun jazz records. Media conglomeration hasn't just affected political coverage; it has also dramatically winnowed a music fan's choices. Before the Telecommunications Act of 1996 loosened ownership regulations, the top two radio companies in the U.S. owned 115 stations total. By 2003, that number had ballooned to 1,400. Suddenly, you started hearing the exact same songs everywhere, all the time.
After KPFA and Pacifica, community radio spread across the country, coming to Tampa in 1979, when volunteers launched the nonprofit WMNF at 88.5 FM. But while Sarasota listeners have long tuned into that signal, when the Federal Communications Commission opened a brief window in 2000 to allow the creation of new low-power, noncommercial FM stations, local listeners decided it was time for Sarasota to have a station to call its own.
***
7 p.m. Thursday.
Dozens of locals concerned about media ownership mingle, sip beer and find seats at Fogartyville, the high-ceilinged warehouse-cum-event-space that shares a wall with WSLR. The tables are small and mismatched. A bright red exit sign glows between the shut-tight garage doors, which at one time, when the space was a truck repair shop, let semis in and out. There's no AC, but seven fans blaze away. The rainbow-colored, dove-emblazoned flag for the Peace Education & Action Center hangs on the wall across from the garage doors.
On the stage tonight, where you would normally see amps and instruments, stands a movie screen reflecting still images from the film about to be shown: Jean-Phillippe Tremblay's Shadows of Liberty, an exposé on—what else?—how big media outlets ignore and even suppress important stories.
The movie highlights several examples of corporate journalistic malpractice: CBS killing a sweatshop story because of ties to Nike, journalists discrediting a reporter who first investigated cocaine trafficking by American allies in Nicaragua—exactly the kinds of actions that have inspired and continue to inspire the birth of community radio stations around the country. Sweeting, although she's probably heard the tales a million times, sits in the back, watching. Beaton mans the digital projector. As the movie rolls, he fiddles with long, hanging sheets in the back of the room, cutting down the glare.
Events like tonight's give supporters a chance to gather and plot action. Sweeting says that while LPFM's 100-watt signals may limit a station's audience, that also allows the station to tighten its focus and get citizens actively involved in local politics and in local media. "To experience what it is to be on the other side of that microphone, that's important," Sweeting says, "so that you read that newspaper a little bit differently or you listen to that TV story a little more critically. Because you realize the power that person has."
Arlene Sweeting met David Beaton in 2000. Sweeting was running for the state legislature as a Democrat, fired up by her experience as a Manatee County teacher and by her passion for the environment. She was spreading the word about her candidacy at Manatee Community College, where Beaton taught video production.
"He stopped by the table where we were handing out campaign literature, and he wound up becoming my campaign manager," Sweeting says over coffee and iced tea at Station 400. She punctuates the memory with the hearty laugh that often fills her speech. Wraparound shades hide her eyes; her black T-shirt bears the WSLR logo and the slogan "Radio for the people by the people."
Sweeting lost her first political race by 10 points, and fared worse running for the same seat in 2002. But she and Beaton discovered a progressive community that needed a place to gather once her campaigns shut down. The original idea was to find a print shop and put out a newspaper, but while scouting locations they found a former Mexican restaurant and bus station near Bradenton's McKechnie Field. The space became Fogartyville I.
Fogartyville became a fixture on the local music and civic scene, booking nationally touring bands and hosting political meetings and events. Sweeting and Beaton shared a concern for the environment and education and worries about money in politics and corporate control of the media, and they saw Fogartyville as a way to bring those issues to the fore while at the same time offering music fans a good time. The atmosphere appealed to listeners who wanted to actually hear the bands playing, and the talent frequently impressed.
But soon another project was competing for Sweeting's and Beaton's attention: WSLR. In 2003, they met a local veterinarian who had applied for a low-power FM license during the FCC's 2000 window; the vet urged them to take over the project, and they did. But the New College Student Alliance had applied for the same frequency. Sweeting and Beaton met with students from New College and agreed to withdraw the vet's application, joining forces with the New College team and creating a joint board with school reps.
But they still had no antenna with which to broadcast. Enter Prometheus Radio Project, which helps community radio projects around the country come online. The nonprofit sent a tech crew to Sarasota, and volunteers chipped in to erect the station's first tower, a 35-foot pole in a supporter's back yard.
Beaton brought the technical chops; he'd worked in college radio for years and also ran a number of Midwest punk and new wave clubs. He set about putting together a makeshift studio in a home he had purchased on Myrtle Avenue, right off Sarasota's North Trail. Early on, the station's 100-watt signal was tough to catch, but WSLR eventually locked down a better, higher antenna spot, on a cell tower behind Der Dutchman.
Sweeting and Beaton found themselves constantly commuting back and forth between Fogartyville in Bradenton and WSLR in Sarasota, and they pulled the plug on the café. But the attraction of owning a gathering place to complement their work on the airwaves remained. "People really missed the space to come together physically," Sweeting says. And with a place for supporters to come together, the station could increase its number of money-raising events.
Before making that investment, the station's board wanted clarity about who owned the FCC license: the New College Student Alliance or WSLR. In 2009, in a campus-wide vote, New College students voted to transfer the license to WSLR; in 2011, Sweeting and Beaton purchased an old semi repair warehouse on the edge of downtown, then rented the space to the station. WSLR had more room, and Fogartyville was back.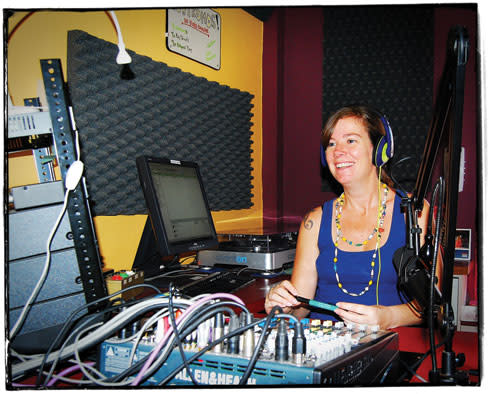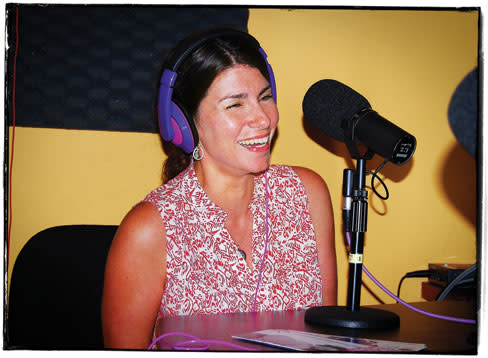 You can't run a radio station without talent, and both Sweeting and Beaton are quick to credit WSLR's volunteer DJs for the station's success. A programming committee meets regularly to discuss the state of the station and to review applications from hopeful hosts, but evaluating shows at a community radio station presents challenges. The station doesn't subscribe to Arbitron, which documents radio listenership based on surveys. That makes pinning down listener numbers and gauging a show's popularity tricky. The station has about 1,500 members, and one formula suggests that one out of every 10 listeners donates to public radio; but Sweeting thinks WSLR's proportion of donors is probably higher.
Without hard numbers to track success, the programming committee looks at other data. How much money did a certain show bring in during one of the station's twice-yearly fund-raising drives? Are the hosts volunteering at concerts and discussions? Have they been active members of the WSLR family?
It's key to the station's mission to include a diverse array of voices and personalities. Sweeting calls this "democratizing the media," and Beaton has seen the transformative effect having a program can have on an individual. "They become better speakers, they become more social," Beaton says. "You give somebody a radio show and they feel they're being listened to. It makes them understand that what they do is important." In addition to manning the boards and spinning tunes, programmers are asked to contribute in less glamorous ways. Early in his time as a volunteer, Tom Walker, now the chair of the WSLR board, remembers being asked to scrub toilets.
"That's one of the greatest things I've experienced in my lifetime," Haile Burke says of his time volunteering as a DJ. He spins reggae, dub and other Caribbean sounds on INI Radio every Saturday evening and says the station helps give opportunities to young folks. Businesses have contacted him to DJ events and parties because of his show, and he's met industry superstars because of the connection to the station.
"There's an idea that it's hard to change anything in Sarasota. There's that perception that the vote's already been decided," Burke says. "But I believe different, and WSLR has helped me maintain that faith."
John Osgood has run the Louisiana Gumbo Show on Sunday evenings ever since late 2005. Osgood has seen the station grow over the past decade, and credits the station for putting "underrepresented" music on the air.
His show dabbles in zydeco, jazz, Cajun, anything New Orleans—a culture he fell in love with after repeated trips to visit friends there.
Maternally Yours began in 2011 when Sweeting asked Rosemary Birthing Home's Carmela Pedicini to host a program about breastfeeding. Pedicini, Stanley, Gilkey and Cheryl Kindred eventually put together a full show proposal that was Oked by the programming committee. King joined the program after Pedicini and Kindred departed. Stanley says the station provides an "infrastructure" that makes becoming a programmer easy. Anyone can start a blog or a podcast and throw it out on the Internet, but how do you find an audience? How do you get better? WSLR provides a foundation and transmits experience and wisdom.
Another advantage the station confers: the possibility of being picked up elsewhere. High Desert Community Radio, KPOV 88.9 FM, discovered Maternally Yours through a podcast database and reached out to the hosts. Now listeners in Oregon, Ohio, Vermont and Tennessee have signed on, too.
But relying on volunteer hosts has its drawbacks. Stanley says the Maternally Yours crew would love to invest the time to develop better, deeper segments with a This American Life feel. But WSLR is not a paying gig. "All of that stuff takes a lot of time," Stanley says. "We're all moms with kids."
Whatever WSLR is doing, it seems to be working.
The Peace Center has won a new low-power FM license made available by the FCC last year—that signal will be based in Cortez. The new station, partnering with Ace's Lounge, will carry WSLR programming, live shows from Fogartyville and more public affairs shows. The center has 18 months to get its tower up and running. New FCC rules now also allow LPFM stations to own translators that can push their signals out even farther, something WSLR is considering.
The station is also installing a host of solar panels that will cover one-third of its power. That helps it live up to its sustainability ideals and, more practically, will cut down on its electric bills. WSLR and Fogartyville are also branching out into local TV, coordinating with the Sarasota County Educational Channel.
Also in the works: a two-day community festival, scheduled for Nov. 28 and 29, just after Thanksgiving. A number of local acts will toast the station's approaching 10-year birthday at the block party.
Even though Sweeting and Beaton are plotting how to tone down their involvement in the station, Sweeting emphasizes that planning for a future without them is a positive step. "We're trying to ease ourselves out of the radio station," Sweeing says, "and build an organization that we know is going to sustain and be healthy and thrive without us."
That means systematizing procedures that have been second nature forever. Before stepping down, Sweeting spent six months writing manuals explaining how the station operates.
Reflecting on what the station has accomplished, Sweeting calls WSLR one of the country's top community radio stations, and says the station's impact can be seen on an individual level. Maybe 1,000 volunteers have come through the studio, and more than one intern has landed a job in radio or video production after sharpening his or her skills there.
The station earns roughly 60 percent of its revenue from its on-air fund-raising drives and another significant chunk from the events it puts on. While a few businesses and nonprofits have chipped in, most of the money comes from the very people who tune in every hour. "The people have built this station," Sweeting says.
Maybe. But she and Beaton have played a pretty big part, too.
Walker fell in love with the community around WSLR well before he was asked to join the board, and he says the group's warmth and energy reflect the leadership Sweeting and Beaton have shown. "To find someone who's that idealistic but practical and hardworking?" Walker says. "They're amazing people."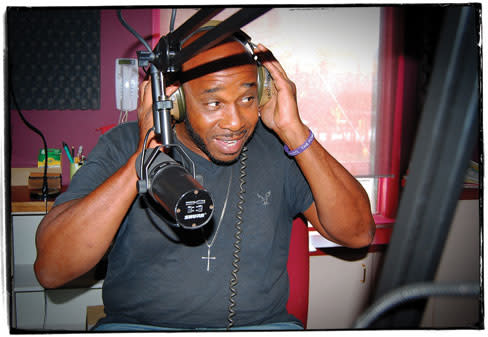 7 a.m. Wednesday.
Troy Nichols arrives at WSLR before the sun does, unlocking the door and flipping on lights as he opens up the station for the day. Dressed in a T bearing the slogan "Death before dishonor," with a slender golden cross hanging around his neck, he snags public service announcements from a thick three-ring binder and pulls up Spotify on his small digital tablet. The 46-year-old has been hosting Wednesday Morning Soul School every other week for two months now, after a fortuitous encounter with Beaton.
Nichols had been singing and playing "a little bit of keys" in NeXXLevel, the popular soul and pop cover band he's fronted in Sarasota for the past three years. After their introduction, Beaton caught a NeXXLevel set and proposed that Nichols start a new show at WSLR.
"David is one of the coolest dudes I've ever met," Nichols says as his first wave of tracks, lots of early Michael Jackson, hits the airwaves. "He's got this thing going on. I don't know what it is. I love individuals, and he's definitely one of those."
Nichols' show has already found an audience hungry for underrepresented soul. While you can hear many of the artists he spins—M.J., Otis Redding, Sly Stone—on Sarasota's commercial airwaves, this morning Nichols is serving up a steady diet of deep cuts, tracks you probably won't hear anywhere else. Nichols logs the songs he's playing on a lined sheet of white paper so he doesn't repeat himself next time around.
The phone at the station doesn't ring. Instead, every time a call comes in, a bright white light flashes from the wall behind the studio computer.
The light sparks up three or four times during Nichols' first hour, one a request for Etta James, one a thank you for playing Redding's Try a Little Tenderness.
"Thank you, thank you, thanks a lot," Nichols says to one caller who's complimenting his choices. He says with a laugh: "I wouldn't say I know what I'm doing, but I'm figuring it out."
Contributing editor Cooper Levy Baker won a third-place bronze award for Best In-Depth Reporting from the Florida Magazine Association for "Our Turn" in our January 2014 issue.
This article appears in the November 2014 issue of Sarasota Magazine. Click here to subscribe. >>