Article
WBTT's Little Shop of Horrors
Arts editor Kay Kipling reviews this B-movie musical hit.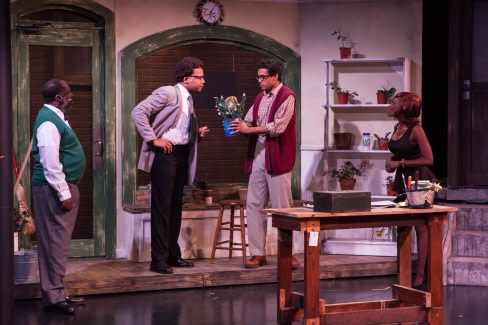 Michael Kinsey, Earley Dean, Michael Mendez and Marta McKinnon in Little Shop. Photo by DonDaly Photo.com[/caption]
By Kay Kipling
It's easy to think of Little Shop of Horrors as the little show that could. Based loosely on an old B-movie from the 1950s, with a small cast and intentionally schlocky set and costume design, it manages to remain fun every time I've seen it.
The current production at Westcoast Black Theatre Troupe is a little bit of a departure for the company, in that Little Shop is not a play related specifically to the African-American experience (although its chorus trio, Chiffon, Crystal and Ronette, is typically made up of black performers). But the show transitions with no hitches to an African-American cast, even getting a bit of new juice into the show via the transformation of Mr. Mushnik (Michael Kinsey) into a Jamaican-accented shop owner.
The Howard Ashman/Alan Menken musical has its tongue planted firmly in cheek from the get-go, as we meet meek shop boy Seymour (Michael Mendez), a blooming botanist of sorts who has acquired a very strange Venus flytrap-like plant that brings him a measure of fame and fortune but also plenty of trouble, since the only food it thrives on is blood. At first Seymour's fingers do the work, with a little squeezing, but as Audrey II (named after Seymour's love interest, Audrey, played by Marta McKinnon) grows, so does her appetite. It's only a matter of time before Audrey II and her ilk take over an unsuspecting earth.
One human who wouldn't be missed is Audrey's no-good boyfriend, Orin (Earley Dean), a sadistic, motorcycle-riding dentist who strides and struts onto the stage wearing black leather and a bad attitude. He may be the answer to Seymour's feeding problems, at least temporarily, but that won't be the end of it, even as Seymour and the original Audrey draw closer together in a doomed romance.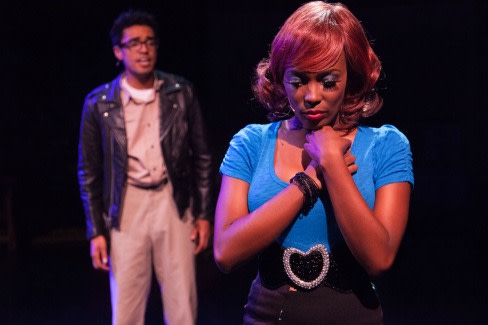 Mendez and McKinnon share a tender moment. Photo by DonDalyPhoto.com
It's all directed to good effect by Harry Bryce, who keeps the action moving briskly without sacrificing time for his characters to get their chance to, ahem, flower. Mendez is appealing as the unsure-of-himself Seymour, matched by WBTT newcomer McKinnon as a bimbo with a heart of gold, who longs to be Somewhere That's Green. (We know she'll get her wish.) Their comic timing together is topnotch, as is that between Kinsey and Mendez on the tango Mushnik and Son, as the Skid Row proprietor realizes Audrey II and her discoverer could be his ticket out.
The chorus of Ariel Blue, Tsadok Porter and Naarai Jacobs offers naturally evolving support throughout, and E. Mani Cadet is perfect as the demanding voice of Audrey II. For many, Dean's outrageous performance as that dentist will be the highlight of the show, but this Little Shop scores with occasional poignant moments as well.
The set design by Mark and Donna Buckalter is appropriately grim, and the band, led by music director Mark Galinovsky, helps to drive numbers like Git It (Feed Me) while switching gears ably for more earnest tunes like Suddenly Seymour.
Little Shop of Horrors continues through Nov. 16; for tickets call 366-1505 or go to wbttsrg.org.