Article
Venice Theatre's Don't Dress for Dinner
Arts editor Kay Kipling reviews this Marc Camoletti farce.
[caption id="attachment_1733" align="alignnone" width="488"]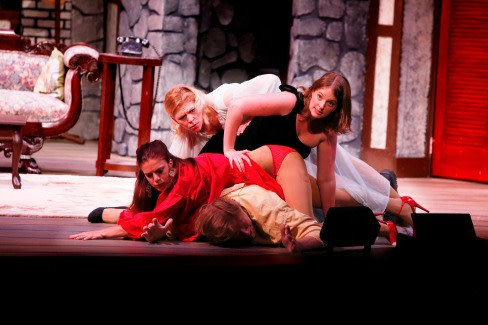 A touching moment in VT's Don't Dress for Dinner.[/caption]
By Kay Kipling
Lord, what fools these mortals be…especially when it comes to sex.
That's what I came away thinking after last night's opening performance of Don't Dress for Dinner at Venice Theatre. It's one of those farces about would-be philanderers who get caught up in such exhausting complications from trying to cover their tracks, it makes you wonder how they could possibly have any energy left over for the actual sex.
It's a particularly complicated web of lies going on here from the outset, when we meet the adulterous Bernard (Jeremy Guerrero), preparing for his wife's weekend away by bringing his mistress home for a tryst. (BTW, this show is sometimes billed as a sequel to playwright Marc Camoletti's similar farce Boeing Boeing, but you don't need to have seen the first show to quickly get the gist of this one.) Little does Bernard know that wifey Jacqueline (Natalia Mock) will change her plans once she finds out that Bernard's best friend, Robert (Matt McClure), is also coming to visit. After all, she's been having a little fling with him, too.
[caption id="attachment_1734" align="alignnone" width="488"]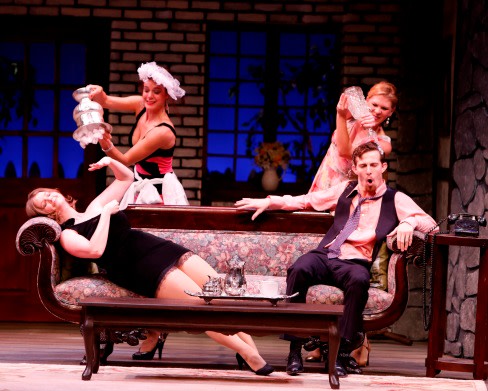 Liz Pascoe, Becky Pokorny, Natalia Mock and Matt McClure.[/caption]
It's hard to see exactly why Robert would remain friends with Bernard, since he's promptly dragged by him into making up ever crazier stories to explain the appearance of the mistress (Becky Pokorny) when she arrives. Throw in the requisite mistaken identify snafu, when a cook for the evening (Liz Pascoe) is mistaken for that mistress (one's Suzanne, one's Suzette), and you can expect some pretty unbelievable concoctions regarding who's who and what's what.
Camoletti has certainly come up with enough physical comedy—watch out for that soda siphon and ice bucket—to fill up any space between the lies flying about, and the cast, under the direction of James Alexander Bond, has some tight comic timing and plenty of gusto, even if they do get tripped up on the lines once in a while (easy to understand as intentional confusion mounts). Set designer David Lynn-Jones has done his share, providing a faux-stone restored French farmhouse (although none of the characters really end up French, as in Camoletti's original) complete with doors to slam, stairs to race up and down, and, naturally, a well-stocked bar (farces run on liquor as well as lust).
[caption id="attachment_1735" align="alignnone" width="448"]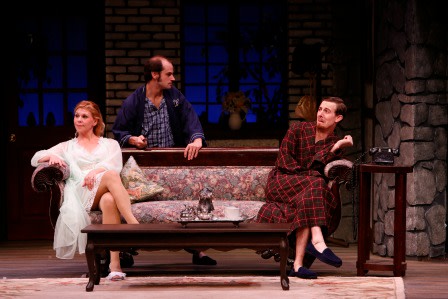 Natalia Mock, Jeremy Guerrero and Matt McClure.[/caption]
The audience on opening night responded well to all the action, and the production gives just about everyone in the cast a chance to get their fair share of laughs, with Pascoe as the cook who charges extra for every step further into deception, and Guerrero and McClure as the frazzled cohorts in crime especially effective. I didn't roar with laughter myself, but was amused enough to go along with the whole charade.
Don't Dress for Dinner continues through Oct. 19; for tickets call 488-1115 or go to venicestage.com.