Article
Tour the New Macy's at The Mall at University Town Center
Style editor Carol Tisch gives us a grand tour of the new Macy's at The Mall at University Town Center, which will hold special sneak-preview shopping events this weekend.
The countdown is on. The new Macy's at the Mall at University Town Center doesn't officially open until October 16th, but you can buy a $5 pass for the sneak-preview charity shopping day to be held on Saturday October 11th from 10 a.m. to 9 p.m. All proceeds will go to the 40 non-profits involved, and shoppers get extra discounts, plus the chance to win a $500 Macy's gift card. From every angle the entire happening is a good thing.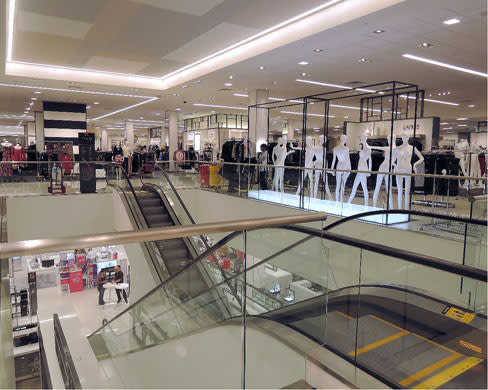 Another good thing was the happiness permeating Macy's UTC staff at every level from stock clerks to display artists and managers.  It was heartwarming, really.  It struck me as the joyful atmosphere that overtakes a family before a wedding or graduation.  And then I realized it had a lot to do with the joy and promise that comes with new jobs, and the camaraderie of a team gearing up for a kick-ass opening.
Typically media tours don't get you up close and personal with staff, but this one began at the new 2,200-foot Starbucks inside Macy's UTC. Newbies were training in earnest and we members of the press were literally their first "customers."  My barista was a bit nervous, what with regional and district managers watching his every move. But with gentle coaching he crafted a first-rate iced coffee presented with a big, beaming grin. Across the country, Macy's owns Starbucks licenses in 31 stores, but this is the first offering full service inside a Macy's in Florida.
The two-story, 160,000-square-foot store has a mix of brands directed at residents and tourists according to Kerry Yelle, Macy's vice president store manager.  Based on sales at Macy's stores in Sarasota Square and Southgate malls, the UTC store will carry an expanded line of Effy fine jewelry which Yelle says is extremely popular with Sarasotans. "They love it for fashion and quality," she explained and showed a case brimming with ruby and diamond pieces. "This will be the only Sarasota Macy's with bridal jewelry," Yelle said, "and the only store at the mall with Movado watches."  Here too, guys can pick up a limited edition Derek Jeter Captain Series timepiece by Movado for just under $700.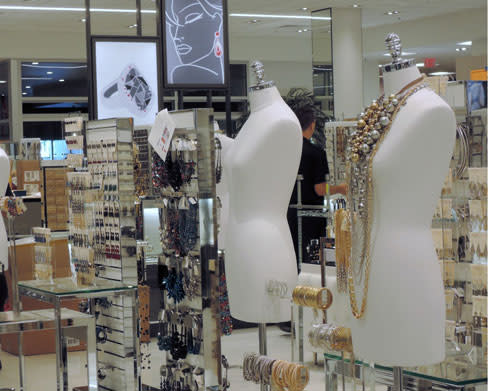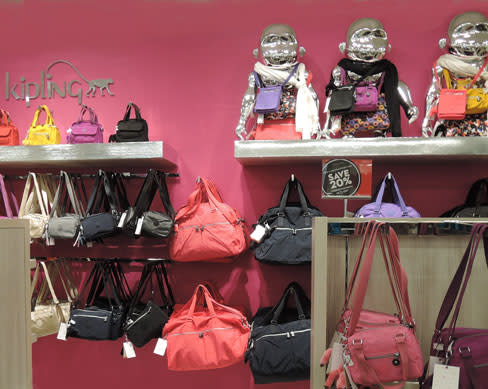 Exclusive to Macy's, Kipling handbags and totes are expected to be a hit with tourists, but the new Tommy Bahama shop for women and a huge year-round swim ship are designed for residents and tourists alike. "Except for the state of Hawaii, we are the only Macy's store in the country to carry Tommy Bahama for women," said Yelle.  Indeed the brand will be well represented at the new mall with its own store at UTC, in addition to a St. Armands Circle outpost.  Dillard's UTC is also carrying a full line of Tommy.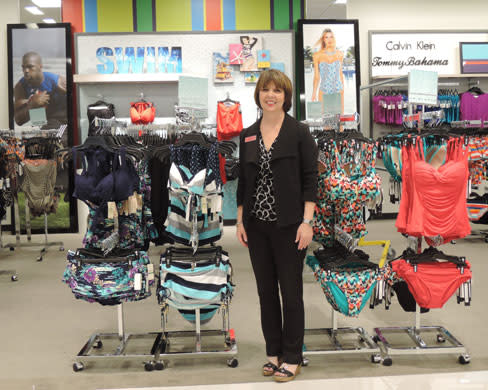 At the hub of the store on the main floor technology buffs will find  a [email protected] Macy's Center where they can pick-up products bought online, recharge phones and IPads,  browse digital look books and more.  It's all part of an omni-channel strategy to integrate the best of web and brick and mortar shopping, and its replete with high tech interactive apps including one that lets customers purchase on their own mobile devices instead of waiting at a checkout line.
The cosmetics department is state of the art as well. A breathtaking Chanel concession has lighted vanity mirrors so customers can test new makeup under day to night lighting options. Macy's UTC boasts the only Bobbi Brown shop in any of the company's stores on the west coast of Florida. And a new Impulse Beauty department is the first for Macy's in the Sarasota market, with hot brands like Smashbox, Anastacia, Too Faced – to name a few.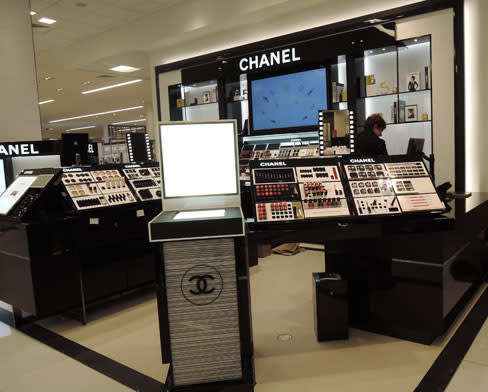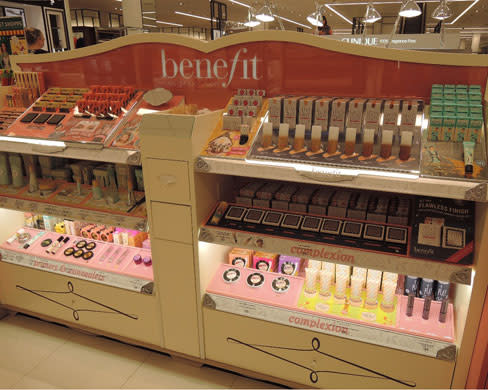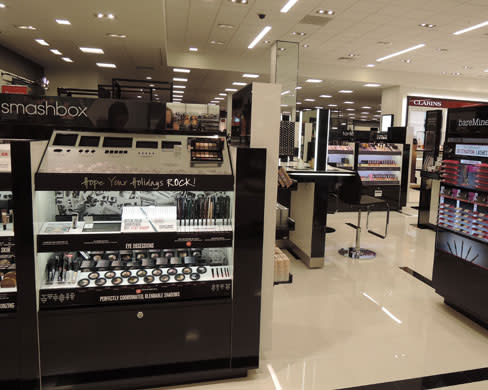 The second floor entrance from the mall opens onto women's fashion, but at the far end is an expanded home department with Macy's housewares including Nespresso and lots of juicers, even a Martha Stewart department – plus an expanded bed fashion and basic bedding department featuring the house brand, Hotel Collection.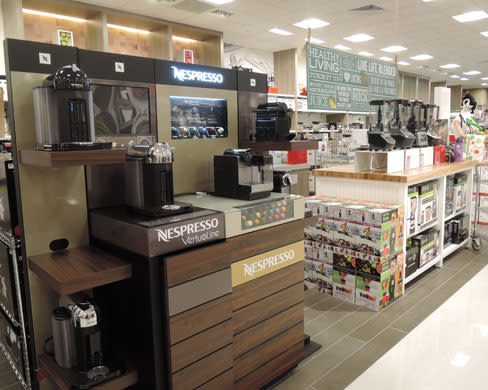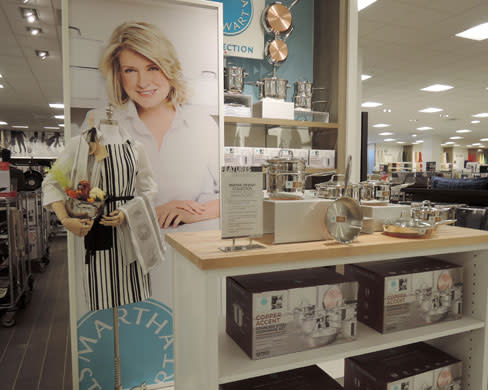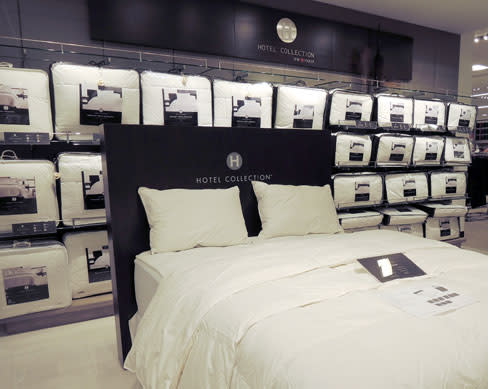 For the shoe obsessed, the new main floor department is decked out with a mind-blowing light pendant above a luxe circular sofa where customers will lounge while trying on the latest styles.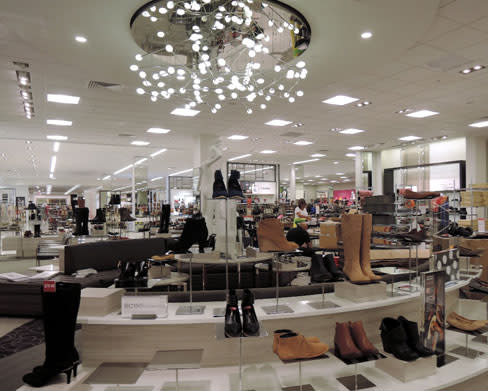 Celebrate the Grand Opening of Macy's University Town Center
Macy's invites customers to take part in its exciting Grand Opening festivities on October 16.
The first 400 customers to enter through the Men's Department door will receive a $10 Macy's gift card. Grab one of the storewide passports to be entered for a chance to win a $500 Macy's gift card that will be drawn during a cooking demonstration. Plus, during Grand Opening weekend, customers can enter for a chance to win a trip for four to New York City and tickets to the 88th Annual Macy's Thanksgiving Day Parade.
8 a.m. Wake Up Make Up: Cosmetic trend show with beauty experts to highlight the latest cosmetics and fragrance products. Festivities will also include lite bites, refreshments, Blow bar courtesy of Fringe Blow Bar and additional pampering.
1 p.m. Fashion Show: Check out a runway fashion show hosted by HGTV's David Bromstad of the latest fall fashion trends. After the show, come have a meet & greet with David, a Ringling College graduate, in the RTW Department.