Article
Three Sarasota Experts on the Artful Creations That Inspire Their Love
Love leads to treasures when collectors and creators follow their passions.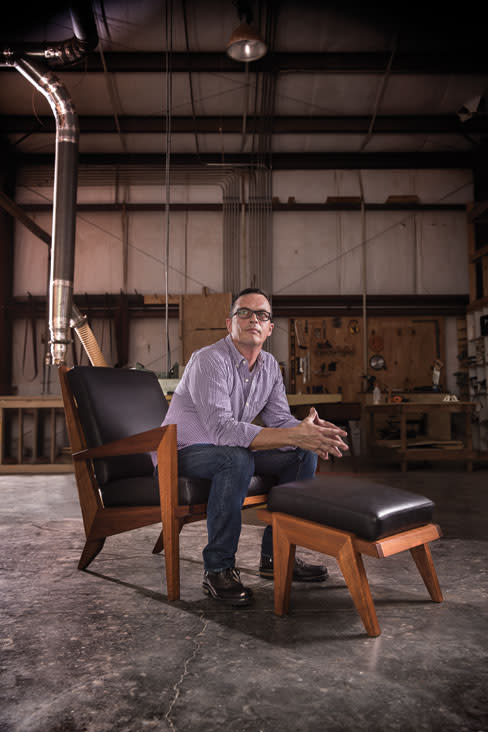 Modern Woodsman
Custom furniture maker Kurt Dexel of Dexel Crafted came to Sarasota from Vancouver two years ago, when his wife, a software developer, was transferred here. "One of the first things I did was Google Sarasota architecture, and I was excited to learn that there is a midcentury modern movement here," says Dexel, whose one-of-a-kind contemporary pieces—tables, headboards, built-ins, upholstered sofas, chairs, floating shelves, all built with domestic hardwoods—have been featured in shelter magazines like Canadian House & Home. Their strong angles fit nicely into the midcentury modern aesthetic, and his own home, a 1957 ranch in Southgate, with its open layout and original terrazzo floors, is the perfect backdrop for his work. Dexel, a former technologist who helped design master-planned subdivisions, had a woodworking studio in the arts district of downtown Vancouver. "I'm starting all over again here," he says, working out of a shop in north Sarasota and building business one piece at a time through local interior designers and clients.
"I come from a long line of tinkerers. I set up a shop in my garage and made furniture for myself, my family and friends. As I got better at it, it became more important to me than my 9 to 5 job."
"What drew me to furniture was the craftsmanship. I enjoyed making a solid piece of furniture; I got satisfaction in creating something that felt honest. The question was how do you make a piece that has integrity; that looks great and doesn't fall apart?"
"My favorite piece is the Boomerang chair. When Dwell magazine wrote about it, I got inquiries about it from all over the world. Most recently I sent one to somebody in Amsterdam."
"I find that artistic people are drawn to my work. That's my ideal client: someone who has a vision. Then it becomes a collaboration, instead of me just handing them a design."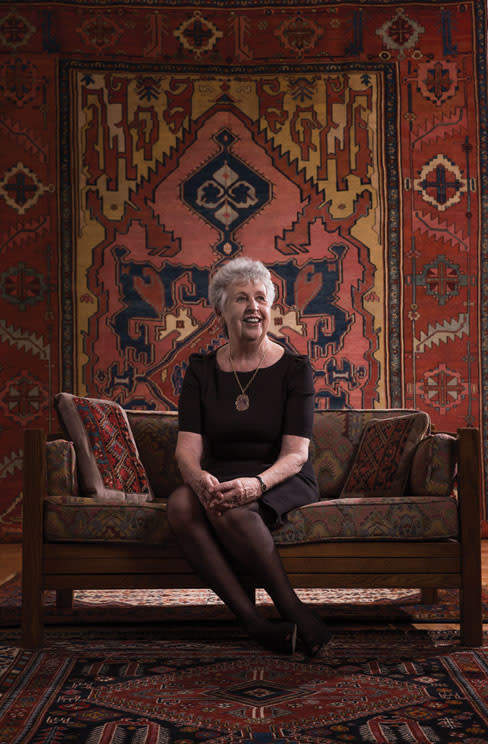 Magic Carpets
Growing up in the textile manufacturing town of Preston, England, Eileen Hampshire came by her love of weaving naturally. "Other girls played with dolls. My excitement was when I got a new ball of wool," says Hampshire, who co-owns Art to Walk On with her husband, John. Hampshire's first husband was half-Armenian, and his family was in the rug business. She joined them on buying trips to Europe and the Near East, and developed an appreciation for "the huge contribution Armenians have made to rug weaving since at least 500 B.C.," she says. Now considered one of the world's foremost authorities on Armenian carpets, Hampshire has authored 20 scholarly papers and has a personal collection of 70 prized rugs. Once a year, she selects several from their climate-controlled vault to display in her Palm Avenue gallery, "to honor the Armenians who wove them."
"Armenian rugs have a soul. They are absolutely not monotonous; they drive your eye to them. Armenians love the primary colors—red, yellow—they do a great gold with pomegranate skins, and there's usually ivory in the rug that balances the color."
"They're Caucasian rugs. Before they were conquered, Armenia took up the whole area between the Black and Caspian seas. The Armenians wove rugs in the Diaspora everywhere they went. Sometimes they picked up elements from those different cultures, but you can always pick out the Armenian rugs; they have more geometric patterns."
"I have two Sarasota customers who've bought rugs for $100,000. When people ask the price [of my rarest rugs], I tell them, 'Oh, I can't tell you; I don't have the smelling salts.'"
"My most prized rug is not particularly old, made in 1912, but it's unique. It was commissioned by the last czar of Russia to commemorate the 300th anniversary of the Romanov reign. It's two-directional: Placed one way, the czar would sit on the throne looking at his family tree; placed the other way is the imperial symbol of Russia. I wrote a 30-page paper about it for an international conference. We bought it from a Russian sable salesman. I might take a million dollars for it, but if someone offered me half a million, I'd say no."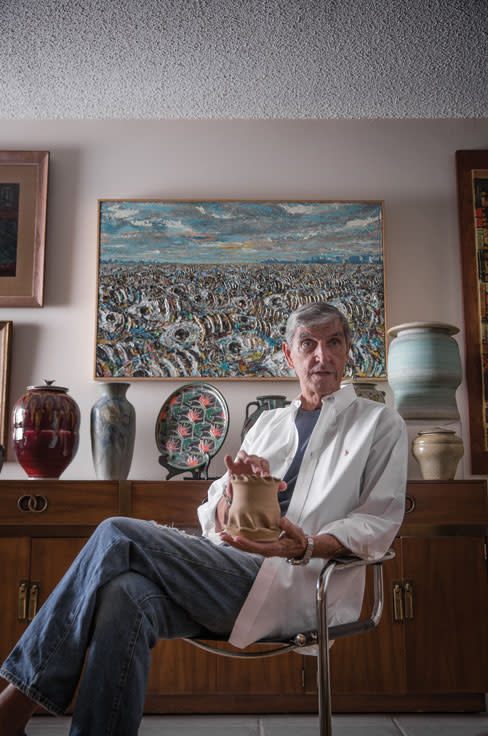 Crazed for Glazed
A chance introduction to Fiesta dinnerware at an auction 30 years ago ("I went crazy and bought over a thousand dollars of it," he says, "and that's when it was selling for $2 and $3 a piece.") led Tony McCormack to a career in buying and selling fine American art pottery. "Rookwood, Weller, Grueby—it took off like Topsy," he says. "All of a sudden I had a garage full of pottery." McCormack, a past president of the 2,000-member American Art Pottery Association who writes about new finds for its quarterly journal, says he bought so much, "I eventually had to start selling some." Now he sells to other collectors at three big annual shows: the Zanesville, Ohio, Art Pottery Week festival (Zanesville is the pottery capital of the U.S.); the Los Angeles Pottery Show in Pasadena, Calif.; and here in Sarasota in January at the Municipal Auditorium.
"I still buy all the time, at auction, at antique shows here in town, on eBay, at estate sales. It's an addiction. I have four 10- by 20-foot storage units that are filled with stuff."
"I have a whole network of collectors. If I come across something, or I get tired of something, I know what other people collect and I reach out to them."
"My favorite pieces are Newcomb College pottery. That was the first time the women of New Orleans had a trade. The gentlewomen of the Garden District would do the china painting. The decoration is Southern-oriented, scenic, oak trees dripping with Spanish moss. The glazes are soft blues."
"I love George Ohr pottery. He was known as the Mad Potter of Biloxi. His work is very Southern; pecan-thin, almost eggshell-like, and twisted and contorted into the most incredible shapes. His glazes are just beautiful."
"In 2007, along with housing, values of American art pottery went in the toilet. People couldn't afford the really expensive pieces anymore. They started turning to the lower, lesser potteries and everything got very stagnant. But it's turning now."
To read about more Sarasotans and their passions, click here. >>
This article appears in the October 2014 issue of Sarasota Magazine. Click here to subscribe. >>