Article
Test-Driving Teslas at The Mall at University Town Center
Car aficionado Howard Tisch takes the first spin of the Sarasota media tour.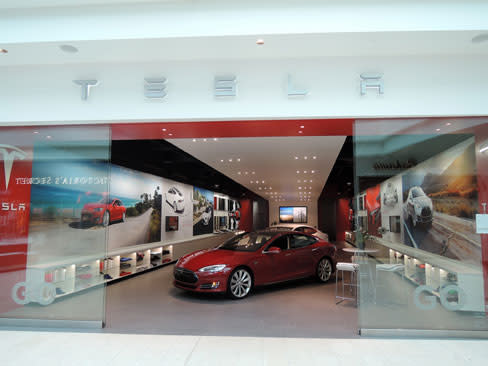 It's America's new muscle car: all zoom; no vroom. Driving the Tesla S is an experience not to be missed. The first thing you notice is that almost all of the usual buttons and knobs have been replaced by a 17-inch, vertical touch screen display in the center of the dash. All of the functions are clearly displayed and easy to operate, even for low tech drivers.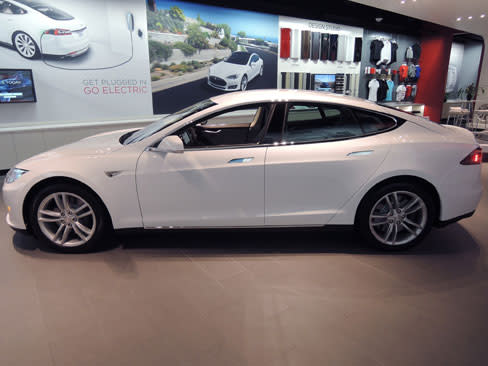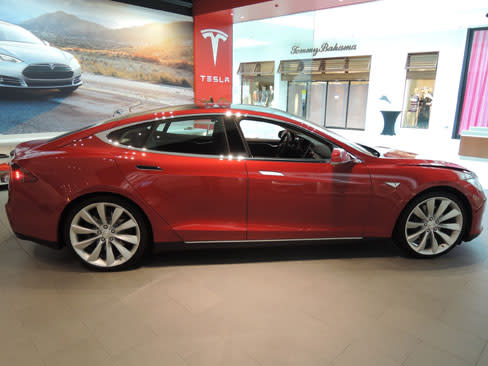 The ride is smooth, comfortable and almost disturbingly quiet. Because the car is all electric, there is no engine roar under acceleration and no vibration at a standing stop. Acceleration is mind-boggling, with zero- to-60 time in the four-second range.  As there is only one gear and no torque converter or turbocharger to come up to speed, Tesla's response is instantaneous and incredibly smooth. Touch the accelerator and you go.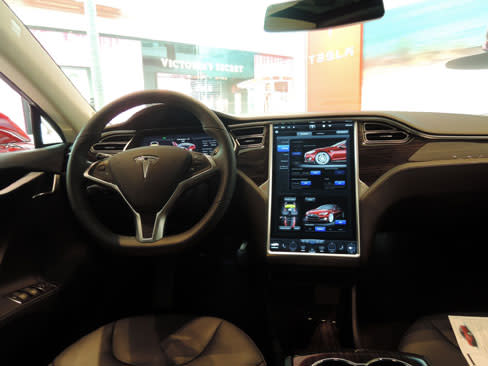 The Tesla S EV (electric vehicle) is unlike any other car on the road. The interior has the feel of a top-of-the-line luxury import, but it is an American car through and through. Although billed as a sedan, the car is really a five-door hatchback.  Even though it is a rear-wheel drive, the drive shaft tunnel is gone, leaving a flat floor and room for five adult passengers. Because there are two trunks and the engine is so small, an option lets you convert one trunk with two rear-facing seats for kids (or really small adults).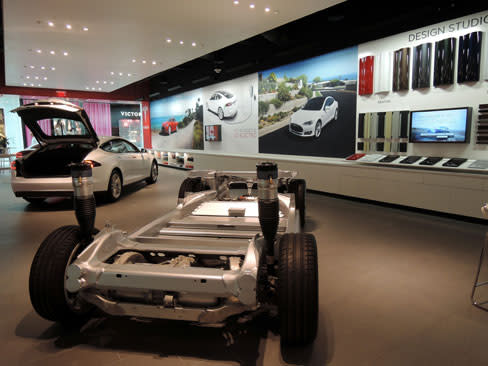 At the Mall at University Town Center, the 3,000-square-foot Tesla showroom opens to the public tomorrow. Like the Tesla S car, it too is unlike anything else of its kind. Simple but high-tech, you come in to learn about electric vehicles and Tesla in particular. Using a touch-screen display and sample materials that you mix and match, you play until you have built the car of your dreams.
Tesla is the only auto manufacturer that sells directly to the consumer instead of through a dealership network. "Our stores provide a no-pressure sales environment. The first goal of our product specialists is to engage and educate consumers about Tesla and about driving electric," explained communications manager Alexis Georgeson.
On Tuesday night ,construction workers and retail sales personnel from other new stores at the mall peered into the showroom's open glass doors at the two models on display. If you can't afford the price of a car, which starts $70,000, there are branded products, from T-shirts to mugs, and the staff encourages guests to interact with touch screen displays.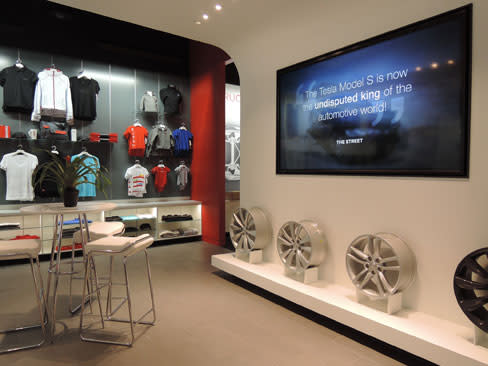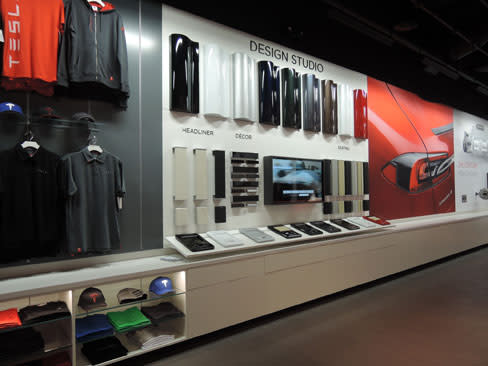 The car purchasing experience of the future is already here at the Mall at University Town Center.
Click here to see more coverage on the opening of the Mall at University Town Center. >>