Article
Sarasota Season Preview 2014-2015
From cutting-edge to classical, an insider's guide to the top tickets and talents of the coming year.
Classical
In a major sign of South County's growing cultural clout, residents will celebrate the opening of their very own, brand-new Venice Performing Arts Center, on the grounds of the Venice High campus. (A public grand opening takes place Nov. 6.) The 51,000-square-foot center will host concerts by the Venice Symphony, Venice Concert Band, and Exsultate! Chorale, in addition to school events and performances. And don't be surprised if some national artists eventually show up here, too…The Perlman Music Program Suncoast has some exciting news: first, it's adding the Hear & Now concert series at the Sarasota Opera House to its season programming (Dec. 4 and April 19, in addition to the Celebration Concert Jan. 3 led by Itzhak  Perlman), and second, The Art of the Violin features violins transformed by 20 artists on exhibit at local galleries before they're auctioned off to support the PMP's educational programs…We're still applauding our Sarasota Ballet, just back from making its New York City debut last month in the Fall for Dance Festival, where they wowed audiences with their production of Sir Frederick Ashton's Les Patineurs…a big hit when we first saw it here, too…And Sarasota Concert Association celebrates its 70th anniversary with a concert featuring jazz pianist Dick Hyman, Feb. 11.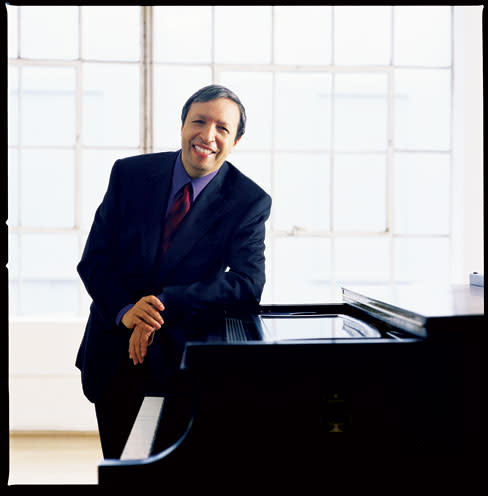 Sarasota Concert Association wraps up its celebratory 70th season with a performance by pianist Murray Perahia , who's been a fixture on the concert stage for more than 40 years. Called "one of today's leading artists of the keyboard" by the Chicago Tribune, Perahia has, over the years, overcome serious hand injuries that threatened his career. But he's in fine shape now, also recording and performing as principal guest conductor of the Academy of St. Martin in the Fields. His Sarasota performance (a first for the Concert Association) takes place March 25 at Van Wezel Performing Arts Hall.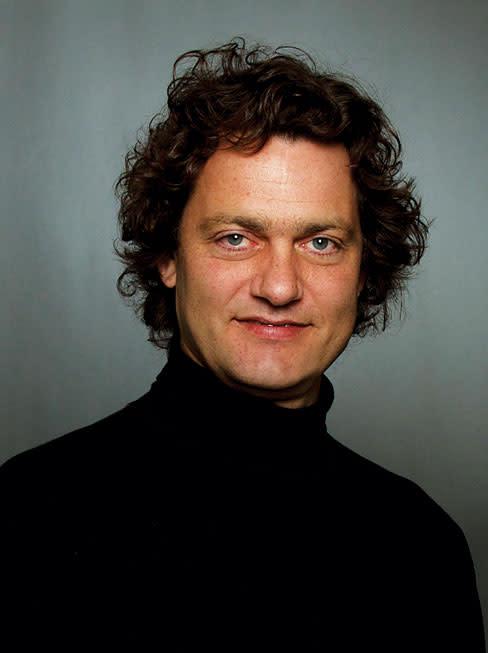 Ready for a fresh breeze from Scandinavia? Vocalist Njal Sparbo, one of Norway's most versatile singers, turns up at the Artist Series Concerts 2015 Grieg Festival, honoring the career of fellow Norwegian Edvard Grieg, March 9-11. The bass-baritone is certainly well qualified to celebrate Grieg; he's performed every one of the composer's 172 songs (in concerts tied to Grieg's 100th birthday) and received the Grieg Prize in 2009 for his commitment to the master's work. But Sparbo is hardly stuck in the past; he's also an advocate of contemporary music and has sung numerous world premiere performances of Norwegian composers' creations.
Soprano Michelle Johnson, 31, makes her Sarasota Opera debut in the role of Elisabeth, a woman married to a king but drawn to his son, in Verdi's Don Carlos, opening March 7. Sounds like we're lucky to get her; since snagging the 2011 Grand Prize at the Metropolitan Opera National Council Auditions, she's been awing critics and audiences alike with her star power as well as her vocals in works including Manon Lescaut, Aida and Il Trovatore. The Texas native, daughter of a Baptist minister, has been compared to a young Renata Tebaldi, and one opera blogger dared to ask, "Is Michelle Johnson the Next Great African-American Star?"
Plus 5
1/29-31, 2/1 Guest pianist Stephen Hough joins the Sarasota Orchestra to perform Beethoven's virtuosic Piano Concerto No. 4 in a concert that also features work by music director Anu Tali's compatriot, Arvo Part, and Elgar's tantalizing Enigma Variations.
2/21, 2/24, 3/8, 3/14, 3/19 The Sarasota Opera presents for the first time Rimsky-Korsakov's The Golden Cockerel, based on a story by legendary Russian author Alexander Pushkin. It's the tale of a bumbling king, a beautiful queen and a magical cockerel, and it's exotic both in its music and its setting, designed by David P. Gordon.
3/5-8 The Sarasota Orchestra performs what Tchaikovsky himself called "the best of my works," the haunting Symphony No. 6 (Pathetique) and also welcomes harpist Xavier de Maistre to play Gliere's Harp Concerto.
4/18 Key Chorale celebrates its 30th anniversary with the season closing performance of Mozart: 1791, welcoming guest clarinetist Bharat Chandra and featuring Mozart's final composition, his unfinished Requiem, along with Ave Verum Corpus. At downtown's First Church.
5/1-2 The Sarasota Ballet pays tribute to the Ballets Russes and its star, Vaslav Nijinsky, with company premieres of L'Apres-midi d'un Faune (choreographed by Nijinsky himself) and Petrushka (choreography by Mikhail Fokine). At the Sarasota Opera House.
On the Edge
The Ringling Museum follows up last month's RIAF programming with yet more new work via the Art of Performance, including HD broadcasts from the United Kingdom's National Theatre (among the shows: Bill Nighy in David Hare's Skylight). Also on the schedule, its New Stages 2015: RE:Imagined performances, featuring Julian Sands in A Celebration of Harold Pinter and the quartet Ethel returning with Documerica, which juxtaposes music with photographs presenting the state of our environment…In the museum itself, look for something different with Re:Purposed, an exhibition featuring 10 artists, such as Nick Cave and El Anatsui, working with castoff or disposed materials (i.e., garbage) in their creations. That's on view Feb. 13 through May 17…And New Music New College continues to expand our aural horizons with new and intriguing concerts of contemporary music, through April.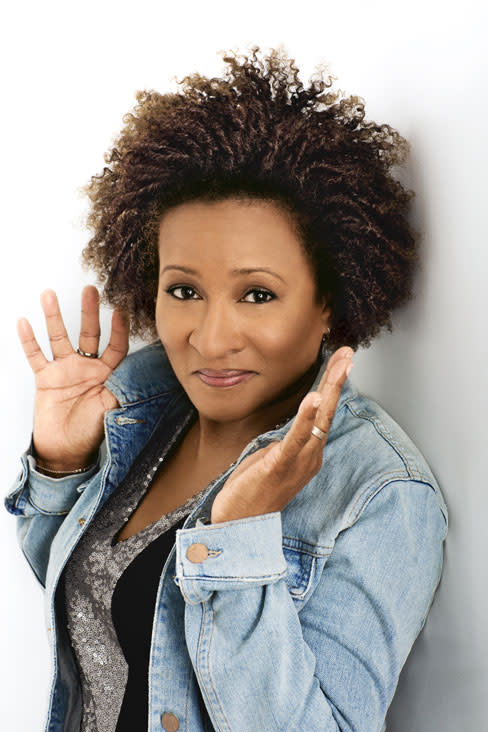 Occasionally off-color and often hilarious, Sykes, 50, an Emmy winner for her writing on The Chris Rock Show, is also familiar to television audiences from Curb Your Enthusiasm and The New Adventures of Old Christine. But she's never given up standup, which is what she'll be doing when she guests at the Van Wezel Nov. 16. Expect frank talk about race, sex and marriage equality, politics and other hot topics. Surprising fact about the comedienne: She once worked for the National Security Agency.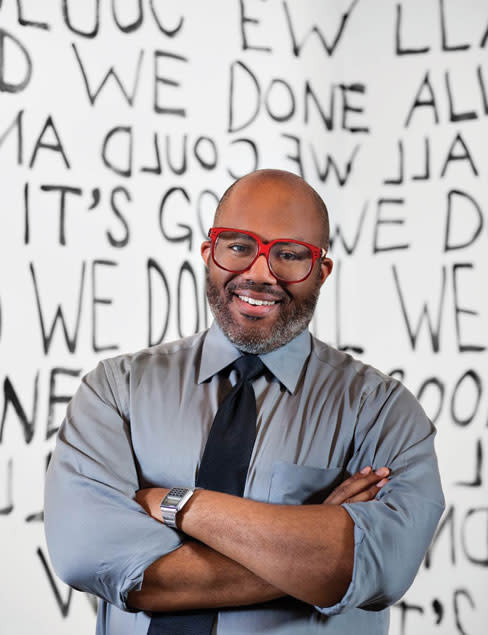 At 40, artist Trenton Doyle Hancock, winner of the 2013 Greenfield Prize, is ready to take the next step with his mythical creations, the Mounds—he's producing a film where he first appears as himself and then turns into one of his own characters. Viewers will see scenes from the movie at a Ringling Museum exhibition in April, plus extensive storyboards and illustrations. "I've been a toy collector all my life," Hancock says, "and now I'm discovering new things in my [Houston-based] studio I wouldn't have known were there except for this show." Hancock adds he thinks his characters are fun, "but for others, they may err on the side of weird and freaky. That's true of my favorite fairy tales; they're a bit creepy, too."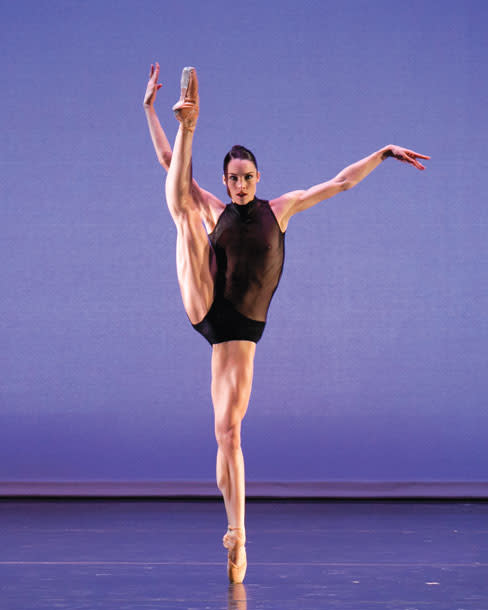 Drew Jacoby, 30, has been performing professionally since 2002, dancing high-profile works by such choreographers as Christopher Wheeldon and Lar Lubovitch, most recently as a member of Nederlands Dans Theater 1. She caught local dance fans' attention last season, when she and co-artistic director Robert de Warren presented the Sarasota International Dance Festival's Lifted program. Now they're planning a second Lifted (April 24 and 25 at the Sarasota Opera House), featuring stars from internationally known ballet and contemporary companies. "The idea is to democratize the beauty of dance," she says. "Robert and I [share] entrepreneurship and hustle and the love of enhancing the future of dance." She may not dance here though; she's expecting a baby in late January.
Plus 5
12/5-6 Voices of Fuzion highlights emerging choreographers' works selected from the dance company's "In the Round" summer workshops, including a new collaboration by artistic director Leymis Bolaños Wilmott. At the Cook Theatre.
1/12-2/18 On view at Selby Gallery is a show centered on the Great American Graphic Novel—the art form so favored by contemporary artists and readers. Expect some intriguing, offbeat visuals.
3/12-29 Venice Theatre's Stage II presents Arthur Kopit's Road to Nirvana—a scathingly funny comedy about two D-list movie producers trying to score a hit with a Madonna-ish rock star. Not for children, BTW. Playwright Kopit, working at the Hermitage Artist Retreat, will lead talkbacks related to the show.
3/14 New Music New College offers composer Terry Riley's minimalist Inside In C—a work of short melodic figures that's different at each hearing, depending on the musicians and their pace. At the college's PepsiCo Arcade.
3/25-29 The Ringling's New Stages concludes its season with Holoscenes, an intriguing work by Lars Jan that takes place on the museum's waterfront. Performers in a large aquarium are engulfed by the rising waters of climate change. Gulp.
Popular
There are few more popular or long-lasting musicals than South Pacific, which kicks off the Asolo Rep season Nov. 14 through Dec. 28 in a production featuring new orchestrations and directed by Rob Ruggiero (who helmed last year's Show Boat)…Chuck Smith, who directed the world and New York premieres of Knock Me a Kiss, will do the same when Westcoast Black Theatre Troupe premieres the show, about the daughter of W.E.B DuBois, here, Jan. 7 through Feb. 8…The Sarasota Orchestra welcomes singer Michael Cavanaugh, who starred in Broadway's Billy Joel musical Movin' Out, to present The Music of Billy Joel (& More), March 19 and 20 at Van Wezel…And the Sarasota Craft Show once more welcomes a distinguished group of craft and fine artists working in ceramics, fiber, furniture, glass, metal and more, Dec. 5-7 at Robarts Arena.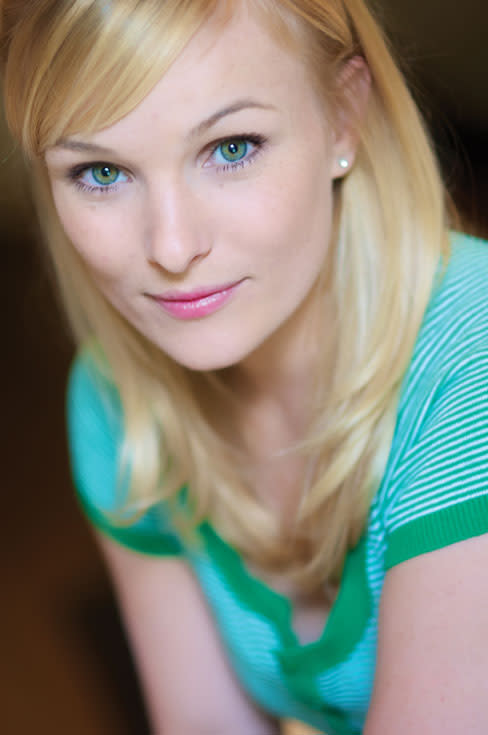 Actress Kelly Felthous admits to sharing some traits with nurse Nellie Forbush, the character she'll play in the Asolo Rep's season opening production of South Pacific. "I have too much energy for my own good," she says, "and I'm very much an optimist like her." Felthous, who's been onstage since she was 6 years old, likes to originate roles, as she did in productions of Flashdance and Bring It On, but with an iconic role like Nellie, "I hope to bring a fresh, youthful take to it. Even though it's a period piece, [it addresses] emotions people have today—forbidden love, doing something you know you shouldn't, and hoping it will all work out. Whether you're 17 or 70, you can relate to that."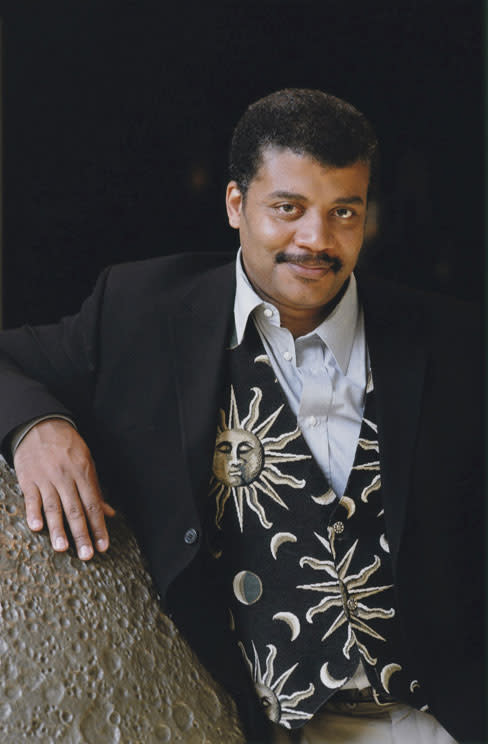 Whether you first fell under astronomer Neil Degrasse Tyson's spell during last summer's airing of Cosmos on TV or you've followed the telegenic physicist through frequent appearances on The Daily Show or The Colbert Report, you know how the charmer from the Hayden Planetarium manages to makes complex scientific issues not only understandable but exciting. Fascinated by astronomy since the age of 9, and giving his first lectures at the age of 15 ("the universe called me," he says), Tyson also happens to be an excellent athlete and dancer. He'll dazzle Ringling College Library Association Town Hall audiences with two talks, March 23 at the Van Wezel.
Audra McDonald, a record-breaking six-time Tony winner (most recently for her role as Billie Holiday in Lady Day at Emerson's Bar and Grill), wows audiences wherever she goes, including the Van Wezel, where she'll perform March 22. We spoke with her before her last appearance here a few seasons ago, when she told us about performing, "I just never did anything else; I was never good at anything else." "Good" doesn't begin to describe McDonald's talent or her charisma. Count on hearing tunes from her newest record, Go Back Home.
Plus 5
2/6-4/14 Florida Studio Theatre soars with the regional premiere of Fly, co-written by Ricardo Khan, who will direct this stunning piece about four Tuskegee Airmen fighting for freedom abroad—and at home. Expect tap dancing and visual stage magic.
2/12-22 The Players bring us another area premiere with Violet, the well-received Broadway musical that recently starred Sutton Foster in New York. It's the tale of a young, disfigured woman on a quest for a miracle in the 1960s South; songs by Jeanine Tesori (Shrek the Musical) and book and lyrics by Brian Crawley.
3/11-15 Even if you saw the Clint Eastwood-directed movie last summer, there's nothing like watching Jersey Boys—the hit-filled back story of Frankie Valli and the Four Seasons— onstage, which you can do in its Sarasota premiere at the Van Wezel. You'll be singing along.
4/15-5/17 Westcoast Black Theatre Troupe offers yet another Sarasota premiere with Spunk, adapted from three short stories by Florida writer Zora Neale Hurston. The show won awards in its off-Broadway run and weaves together music, dance and humor.
5/1-24 It's a winning roll of the dice with Asolo Rep's world premiere of Luck Be a Lady, devoted to the music of Frank Loesser. Director Gordon Greenberg is also creating this piece featuring many of Loesser's hits.
Family Friendly
With the holiday season approaching, there's a plethora of shows on tap designed to entertain the family, from the youngest to the oldest. A few: the Manatee Players' Amahl and the Night Visitors (Dec. 4-21) and Meet Me in St. Louis (also Dec. 4-21), the Players' A Christmas Story: The Musical (Dec. 4-14), and not one but two Christmas Carols (one at Venice Theatre, Dec. 18-21, the other at Van Wezel, Dec. 21)…In the spring, the Embracing Our Differences exhibit returns to Sarasota's Bayfront Park and Bradenton's Riverwalk, March 29 through May 31. The outdoor show features 39 billboard-size images created by artists, writers and students on the theme "enriching lives through diversity"….And take part with your kids, ages 4-10, in the Ringling Museum's new family workshops on Saturday afternoons. Explore an exhibition or area of the campus and then do some hands-on art-making with projects to take home.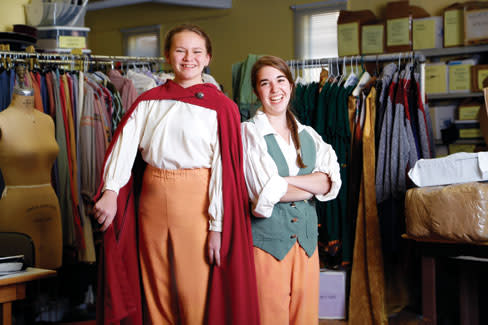 Dominique Cecchetti and Sarah Levison are sharing the pivotal role of Bilbo, the young hobbit who ventures out on a dangerous quest to reclaim a stolen treasure from a dragon, in the Sarasota Youth Opera's staging of Dean Burry's adaptation of The Hobbit, Nov. 15 and 16 at the Opera House. The role involves long hours of rehearsal and vocal coaching; luckily, both girls love what they're doing. Dominique, 14 and a student at Manatee School for the Arts, says "Bilbo is a coward, and I enjoy having to scream and act terrified." Sarah, a senior at Sarasota High, says, "I'll need a lot of work on staging. After all, I will be wearing big hairy feet."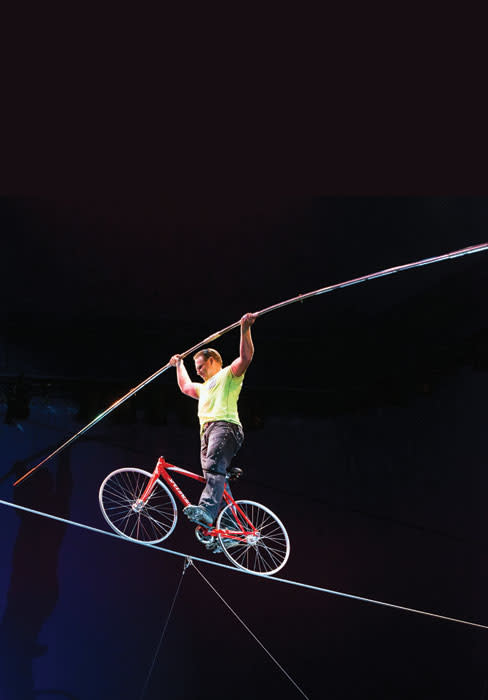 Sarasota native Nik Wallenda, the holder of seven Guinness World Records, never ceases to amaze audiences, whether it's crossing Niagara Falls or the Grand Canyon or performing closer to home, as he does as the headliner for this season's Circus Sarasota. He's a scion of circus royalty as a member of the famous Wallenda family, but Nik's high-wire adventures take him places only he can conceive of. Like, for example, this month's planned walk across the Chicago River from more than 50 stories high, atop one of Marina City's twin skyscrapers. The Discovery Channel will broadcast the Skyscraper Live show on Nov. 2; we'll be watching, then and at the circus this February in Sarasota.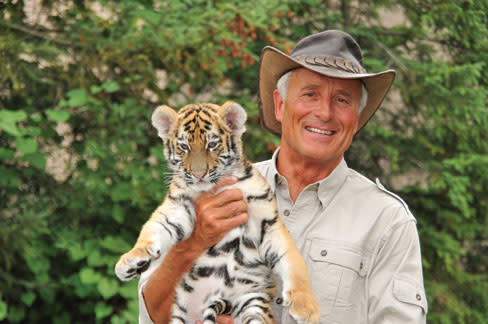 Columbus Zoo director emeritus Jungle Jack Hanna, 67, a mainstay of just about every talk show on television with his khaki safari togs and deep tan, brings his Into the Wild Live show, complete with various wild creatures, to the Van Wezel Dec. 28. (It's a Van Wezel Family Night, meaning kids ages 6-18 see it for free when with a paying adult.) Hanna's enthusiasm for wildlife, even when the animals he brings onstage "misbehave," is never in doubt, and the fun always has a more serious message about protecting and conserving the species he introduces. P.S.: Bet you didn't know that back in 1996, Hanna was also one of People magazine's "50 Most Beautiful."
Plus 5
2/6-22 Along with king of the highwire Nik Wallenda, this year's edition of Circus Sarasota welcomes back ringmaster Joseph Bauer Jr., aerialists Dolly Jacobs and Rafael Palacios, comedian Al Calienes and more daring and entertaining acts, under the Big Top near Ed Smith Stadium.
2/12 Ever wonder how Peter Pan got to Neverland? You'll find out in Peter and the Starcatcher, the Tony Award-winning musical based on the novel by Dave Barry and Ridley Pearson. A Sarasota premiere, at Van Wezel.
2/12-3/1 Some of the best talents in the area come out to play whenever it's Stephen Sondheim onstage, so expect good things from the Manatee Players' production of his fractured fairy tale musical, Into the Woods, at the Manatee Performing Arts Center.
2/17-3/15 Supercalifragilisticexpialidocious musical Mary Poppins makes its Southwest Florida debut at Venice Theatre, under the direction of Murray Chase, with songs you'll remember from the classic movie, plus new ones.
5/9 Grab a hot dog and some popcorn, then sit back and enjoy the Sarasota's Orchestra's Pops at the Baltimore Orioles' Ed Smith Stadium with "Orchestra in the Outfield." Fireworks top off the evening.
Festivals
The big news is the move of the Sarasota Chalk Festival, which has been in downtown Sarasota for several years, south to Venice. There the Airport Fairgrounds will play host to the creation of the largest 3-D anamorphic street painting in the country (we're talking an attempt at the Guinness World Record, seriously). Also a lot of chalk work going on along Miami Avenue West and at the Venice Cultural Campus…The Sarasota Film Society's Cine-World Festival once more brings a world of movies to downtown's Burns Court Cinema, with some screenings at Lakewood Ranch Cinema as well, Nov. 7-16. Look for the latest, often highly individual works on film….And, of course, the venerable Sarasota Music Festival returns in June—51 years young, with lots of summer chamber music sounds.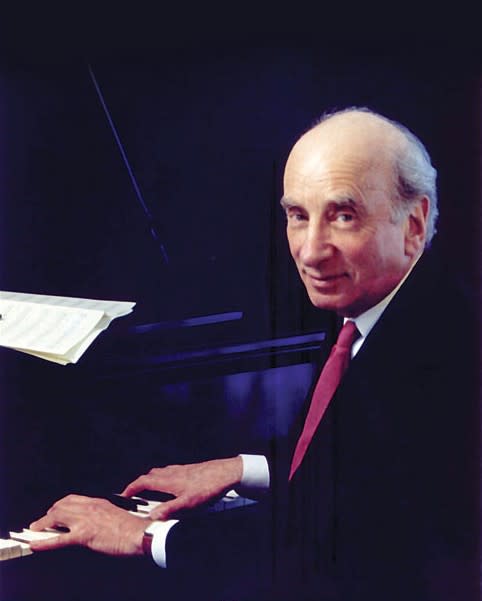 Thirty-five years ago, the Sarasota Jazz Festival first entertained with performers including Bobby Haggart, Red Norvo and Venice's own Dick Hyman. Now it celebrates this milestone anniversary with a fest-closing concert welcoming back Hyman, now in his 80s but still adhering to a busy performing schedule. With more than 50 years in the biz, Hyman has played with everyone from Benny Goodman to Marian McPartland to Ruby Braff; he's recorded more than 100 albums; and he's composed and/or arranged scores for a host of movies, including Woody Allen's Zelig, Stardust Memories and Broadway Danny Rose. And did we mention he was one of the first to record using the Moog synthesizer?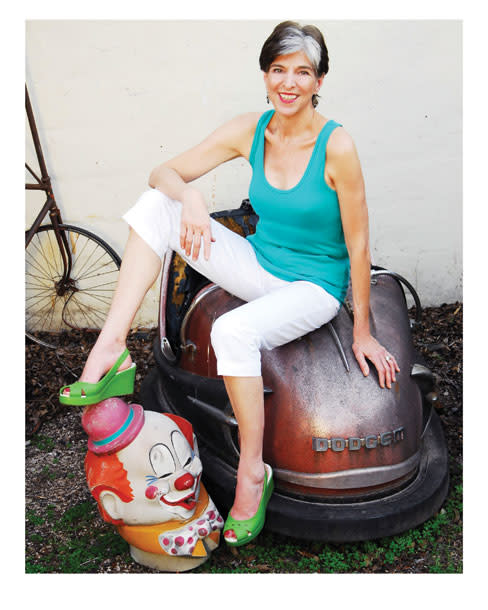 Bradenton Blues Festival headliner Marcia Ball, 65, has dedicated her life to playing rollicking, good-time blues, with some zydeco and boogie woogie thrown into the mix. A 2013 Living Blues Award winner for most outstanding musician, Ball has also been honored as the Pinetop Perkins Piano Player of the year several times. A regular on shows like Austin City Limits, Late Show with Dave Letterman and Treme, singer-pianist Ball knows how to raise roofs and tear down walls with her stage performances. Gotta love the title of her latest record, just out: The Tattooed Lady and the Alligator Man.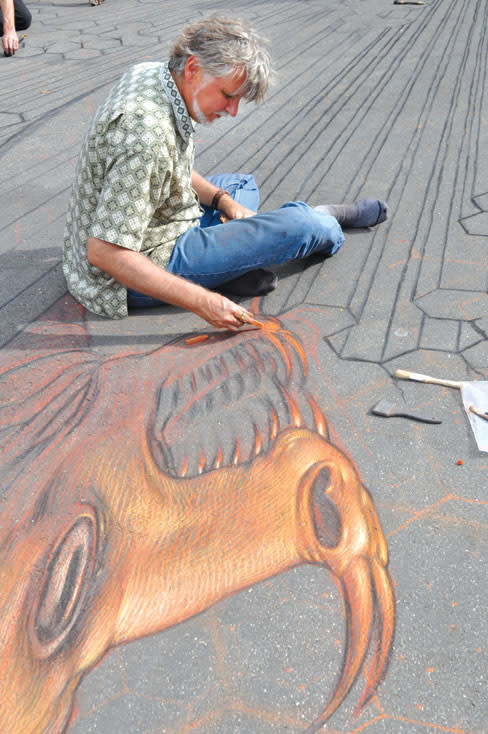 When Sarasota Chalk Festival artists gather in Venice this month, they can all express their thanks to Kurt Wenner, who basically invented the notion of 3-D pavement art. Wenner, 56, an artist who also has a scientific background (working for NASA for a while), first introduced anamorphic, or 3-D pavement art, in the 1980s, and he needed to create a new geometry of his own to do it. He was inspired by the use of anamorphic perspective in the work of the Old Masters, adapting it to craft street compositions that appear to rise from, or fall into, the ground. The process has even got a name: Wenner's hyperbolic perspective. But you don't need to know the math to appreciate the art.
Plus 5
11/10-17 The Sarasota Chalk Festival takes over Venice, with artists creating amazing, if ephemeral, work to the theme of Endangered & Extinct Species. Also plenty of poetry, storytelling, music, magic and refreshments.
12/6 Bradenton's Riverwalk grooves once more to the sounds of the Bradenton Blues Festival, welcoming performers Marcia Ball, Jimmy Thackery & The Drivers, Little Ed & The Blues Imperials, Billy Branch & The Sons of Blues, and more. It all starts around 11 a.m. and continues past 7:30 p.m.
3/1-7 The Sarasota Jazz Festival entertains with concerts featuring not only Dick Hyman but also Karla Harris, the Ted Howe Trio, and Ken Peplowski, at the Riverview High School Performing Arts Center.
4/5-15 La Musica International Chamber Music Festival's 2015 season promises "Things New," but also welcomes back some of its favorite chamber musicians, with concerts at the Sarasota Opera House and opportunities to mingle with the players.
4/10-19 The 17th annual Sarasota Film Festival brings us a host of new movies at the Hollywood 20, plus panels, parties and filmmakers eager to talk about their work. Tickets go on sale in March.
Directors' Picks
Artistic and executive directors are usually working their magic offstage, with little time to socialize with each other. But we managed to pull the region's arts leaders away from their frantic, eve-of-season planning, and get them to take a rare seat in the audience, next to their peers. Animated conversation soon ensued—especially when we put them on the spot and asked each one to name his or her favorite show of the season. You'll see some of those picks below; for more, click here.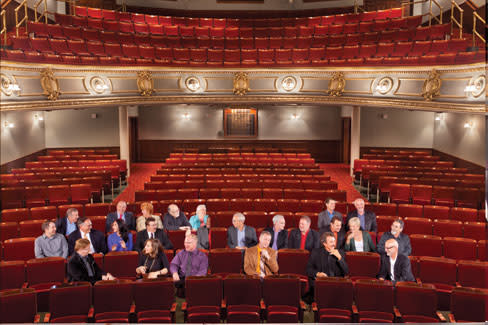 "South Pacific [Nov. 11-Dec. 28]. This Tony Award and Pulitzer Prize -winning masterpiece features glorious new orchestrations created especially for Asolo Rep." —Michael Donald Edwards, producing artistic director
"This Jersey girl thinks that Jersey Boys [March 11-15] will be the mega-hit of the season!" —Mary Bensel, executive director, Van Wezel Performing Arts Hall
"LIFTED II [April 24 and 25], a mini-festival with renowned artists from major international dance companies."—Robert de Warren, co-artistic director, Sarasota International Dance Festival
"Confluence France [May 21-June 26] features works from Perpignan, France, one of Sarasota's sister cities."—Lisa Berger, executive director, Art Center Sarasota
"Hairspray!  [Nov. 12-Jan. 4]. Exuberant music and dance wrapped around a story of the outsider becoming the insider."—Richard Hopkins, artistic director, Florida Studio Theatre
"David Mamet's The Water Engine [Nov. 4-23]—a riveting drama by one of America's most provocative playwrights and a striking introduction of our second-year students."—Greg Leaming, director, FSU/Asolo Conservatory
"The Courts of Heaven and Earth [Jan. 24]. Mary Wilson's  virtuosity and personality are captivating and, when her voice soars above the 100 voices of Key Chorale, it's heaven on earth." —Joseph Caulkins, artistic director, Key Chorale
"King of the Wire Nik Wallenda and some of the world's most exciting circus artists will blow the audience away at our winter show [Feb. 6-22]."—Founder and CEO Pedro Reis, Circus Arts Conservatory
"Violet [Feb. 11-March 1]—smart, heartfelt, quirky and the best of what musical theater can be."—Jeffery Kin, artistic director, The Players
"Inside in C [March 14]. In this fabulous piece, 50 instrumentalists progress through the 53 sections at their own place, in time to a common pulse."—Stephen Miles, director, New Music, New College
To see our picks for the Top 5 arts and entertainment events every week, sign up for our free Weekend Insider. >>
This article appears in the November 2014 issue of Sarasota Magazine. Click here to subscribe. >>