Article
The Players' Lend Me a Tenor
Arts editor Kay Kipling reviews this Ken Ludwig hit comedy.
[caption id="attachment_1724" align="alignnone" width="488"]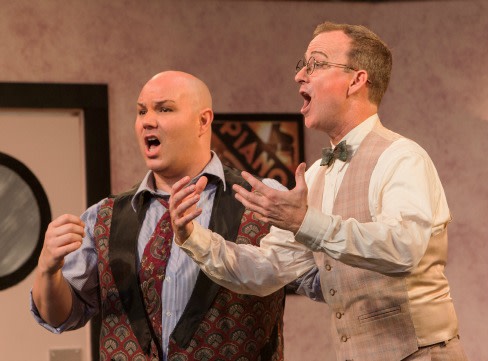 Berry Ayers and Jeffery Kin in the Players' Lend Me a Tenor.[/caption]
By Kay Kipling
It's not hard to see why the Players would bring back a production of Ken Ludwig's comedy Lend Me a Tenor after a successful run of the show a few years back. After all, it's an expertly constructed farce, with one set, five doors, eight actors and lots of laughs, even if you've watched it before and see them all coming.
What's more unusual is that, with two exceptions, the same cast performs the roles they played in that earlier production. (There's a new director at the helm, Kyle Ennis Turoff, but since her mother, Roberta McDonald, directed the first go-round, there's still a connection there.) The intervening years have certainly not harmed their performances; if anything, they all seem to be more comfortably at home than ever in their roles.
"They" includes the nebbishy Max (Players' artistic director Jeffery Kin), assistant to the hot-tempered manager (Bob Trisolini) of the Cleveland opera company that's supposed to present the famous tenor of the title (Berry Ayers) in a grand performance the evening the action of the play takes place. Tito the tenor has a heavy Italian accent, a jealous wife (Kaylene McCaw), and a stomachache from overeating that requires some medication. Only thing is, he gets a bit of an overdose, and as curtain time approaches, he's lying flat on his hotel room bed, unconscious—or worse.
That means someone has to step in to wear Tito's shoes—and blackface, as he's playing in Otello—and that someone is Max, who's scared but eager, too. After all, it might help him win over the boss's daughter, Maggie (Amanda Heisey), who kinda likes Max but has a thing for Tito, too.
That's enough plot exposition; suffice it to say, things gets more complicated by the minute, but in such a way that you are willing to gladly suspend your disbelief.
[caption id="attachment_1725" align="alignnone" width="488"]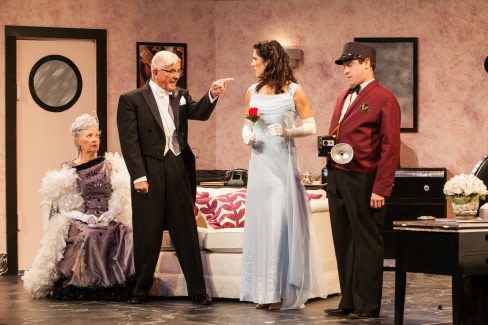 Patti O'Berg, Bob Trisolini, Amanda Heisey and Ross Boehringer in Lend Me a Tenor.[/caption]
The cast (rounded out by Patti O'Berg as the twittery chair of the opera board, Ross Boehringer as a starstruck bellhop, and Lillian Moore as a soprano looking to make it with Tito and make it out of Cleveland) is directed with assurance by Turoff, with each member getting a chance to display his or her comic abilities. Particularly entertaining are Kin, Trisolini and Ayers; Kin may be a few years more "mature" for his role than optimal, but his facial and physical reactions and timing are so good, and his interactions with his cohorts so spot on, that it doesn't matter
Lend Me a Tenor continues through Sept. 21; for tickets call 365-2494 or go to theplayers.org.