Article
Manatee Players' Dames at Sea
Arts editor Kay Kipling reviews this light-hearted spoof of early Hollywood musicals.
[caption id="attachment_1720" align="alignnone" width="488"]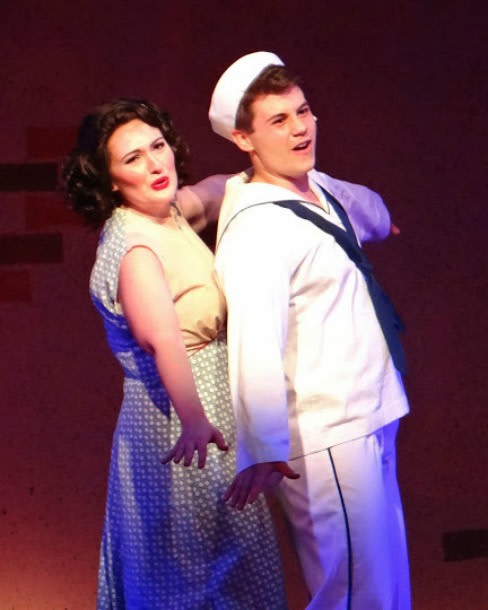 Rachel Knowles and Nick Drivas in Dames at Sea.[/caption]
By Kay Kipling
If you're a person with a love for 1930s Hollywood musicals (I confess to being one myself), then the Manatee Players' Dames at Sea may revive some fond memories of the originals.
At the time it bowed, back in the late 1960s, Dames was probably fairly original itself in its loving comedic approach to the standards of those big, splashy shows where the guy always got the girl and they (usually) both got stardom on the Broadway stage. Bigger and better tributes (like the Broadway version of the granddaddy of the genre, 42nd Street) have come along since, making Dames seem, perhaps, even slighter and more forgettable. But it still has its rewards.
Co-creators Jim Wise (music) and George Haimsohn and Robin Miller (book and lyrics) had a vision that started and stayed small—there are only six performers in the show, as opposed to those legions of chorines and chorus boys that paraded, often to Busby Berkeley choreography, in the movies. But the crucial characters are there: the temperamental, demanding diva headed for disaster, Mona Kent (Kris Sethi); the harried show runner who's put all of his money into the thing, Hennessey (Jeff Sargent); and the bouncy, optimistic, talented youngsters who actually do bear the names of those Hollywood stars: Joan (think Blondell), played by Rachel Knowles; Dick (Powell, of course), played by Bill Shideler; and Ruby (the irresistible Keeler), played by Sarah Baeder. Throw in Lucky (Nick Drivas) for Joan's romantic interest, and you've got the couples you need for this particular dance bill.
[caption id="attachment_1721" align="alignnone" width="432"]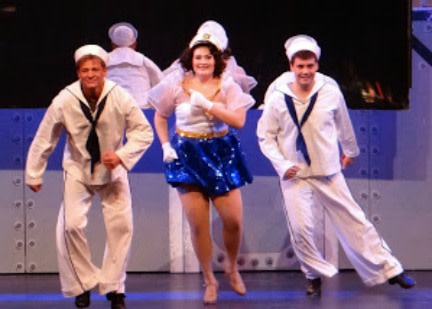 Bill Shideler, Knowles and Drivas tapping away.[/caption]
The composers certainly knew their soundtracks, too; many of the tunes in the show (It's You, Broadway Baby, That Mister Man of Mine, Good Times Are Here to Stay) bear deliberate titles and echoes of certain mainstays. And, in true Hollywood fashion, Ruby and Dick fall in love at first glance, and Dick manages to churn out one hit show tune after another, writing them backstage between curtains even as he takes his turn swabbing the deck (he and Lucky are actually sailors, after all). They really did play it that way in the movies, folks.
So it's a pleasant, light evening under the direction of Steve Dawson (with music direction by Phyllis Gessler and choreography by Pat Ross), even if the ages of some of the cast members don't exactly match up and the chemistry doesn't exactly sizzle. The tapping and the singing the night I attended (a preview) were both pretty much on the money, and the cast has the right spirit for the piece.
Dames at Sea continues through Sept. 28; for tickets call 748-5875 or go to manateeplayers.com.